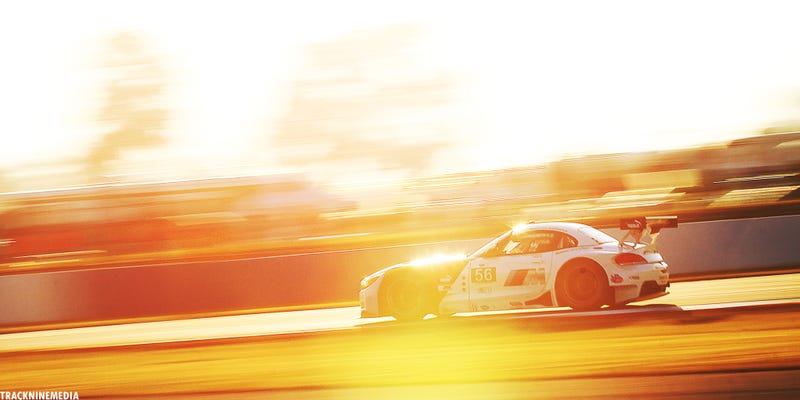 This is it. Race day. 42 cars are ready to take the world's wildest road course, fighting for five class wins from day into night. In the end, only about half will be left. The very last Sebring of the LMP1 era is upon us, and Jalopnik's bringing it to you live. Professional racing driver and part time ALMS competitor Ryan Eversley is here to help Jalopnik with a live blog below. This post covers hours 1 through 6, the start. Enjoy.
Hours 6 through 12 are being covered here.
5:40 PM, 9146: A stop and 20 second hold penalty for the once leading #56 BMW. Meanwhile, the SRT Viper #91 passes the #56 AND the #62 on track to take the GT lead. Goosens passed three cars on that lap and is clearly the star among stars in that 91.
5:33 PM, 9146: A HUGE stop and go penalty for the 6, and not in any way a deserved one. Paul Walter hands out another 60 second stop and hold.
5:30 PM, 9146: The LMPC leader and the top non-Audi collect each other! The #52 PR1 car braked far too early and caught up the #6 Muscle Milk car. Both continue on, but the #52 will need a bodywork change thanks to a broken legality panel. The #6 has a broken headlight, but otherwise is completely clean, and it will be up to MMPR to decide whether or not to change that headlight.
5:20 PM, 9146: The underfloor on the #1 has clearly gotten worse over the course of the run, it looks ready to fall off. Audi will likely need to go behind the wall to fix that. Furthermore, the #1 is emitting a black smoke that it's most certainly not supposed to. The #2, however, is seemingly healthy despite taking an off of it's own an hour back.
5:14 PM, 9146: Ralph Gilles TV interview? Ralph Gilles TV interview.
4:53 PM, 9146: Since the restart, we've had positional changes on the podium in both LMP1 and GTE. In LMP1, the Muscle Milk #6 passed the Rebellion #12, while in GT, The BMW #56 made a move on the Falken Tires Porsche #17 to take second. The Audis are still leading overall and Risi Competizione is still leading GT. For a full halfway report, go here.
4:35 PM, 9146: Rejoining the fray. We're still under this relatively lengthy yellow.
4:21 PM, RE: Full Course Caution for David Branhams gear less HPD.
4:03 PM, RE: Both Audi's are really aggressive in traffic and have had individual slip ups which keeps causing them to leap from one another. Mean while Hunter Reay and Brabs run 1-2 in LMP2. The overall vibe of the race has settled down a bit and I guarantee you every driver in the field knows that the sun is setting in turn 17 and its going to be a frustrating stint dealing with the glare.
3:30 PM, RE: Reports of the Audi #1 loosing its undertray as well as ALMS Penalizing the #13 Lola Toyota for the blocking of the Muscle Milk LMP1. Stop and Go penalty!
3:24 PM, RE: Drama for the Pole sitting GTC car as Foster spins it in turn 17 and makes light contact with the car. Continues on a few moments later and stays out. Meanwhile Olly Jarvis pits the Audi R18 for routine full service.
3:19 PM, RE: There's 2 Audi's entered in the race. They're dominating the race. They're 5 seconds faster on average than everyone else. So naturally, They just ran into each other. Both cars continue without issue as Di Grassi takes the lead.
3:06PM, RE: The LMPC Leader,Alex Popow gets a stop and go plus 60 for avoidable contact with Christian Zugel in the hairpin.
3:00 PM, RE: The battle continues to rage as the Ferrari takes 2nd from Hands BMW! Meanwhile the man with the coolest name in Racing, Wolf Henzler is catching them in the Falken Porsche! Viper continues to lead with Ryan Dalziel at the wheel.
2:52 PM, RE: We go back to green from the Ed Brown spin and it has bunched the GT Cars together and we've got an awesome battle for the GT Lead again with the Z4 of Joey Hand but now with the Ferrari of Gimmi Bruni! Meanwhile the #4 Corvette which is fixed is racing them to get back onto the lead lap. Excellent stuff!
2:35 PM, RE: I don't know what these commentators are talking about, Ed Brown's a genius and a salesmen... Look at this TV time. "Made Ya Look"
2:32 PM, 9146: The #02 HPD of ESM is stopped on track, and the Full Course Caution is out again.
2:23 PM, 9146: I'll be popping out for an hour or two in about 2o minutes. Until then, Ryan will still be here most of the time and Travis Okulski might hop in if he has a chance.
2:18PM,RE: A lot of the heavy hitters in the GTC class have gotten back in and are on the same lap. Bleekomolen, Pumpelly, Faulkner, And Fogarty all at the helm.
2:13PM, RE: The 552 LMPS Car of Level5 racing which had been in the hunt leaves the pitlane with some issues. Takes a few moments at a crawling pace and then gets going again. Meanwhile Farnbacher takes the lead in GT For the SRT Viper team from Joey Hand's BMW.
2:10PM, RE: The Battle for 2nd in GT has become the battle for the lead between the Viper and Z4! Meanwhile Dyson crawls to the pits again with their LMP1 car and it requires 5 guys (burgers and fries) To push it to its pitstall. Meanwhile Former F1 driver Lucas Di Grassi hopes into the Audi and we go to Mcnish for an interview!
1:59PM, RE: Excellent battle taking place between the Viper of Farnbacher and the BMW Z4 of Joey Hand for 2nd! Meanwhile the #4 car finally sorts out its electrical gremlins and are back to normal. Ed Brown continues to struggle with "handling" issues in his ESM HPD.
1:45PM, RE: That Corvette issue with their dash has taken away all of the data for the drivers to see. So that means no pit speed limiter and that's why they got a stop and go penalty for speeding. Also means that their pitstops will be slower than everyone else's getting up and down the pitlane until they fix the problem.
1:38 PM, RE: DRAMA for the #4 Leading Corvette! Electrical issues under the dash and Westy is complaining of some smoke in the wiring harness. Kelli Stavast must've hauled the mail down pitlane to interview the team because she was panting. Corvette gets a pit speed penalty.
1:30 PM, 9146: Ed Brown spins on his own. Twice. In one lap. Ed's an amateur, but neither were mistakes, the car clearly had an issue.
1:24 PM, 9146: Allan McNish takes out the #81 LMPC while lapping him, as Audi drivers often do to slower cars. Fortunately he did it to the #81 and not the next car on track, the GT 3rd place #62, because it saves us from McNish-hitting-a-red-Ferrari jokes. Admittedly, it wasn't really McNish's fault.
1:18 PM, 9146: Some video of the Muscle Milk losing it's tire:
1:15 PM, RE: If you were watching that Corvette In-car you are correct that its rear view mirror is actually an 8 inch LCD screen with a camera out the back of the car. I used one this year in the 24 hour and it was absolutely awesome. Should be mandatory in my opinion for all the GT Cars.
1:10 PM, 9146: Joey Hand moves from 3rd to 2nd in GT and is now within half a second of the leading Corvette. Meanwhile, the 552 has had an off, and Pagenaud has fallen from 1st to 3rd. The new LMP2 leader is the 01 of Scott Sharp.
1:00 PM, 9146: We're back live on SPEED!
12:52 PM, 9146: Simon "Jean Girard" Pagenaud has returned to the LMP2 lead in the 552 for Level 5.
12:49 PM, RE: Lights are out on the pace car so we are about to resume green just past the 2 hour mark. Green Green Green! LMPC cars are battling 2 wide into turn 1.
12:37 PM, RE: Keep an eye on Kevin Estre on this restart in the GTC class. He's just set fast lap in the race and needed this yellow to catch up in the B+ TRG Porsche. Currently sits P6 in class after starting P9.
12:31 PM, RE: Deltawing Done Blowed Up and brings out the race's first Full Course Caution.
12:30 PM, 9146: The Deltawing has lost an engine and, reportedly, caught fire. That will end the race for the #0 team.
12:28 PM, 9146: The 62 of Olivier Beretta has inexplicably lost 4 positions on track and nobody seems to know why. Either way, that moves the SRT Viper numbered 91 up to second.
12:25 PM, 9146: A lead change up front with McNish passing team mate Fassler! LMPC leader #81 has been given a pit lane speeding penalty, as well.
12:21 PM, 9146: Lucas Luhr exits the pits with just three tires! He has to complete a full lap on those three wheels and then pit again, which should give third to Rebellion. Meanwhile, the Deltawing is back on track.
12:14 PM, RE: Leader of LMP2, RHR pits and hands over the wheels to Jean Girard (Pagenaud) meanwhile the Greaves Zytek takes back the lead although TKS is still at the wheel and will eventually have to let his AM drivers take the wheel.
12:09 PM, 9146: The Audis pit again. they're getting pretty awful mileage, but even if Muscle Milk cuts four pit stops they'll still finish 3 laps down at this rate, so it's not a real concern.
12:04 PM, 9146: Apparently SPEED2 is NOT streaming for this hour. So, the ALMS.com audio feed is all we've got. Meanwhile, Terry Labonte is in a NASCAR Cup car this weekend. He really, really shouldn't be.
12:01 PM, 9146: The GTC leader, the #27 of Dempsey/Del Piero, has earned a speeding penalty, thanks to celebrity driver Patrick Dempsey.
12:00 PM, 9146: SPEED's sending us to NASCAR practice from Bristol, which they really shouldn't. The race continues to stream on Speed2.com, I think? Either way, there's definitely audio on ALMS.com.
11:56 AM, 9146: Chris Dyson might be taking his family owned #16 Mazda LMP1 behind the wall with engine issues. This team's been running the same AER designed MZR engine for years without fail, strange for issues to pop up now. Furthermore, the #3 Corvette has rejoined, but seems to again have a problem.
11:49 AM, 9146: Ryan Hunter-Reay has a big off from the LMP2 lead, but he hasn't damaged his #552.
11:46 AM, RE: GTC cars are beginning their regularly scheduled pitstops. Andy Lally has led from the Green and has been the quickest car towards the end of the stint. Patrick Dempsey is going to get in here at the first pit stop which means our fan base just tripled again!
11:37 AM, RE: Jan Heylen has faded from P3 in GTC to P11 in class in his Hertz sponsored Porsche. No word on weather Avis had anything to do with it or not.
11:33 AM, RE: Major Drama for the #3 Corvette which was easily a favorite to win as its driven straight back to the truck. This car had contact early on with an LMPC car. Reports that the car is stuck in gear.
11:25 AM, RE: When the Audi's did their individual stops, 1 Audi took fuel only while the other took tires as well as fuel. This is commonly known in the business as "Strategery" The Muscle Milk LMP1 car which was running 3rd overall managed to last 3 laps longer than the Audi's.
11:25 AM, RE: Looks like TRG started their gentleman drivers in the GTC class so expect to see them look to capitalize on their pro's racing against the Joe's in the next stint. So far the race has been relatively clean which means everything's about to go wrong generally.
11:24 AM, 9146: LMP1 stops already? So it would seem. Both Audis and Dyson already in and out.
11:18 AM, 9146: Bruno Senna, who is driving the 97 Aston Martin currently behind the wall, is rocking the "Blues Brother" spec Raybans. This is a good thing, mind you. Meanwhile, Marc Goosens takes third position in GT from the 007 Aston Martin on track in his 91 SRT Viper.
11:14 AM, RE: Interesting to note that we are 30 minutes into the race and Audi's who are split by 5 seconds are roughly a minute ahead of the 3rd placed LMP1 Muscle Milk machine.
11:12 AM, 9146: MAJOR drama for one of the GT favorites as the #97 Aston Martin is blowing steam and behind the wall. The team mate #007 still sits second in class.
11:07 AM RE: Lally currently leads Bleekomolen by about 2 seconds whos leading Jan Heylan by about 5 seconds behind them rounding out the top three in GTC.
11:02 AM, 9146: Also going on right now, NASCAR Nationwide Series qualifying from Bristol. Mike Bliss currently leads Travis Pastrana and Nelson Piquet Jr. Sadly that won't hold, because that would be an all time great top 3.
11:00 AM, RE: Antonio Garcia forced to pit from the leaders in GT due to his contact with Jon Bennett's CORE LMPC machine. Stop and go plus 60. These guys will make it back up under yellows.
10:56AM, RE: Deltawing's engine cover coming off. Remember this team no longer has the Nissan support or Highcroft running the program for them.
10:55 AM, 9146: The Deltawing already goes into pit lane. They fuel up and remove the engine cover. This isn't a good sign.
10:53 AM, 9146: John Bennett already has an off in the 05 CORE Autosport LMPC, and it's courtesy of the GT second placed Corvette! that'll be a penalty for the 3.
10:50 AM, 9146: The LMP2 lead has already changed hands, as Tom Kimber-Smith has put his Zytek into the front, passing both Level 5 HPDs in two laps!
10:48 AM, RE: Great move by the Corvette of Olly Gavin to take the lead and split half the LMPC cars and gives himself a big gap back to the other GT cars!
10:44 AM, 9146: we're just a single pace lap away from the start of the race. we're in for a good one. GREEN FLAG. The 1 audi is in the lead.
10:42 AM, 9146: Looks like our esteemed guest has arrived at the Jalopnik offices! Just kidding. I'm on a couch in Sacramento and I'm pretty sure he's on a couch in Atlanta.
10:36 AM, RE: Excited to be helping with the live blog today! Sebring is an absolute party so this should be quite an event!
10:30 AM, 9146: SPEED is live from Sebring! Sam Posey's doing a voiceover. I guess he's working for both SPEED and NBCSN now, not that I'm complaining!
10:25 AM, 9146: I've just added a new feature at the bottom of the page: an "R U Faster Than A Redneck?" counter. Every time that show is advertised in any way, I'll add to the tally.
10:22 AM, 9146: Now they're showing some in-studio driver interviews, and Marcos Ambrose is rocking a beard and a polar fleece, neither of which I've ever seen before.
10:16 AM, 9146: Actually, looks like 15 minutes of NASCAR filler from Bristol before that. No, not practice. Literal filler. They're in a studio at the track showing highlights of races from the 80s when this track was completely different.
10:15 AM, 9146: All posts marked with "9146" are written by myself, all posts marked with "RE" are written by Mr. Eversley. The green flag drops around 11:00 AM local time. Until then, SPEED preshow. But hey, it's a SPEED preshow with Bob Varsha, so I can't really complain.
"R U Faster Than A Redneck?" Counter: 4