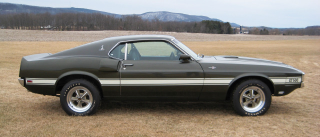 Apparently this GT500 has sat since 1973 and has only 8500 miles and it will be auctioned off April 25, 2014(link/details at bottom of post).
There is also a 71 Ranchero GT with 53k. -
This GLORIOUS 74 Econoline custom 100 van -
More pics as they found it:
Source: digitaltrends.com
Auctioneering: rgilliganauctions.com
edited for pics.