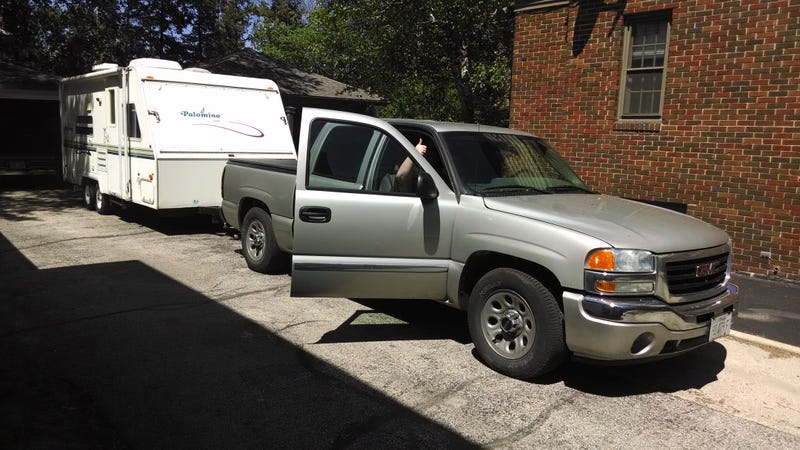 I do not come from a camping family. My grandfather always said, "I spent five years sleeping in a goddamn tent and sleeping bag (WWII), why the hell would I want to do it again?" My mom and dad shared similar feelings. I tried tent camping a couple of times in my 20's, and did not care for the experience. The big thing for me was sleeping on the ground. I'm a side sleeper, so I pretty much couldn't sleep at all.
So, I took a bit of a flyer this spring when my wife and I decided to buy a camper. After much Craigslist searching, we picked up a 2000 Palomino 21' hybrid camper for $4600 from a family who took meticulous care of it.
We've now taken four trips in the camper, stayed at five different campgrounds, and towed nearly 2000 miles in total. Overall, I've enjoyed camping, although it can be a fair amount of work. Campgrounds? Well …. lets just say they've been hit or miss. Some are incredibly well thought out, and meticulously maintained. Some appear to have been laid out by someone who must have been staggeringly drunk at the time.
Here are some things I've learned about both camping and towing.
People tow some weird and crazy things.
Yep, that's a double right there. A pickup, towing a pop-up camper, towing a boat. I actually saw two people with basically the same set up, although at least the other one took the time to get the hitch heights set up properly so everything was level. Crazy as this was, at least its light. The Toyota Sienna towing a 5000 lb, 24' long camper, was flat out dangerous.
Towing mirrors are the shit.
The first few times I towed the camper, I just used my truck's already quite wide mirrors. For this last trip, I finally popped the $40 for a set of clip-on towing mirrors. What a difference! Without them, if I had to change lanes into the outside of a curve, I had to do it basically blind. Now I can see around and behind the camper. Money well spent.
Turns out, you can make a 4900 lb crew cab pickup truck feel like a sports coupe.
(Read that in Richard Hammond's voice)
After you've been dragging around 4500 pounds of camper and gear for 400 miles, a 4900 pound pickup suddenly feels like Doug's Ferrari when you unhook it..
Not everybody at the campground shares in your desire to commune (somewhat) with nature.
This dude spent the better part of two hours setting up his satellite dish. He turned out to be really cool. "My wife really likes the whiskey, so if we get too loud, just tell us to shut up." We didn't have to do that, fortunately.
Screw lighters. Bring a blowtorch.
Need I say more?
Nothing burns like kiln dried hardwood scraps
Make friends with your local shop teacher.
Eat the food.
One of the best meals I've had all year, was when the party next to us insisted that we partake in their buffet. I gorged on venison, fried perch and bluegill, sauteed walleye, and home fries. I'm getting hungry again just thinking about it.