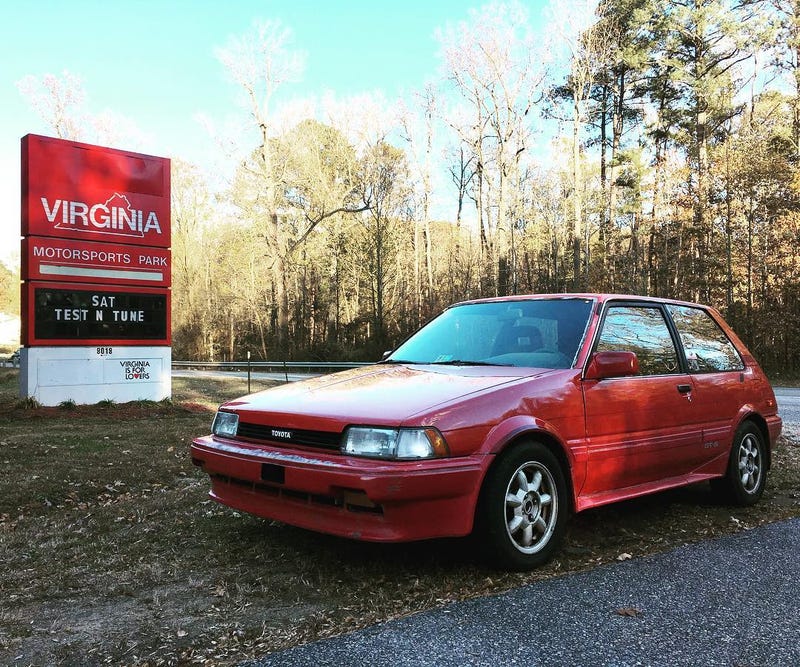 When we last left off, the transmission was on the floor to replace the clutch.
As part of the whole "while you're in there" thing, I went ahead and replaced the rear main seal, because I really don't feel like taking this trans off again any time soon.
The flywheel showed obvious signs of overheating and clutch slippage.
The clutch disc itself actually looked decent. It was worn, but not excessively so.
Because I'm on a pretty tight budget, I couldn't afford to upgrade to a larger flywheel/clutch setup from an 87-89 MR2, so I just had the stock flywheel resurfaced instead.
I went with a stock replacement clutch kit from Exedy. If it can last me a year or two until I can afford an LSD and drop the trans again, I'll be happy.
With everything reassembled, it was time for the last autocross event of the year. I even invited my friend Steve to co-drive, since he's not really ready to commit to racing his Miata.
Racing with good friends is a really fantastic way to finish out the season.
On the way out at the end of the day, I couldn't resist the opportunity for a mini photo op by the entrance.
See you next year, VMP!
Over the first half of the winter, I haven't had quite as much time to work on the car as I'd like, but I did get a few small things taken care of, such as removing the rest of the sound insulation from the car.
A few more hours with a heat gun, hammer and chisel, and the rest of the heavy matting was removed.
After cleaning up and painting the formerly-insulated areas, I added some grip tape to the floor which really helps with getting in and out of the car.
I saved all the insulation to weigh. By the time I was done, around 20lbs of weight was removed from the car.
Next I wanted to address something that had been in the back of my head for a while - the driver's seat mount. The way I had set it up before just didn't look strong enough to be safe in the event of an accident.

By disassembling (by which I mean hacking up with a power drill and angle grinder) the Miata rails on the seat, as well as the rails from the original stock seat, I was able to weld up something with much more weld area that feels much stronger than before.
That's all I've got so far, but there's still time before the first event of the year, and I've got a huge old sign, some angle aluminum, a drill, and a shiny new rivet gun. Maybe I can figure out something to do with all of those things.