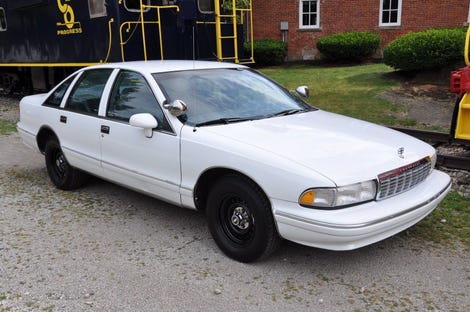 Whoever comes closest to the final sale price of this '94 9C1 Caprice without going over, I will buy them a cup of coffee at Starbucks. Current bid remains at $9,200 with the reserve not met.

The Bidding So Far:
Jersey Ben: Reserve will not be met.
Fly Norcal: Crack Price.
Kiltedpadre: $17.5k, but reserve will not be met.
BlueMazda2: $24,500
Sam Stoner: $23,500
BvdV: $22,250
Maxima Speed: $21,900
Ms. Mercedes: $21,701
Tristan: $19,500
gmporschenut: $18,225
Pip Bip: $15,800
Takuro Spirit: $15,500
itschrome: $13,754
Die-Trying: $11,100
Manwich: $2
Chuck 2(O=[][]=O)2: $1
PartyPooper2012: $1
Thank you to jkm7680 for originally calling this eBay listing to our attention.