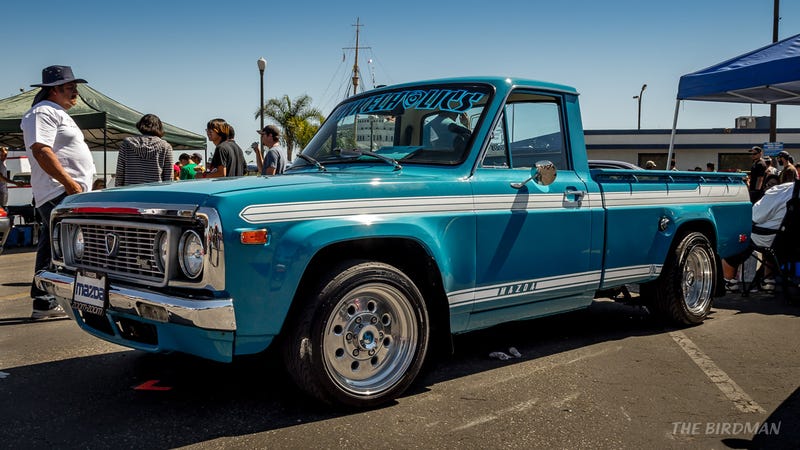 Japanese Classic Cars, Nostalgic Cars, Kyusha Kai, whatever you want to call them, it's obvious they're a growing trend in the car world. Last Saturday my girlfriend and I attended the 9th annual Japanese Classic Car Show in Long Beach. It's a great show, and the growing popularity is obvious from this year's turnout.
I knew it was going to be a good day as soon as we got on the road. Shortly after getting on the freeway an AE86 wearing a Trueno badge fell in behind us. We passed a few hot rods heading north, spotted some super cars, passed an inordinate amount of modern Subarus, and diehard of the day award went to a guy driving a Honda N600. Yes that tiny little car on on the 405 freeway.
Parking was just as much of an event. We were directed into the parking garage of the cruise terminal next to the Queen Mary, and parked to the symphony of loud exhaust and car alarms ringing out from multiple levels. Coincidentally anyone who flew in for a cruise and took the shuttle from the airport now has the impression that LA really is exactly like The Fast and the Furious. I ended up sneaking my girlfriends Abarth in between a 240 with a drift pedigree, and some clean Hondas. Her car has red wheels and a stripe, so I think we blended in. She's on here as Ferrero1911, and she'll be covering the wheels of the show in a later post. The shot above is the view from one side of the garage. That may be hard to believe given the setting of the rest of these photos.
Everyone knows spectator parking of any show is a great place to go car spotting. First up is this cool Kenmeri.
I love the fact that the owner of this Z took the time to put on the Japanese plate before going in to the show. Remember still in spectator parking now.
They may not be your thing, and you might not get it, but you can't deny these guys know how to park.
Looks like another Italian snuck in. They were blending in just fine too. Overheard while snapping this shot, "I think it's an early Crown."
Still in spectator parking, but this was one of my favorite cars of the show. A first generation Toyota Cressida done just right. If it weren't for the Queen Mary in this shot you might mistake it for a Mark II in Japan.
Ok, finally in the show now. This Kenmeri Skyline was hanging out at the Fatlace booth.
Then a couple of my personal favorite cars. An Hakosuka Skyline and and a NISMO R32 GTR.
An impromptu drift battle briefly erupted in the Cressida section.
This TE27 Corolla Levin had all the details. Wearing restored.jp banners, and fitted with the best of their carbon fiber accessories.
If you needed more proof these classics are becoming more mainstream, step on over to the Hagerty Insurance booth. They brought out this incredibly clean Z. I hope somebody got a discount on their premium this month!
Classic bikes were very well represented as well.
Even the very smallest of them.
The cars above were some of the cleanest and shiniest of the show.
Love the flares on this Z.
This multi generational lineup of Skylines was great. The blue Hakosuka seems to have a story to tell too.
Just like this tag says, it's been fitted with some smog equipment…
And the speedo has Mph stickers. I didn't see the owner anywhere to ask, but I'm assuming it was a grey market import from the 70's or 80's.
Plenty of 510's made it out in every style you could imagine.
There were several manufacturer sponsors of the event. Mazda brought out both the 787B and the 757. I had never seen these in person before.
I love pretty much every generation of Cosmo, and this one has a pretty cool story too.
This Cosmo however destroyed my hopes and dreams of being the first to tool around LA with one. Notice the distributor tag. Some lucky Mazda employee got to drive that to the show!
Honda was also a sponsor, so they brought a couple race cars to the party too.
Coming back on as a sponsor for yet another year, Toyota brought out everything from race cars to uber expensive 2000GT's.
Didn't expect to see CRX's at a classic show? Think about how old they are. If that doesn't make you feel old, nothing will. There was every type and style imaginable there.
I really meant it. Who's seen a CRX convertible before?
There was a fair bit of more modern stuff at the show, and I like that. If anything this show is a great example of several different style communities coming together.
I mean, I'm totally okay with this Bluebird SSS wagon being at the same show as that Celica.
Or a Subaru Sambar van.
Or a Cressida with Boso pipes. Bosozuko style is slowly creeping in, and I think we're going to see more of it here with time. I know I wouldn't mind having a shark nosed Soarer.
That pretty much wraps it up. It doesn't seem like it from the pictures, but the spectator crowd was crazy. Getting clear shots of a car was extremely difficult. I had to wait until the very end of the show to get the shots above against the Long Beach skyline.
Thanks for reading! And don't forget to look for Ferrero1911's wheel's from the show post.