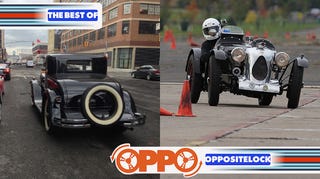 Assembled here are the best Oppositelock posts from Wednesday and Thursday. Today we've got someone driving an oldie around Manhattan, autocrossing an MG P-Lester Special, enforcing handicapped parking and more.
A 1929 Hupmobile Is Driving Around Manhattan - jbh
This is probably the oldest car I've ever seen driven on the street. I pulled up to a shop on 11th avenue this morning to see this contraption double parked outside. So I did what any car-minded New Yorker would do, and double parked right behind it to have a look around.
---
I will never be as cool as this guy - burglar
Some dude apparently brought his 1935 MG P-Lester Special (his what?) out to an autocross. And gave it the freaking beans. Supposedly someone who was there asked him why he would drive that. The owner said, "It's a race car, that's what it's for." Totally hetero man crush level 9000.
---
Use Licence Plate Scanners to Enforce Handicapped Parking - Automatch Tom
The Jalopnik community has been doing an excellent job of highlighting some the vehicles and experiences of drivers with disabilities. This increased awareness always brings to the forefront an issue that bothers us all, disabled or not...handicapped parking. Far too often folks with legitimate impairments can't utilize the spots made for them because those spaces are occupied by drivers who don't belong. Law enforcement usually does not have the time and resources to enforce handicapped parking as much as we would like, but there may be a solution….licence plate scanners.
---
First Impressions: 2015 Audi A3 1.8T Sedan - Audi For Life
I brought in my 2011 Audi S5 down to Audi Wilsonville to get my winter tires and wheels taken off, stored and my summer tires and wheels put back on. Since I had a few appointments to attend to in the morning, I had requested a service loaner for the day when I set up the service appointment… Well, [I] was a bit surprised to be able to get one of the new A3 1.8T demo cars as a loaner.
---
Time to rethink the Country of Origin auto label - Juan Barnett
Last week NHTSA published a notice for data call to 21 automakers to fulfill the requirements of Title 49, Part 583 - Automobile Parts Content Labeling. The estimated cost to automakers to produce the data and create labels for the various car lines, $2.4M.
---
GM Almost Let The Pontiac LeMans Live On - Blake Noble
Few cars from the early '90s were as utterly wretched as the Pontiac LeMans. Built by Daewoo during the Jurassic period of South Korean cars, it's hard to justify the existence of this undercooked entry-level washout other than the fact it gave the Yugo GV tough competition for the title of America's Most Abominable Car.
---
Long Live GP1 - The NFSW Twin of F1 aka "Bernie's Revenge" - Gabor Vajda
The discussion over the new sound of F1 is still looming, although it hasn't been a week since the continental circus left Melbourne. There's no reason to think, though, that people will not befriend the new experience, evidently something irreversibly disappeared from The Greatest Show On Earth.
---
Triumph Trilogy - mr_benjamin_rolland
Disclaimer: This is a work of fiction. Figured I'd try my hand at writing a short story. I woke up this morning. Around 10. Brushed my teeth, dragged my comb though my thick black hair. It was the day I've been waiting for all year. The first really nice day of the year. The sun was shining, not a cloud in the sky. It was around 70 degrees today, and I was ready. After the long winter, I was finally going to fire up the old Triumph and take it out to stretch its legs.
---
Total Recallection: The Mazda Saga - ADabOfOppo
On Monday, Travis so eloquently announced that sales of the Mazda3 are abysmal, and that despite it being an altogether better car, people would rather die slowly a thousand deaths and have their souls quietly sucked out in their Corollas and Civics. At least they know these cars are safe, and reliable. Not so fast, there, Buddy.
---
Enhance Your Mobility With A 1:3 Scale 21 Window Samba Bus - TheDailyTurismo
The current craze of everything relating to the Volkswagen Type 2 Bus has been entertaining to watch. All but abandoned for scrap a few years ago and inhabited by penniless surfers, the Bus made an epic comeback of a proportion not matched except by this month's resurgence of the Cold War.
---
Later Models with Noise: Olds Aurora - noise
Alright ladies, I've decided my productivity at work has been too high lately, and the most appropriate way to combat this seemed to be to start a weekly spotlight on the cars I love. For now, and the foreseeable future at least, this means mid-late 90s diamonds in the rough. Some of the best and least appreciated cars I can think of. This week we have a personal favorite, and the source of at least 80% of my craigslist lurking over that last few months (the other 20% I split between looking for my stolen bike and missed connections... for... ironic reasons of course): The Oldsmobile Aurora.
---
2003 Mazdaspeed Protege - The Oppo Review - mazdaspeed03
I am parting ways with my first car after a great year and a half of ownership. The car will be missed, and this will be my tribute to it. I love this car so there will mostly likely be some bias, and if you disagree with anything I said feel free to let me know in the comments so I can explain why you are wrong.
---
The Best of the Rest
Hermann stumbled upon some old truck and tractors in Argentina. BrownDogWelding had to drive his F100. Forgetful went for a mountain drive. Feather-throttle-not-hair got together with a friend for some RWD hooning. MountainCommand tested out some photo spots. Dukie picked up another project. AncientOfDays did some more work on his AMC Eagle. David Talmage is working on restoring his father's car. Hollanddjw's e46 is broken. Rb1971 bought a Maserati GTS. Pixel began repairing rust on his truck. Patrick George framed the letter received from Akio Toyoda. KomradKickass just bought a f*cking Miata. Decay has a bit of a weight problem. Slow4o shared some pictures from Bumbera's Performance. Gamecat235 spotted a custom Nissan Cube, confusion ensued. RotarylessLover said goodbye to his Mazda3 and his dad got an Altima. My Buick Is Too A Real Muscle Car tried his hand at drifting. Brian Silvestro drove an M235i. Bandit found some rust. Tyler's SVT Focus Hates Him did things. BiTurbo228 installed the timing gear on his engine. K-Roll took some final pictures of his Astra.
---
As always, If I've missed something and you would like me to include it, let me know.
Fun Discussions
There were several posts that asked questions and sparked some good discussion on Wednesday and Thursday. Take a peek and chime in on some of those listed below:
Just the #tips
These posts have already been shared with Jalopnik directly but deserve to be mentioned again because they were first posted on Oppositelock:
Want to participate on Oppositelock? Check out the handbook for posting on OppositeLock as well the Oppo tools to help you get started.