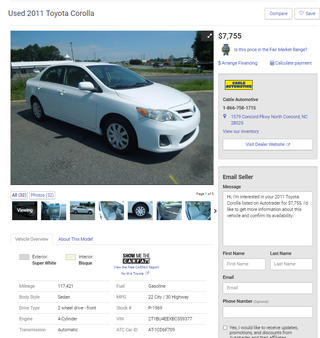 Prepare to bask in the magnificence of the 2011 Corolla. Yeah, it's done 3 times the miles the 3 series had done when I got it, but it's less than half of what I paid for my 3 series. Plus with the white paint and wonderfulbeige interior, I would be a lot cooler in the summer time.
Plus with the automagic transmission, my left leg would never again tire in traffic. Just bask in the magnificence of the cockpit.
Plus with the 2ZR-FE under the hood, I would have much cheap maintenance costs.
Before you say WTF is wrong with you, of course I'm kidding. When I say "A 2011 automatic white sedan with a beige interior" what I mean is this:
It's an E90 M3 in my preferred color combo; before you say I thought your favorite color is green, green was never available unless you opened your wallet and whispered "BMW individual" when you ordered your M3. Otherwise, you were limited to these:
As a result, I would have speced my M3 in alpine white over beige leather. As I did many times in the configurator back when I was in college. Just look at those seats:
I also love the style 359s.
If I didn't owe so much on the E92, I might be tempted to trade it in and DD something like this, now that my commute is less than a third of what it used to be. Why would I want two M3s? Because reasons.