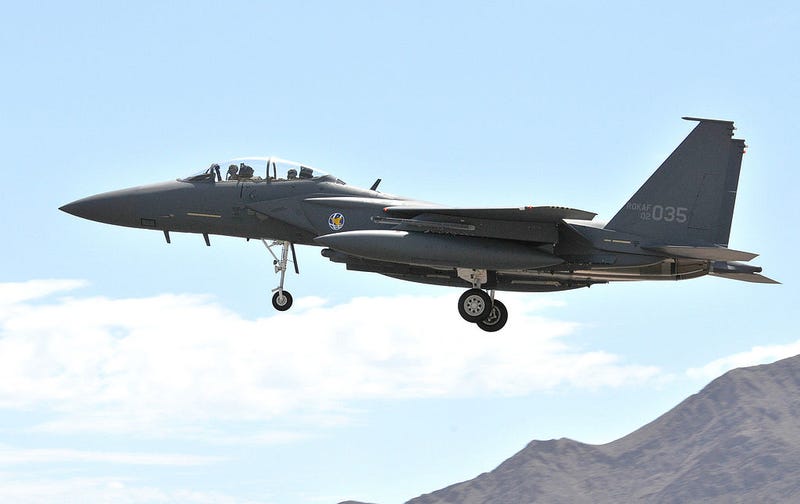 Four nations have emerged from the Far East (or thereabouts) with the economic and military capability to influence the rest of the continent and exert political control, at least on a theoretical level - Japan, the People's Republic of China (the "mainland"), India and the Republic of Korea (South Korea). South Korea is also in a unique position of being in a perpetual non-shooting war with its immediate neighbor and only nation it shares a land border with, the Democratic People's Republic of Korea (the North). As such, the South Korean military is always on high alert and always searching for any tactical or strategic edge over its militant neighbor, including making stealth technology a high priority. South Korea's growing prominence as an economic power also means more interest on the regional and international stage, and although the RoK has had a casual on-again off-again military relationship with the PRC and very strong economic ties that only get stronger with time, China's belligerence doesn't sit well with South Korean military planners when they already have an unstable dictatorship ticking like a time bomb on their own doorstep. This means a greater interest in stealth fifth-generation aircraft with the range and weaponry beyond what's needed to destroy North Korean invaders. Speaking of which, even the starving Democratic People's Republic hungers for stealth technology moreso than even the actual food supplies it desperately needs, and have found creative asymmetric low-cost ways to achieve aerial stealth.
Republic of Korea Stealth Pre-History
A Republic of Singapore Air Force F-16C Block 52, very similar to the KF-16s of the Republic of Korea Air Force. Image by Luhai Wong via Wikipedia
The Republic of Korea Air Force traces its origins naturally back to the Korean War of 1950-53, when the first crop of post-WWII Korean pilots began to receive training and equipment from the United States. Many of these Korean fighter pilots (particularly the most experienced and effective ones) were themselves veterans of the Imperial Japanese Army Air Force or Navy as the Korean peninsula had been a part of the Empire until the Japanese surrender and the site of major Japanese aerial training bases. A few were even ethnic Chinese or Japanese, again veterans of the Imperial war machine who had ended up stuck on the peninsula for one reason or another; many of these pilots felt very passionate about fighting the Communists as Mainland China had just fallen to Communists forces and the common fear being that if Korea followed suit, Japan would be next.
The "Buhwal" is a very early example of of a South Korean indigenous aircraft, in this case being a very simple light observation aircraft. Photo by "Hunini" via Wikipedia. Prior to the KF-16, the vast majority of South Korean military aircraft efforts revolved around small, light designs or other secondary, non-combat role aircraft or straight-up license manufacture of American designs like the F-5.
For the most part until relatively recently the vast majority of the RoKAF had been directly supplied by the United States. These started with the very same F-51 Mustang and F-86 Sabre fighters the US and the South flew into combat against the North, then moving on to various marks of the F-4 Phantom-II missile-equipped fighter and the F-5A Freedom Fighter, which as the name implies was a small light low-cost fighter developed specifically for distribution to nations at "high risk" of Communist invasion (the RoKAF later upgraded to the more capable, short-range radar-equipped F-5E Tiger II). During this time resumed aerial combat between the North and the South would've resembled what it had been like during the shooting war or over the skies of Vietnam, but as the South continued to upgrade their air fleet and become an increasingly important player on the international electronics scene and as the North continued to languish and starve, any theoretical air battle soon became almost hilariously lopsided in favor of the South. With massive assistance from the US and equally massive investment in indigenous improvements, RoKAF F-4Ds and Es became increasingly capable in both the air-to-air and air-to-ground roles and working out the kinks that had made missile combat in Vietnam troublesome; meanwhile, the DPRK-AF received relatively piecemeal deliveries of highly advanced fighters from the Soviet Union, but the bulk of their tactical fighter forces were not only still the same types, but even the same exact airframes that had survived war with the South. Any strategic projection capability was limited to using Scud-like missiles in roles they really weren't meant to serve and working on making indigenous bigger versions to make up for it.
Even so, the RoKAF always sought to maintain a cutting edge in technology and airmanship whenever possible, even when this meant beyond what was necessary for nearly casualty-less victory over Communist fighter forces. For starters, this is just common sense and is very literally Rule #1 in Sun Tzu's The Art of War. Secondly there had always been fears that the North would somehow find a way to upgrade their air fleets with the latest and most deadly fighters on the export market, usually by subterfuge importation or if a change in leadership in the Soviet Union/Russia or China suddenly began to sympathize with the Northern Communists again (as briefly demonstrated in the 80s when a few squadrons of MiG-29s suddenly landed in North Korea's lap). And speaking of which, Southern military planners also had their eye out for "who's next" after the North, particularly if Russia or China decided their own strategic interests meant political or outright military confrontation - and given recent sabre-rattling these fears have reached critical mass.
The first effort to move to a force better and more advanced than the F-4 Phantom II also coincides with the first effort towards an indigenous fighter - the KF-16. It looks like an F-16, performs like an F-16 and is even called an F-16 as that's what it is, but underneath the skin are hundreds if not thousands of modifications that make it unique in the world of F-16s other than to the naked eye. These changes were incorporated mainly to facilitate different manufacturing technologies and techniques and to field indigenous electronics, but also went far in giving Korean aerospace firms exactly the experience they needed to develop their own high-performance fighter aircraft through a low-risk development path. Additionally, the indigenous electronics those changes were made to accommodate in the first place also gave these firms the experience and development paths towards for example possible AESA radars, considered a necessary component for a true fifth-generation fighter.
Steps Towards a Regional Air Force
An RoKAF FA-50 light fighter/trainer. Official RoKAF photo via Wikipedia.
Naturally the next step is to produce designs further removed away from already existing Western types, as well as to introduce even greater capability. This next step was the Korean Aerospace Industry's T-50 Golden Eagle, not to be confused with Russia's Sukhoi T-50 Stealth Fighter prototype. Although still based on the F-16 and designed with Lockheed Martin's help, the Golden Eagle shares little resemblance with its progenitor design. The T-50 was designed with a large number of goals in mind, with the defense of the peninsula and the training of her pilots actually being somewhat down on the list. Yes, the T-50 trainer and its FA-50 frontline tactical variant serves as the RoKAF's current primary training aircraft and has largely replaced the F-5E from RoKAF service. But more than that, the T-50 was designed with the export market foremost, offering affordable yet high performance in the form of a supersonic trainer and simultaneous light attack/fighter aircraft for nations that wouldn't be able to field such a complex aircraft otherwise. Thus, the T-50 takes on the mantle of the old F-5, being offered to poorer nations to outfit their defense needs with a capable aircraft roughly current with Western air power. The T-50 is also being offered to the USAF through Lockheed Martin as a replacement for the aging T-38 Talon supersonic trainer.
An F-15K "Slam Eagle" participates in an Alaska-based Red Flag exercise. Official Korea.net image via Wikipedia
An additional and important acquisition by the RoKAF that especially has regional and strategic implications is the F-15K Slam Eagle. The F-15K is a particularly capable and evolved variant of the McDonnel Douglas (now Boeing) F-15E Strike Eagle. The F-15E was originally intended as a simple, pure bomber adaptation of the F-15 Eagle air superiority fighter, but precisely because of the simple nature of the modifications and the adaptability of the basic airframe retained the fighter's air combat capability (in fact, because the F-15E's frame has been further strengthened for low-level flight it's theoretically capable of greater maneuverability). Initially, this capability was virtually invisible to the USAF or the plane's own developers - they had in essence brought out one of the first and still to this day one of the most capable multi-role fighters any air force has in possession without even realizing it. Other air forces did take notice, however, and began clamoring for it. Today evolved and localized variants of the F-15E Strike Eagle serve as the very focal point and most elite line of defense for the air forces of Israel, Singapore and Saudi Arabia in both the bomber and air superiority roles.
The relationship between the RoKAF and the F-15K Slam Eagle is no different, giving the RoKAF not only a marked advantage over the DPRK-AF (theoretically giving them the capability to smash Northern air assets well beyond the range said assets can even detect the launching fighters with their outdated, primitive or in some cases non-existent radars) but also a bomber capable of destroying high-value, highly protected strategic assets right in the middle of contested airspace. The awkward name is meant to emphasize the plane's ability to deploy the AGM-84 SLAM-ER (Standoff Land Attack Missile, Extended-Reponse), a powerful long-range cruise missile that gives the F-15K the ability to destroy land or sea targets well outside otherwise impenetrable air defenses. Really, the F-15K is the closest thing the RoKAF currently has to the F-22 Raptor, and when compared to the pathetic state of the DPRK-AF it might as well be.
Like the KF-16, the F-15K is loaded down with indigenous electronics and is partially manufactured by Korean aerospace firms with final assembly being handled by Boeing's St. Louis facility, the traditional home of both the F-15 and the F-4 that came before. As the F-15K is both the premiere RoKAF interception/air superiority and strategic strike asset, it comes equipped with sensors that USAF F-15Es, F-15Cs and even F-22s lack.
As capable as the F-15K is, it is still at best a very limited stealth asset. The RoKAF wishes to upgrade to a true stealth fifth-generation fighter as its next step. The first overture towards that was to sign up for the multi-national F-35 Joint Strike Fighter program, which means the RoKAF will get F-35s likely with locally-produced electronics and components - eventually. In the meantime, Boeing is offering South Korea the F-15 Silent Eagle, a "4.5 generation" stealth version of the F-15. Although not as stealthy as either the F-22 or F-35, the Silent Eagle still represents a massive upgrade over even the most advanced current F-15 variant, which in turn ranks with the Sukhoi Su-35 and Eurofighter Typhoon for most advanced 4/4.5 gen fighter on the planet. Boeing even claims that the current fleet of F-15K Slam Eagles can be remanufactured to this standard.
F-X: Indigenous Stealth Fighter
Possible configurations for a finalized F-X prototype or demonstrator. Image from dianliwenmi.com (Korean language website)
All of these steps, while giving the RoKAF an immediate and tremendous upgrade and allowing them to be a serious regional power, are ultimately interim steps towards fielding a completely indigenous stealth design. The top development priority of Korean military aerospace firms is the F-X program. F-X is a rather complicated multi-tier development and acquisition program that encompasses various phases as well as both the F-15K and Korean procurement of the F-35 as well as indigenous efforts. European and even Russian interest in becoming involved with F-X is high, with the Eurofighter Typhoon and the Russian PAK-FA (of which the Sukhoi T-50 ultimately serves as a demonstrator for) being offered.
South Korea is also interested in breaking into the fifth generation fighter export game, a field which currently sees only the US, China and Russia being serious players. KAI has variously teamed up with Sweden's SAAB and Turkish aerospace firms as those nations are also interested in fifth generation fighters, not to mention such partnerships are attractive for sharing costs and development responsibilities. Right now, the indigenous portion of F-X is shrouded deep in early development stages with a plethora of possible configurations being presented through public information and nothing definitive yet hammered out, let alone a flying prototype.
Stealth Through Subterfuge: North Korea's On-The-Cheap Stealth Efforts
A Republic of Korea Air Force Antonov-2 "Colt" utility/cargo biplane being used by the Korean Air Force Academy. Such an aircraft is likely not only used for general utility roles, but also for training against North Korean incursion tactics and possibly even for South Korea's own special forces needs. Image by Jerry Gunner via Wikipedia.
While South Korea has spent decades and billions trying to become a serious player in the aerospace and electronics industries, the Democratic People's Republic literally can't afford the same parity. Unable to equip their forces with up-to-date equipment the North Korean military has resorted to a back-to-basics approach to avoid detection without the luxury of Western resources.
Perhaps the best example is how the North figured out how to use their An-2 biplanes to maximum effect. An immediate post-WWII design, the An-2 (NATO reporting name "Colt") is a large single-engine design meant as a simple and rugged cargo or troop transport - a sort of airborne Jeep. As such, the biplane design was selected to allow the craft to fly at low speeds and land and takeoff from nearly everywhere. It's famously reported that in an engine-out situation, the wings provide enough lift to allow the plane to almost float down as if it had a parachute like some of the latest general aviation designs.
These flight characteristics combined with its large cabin mean that North Korea can use its antiquated An-2 fleet to literally fly under South Korean radar and insert special operations troops to create havoc prior to a full-scale invasion. In effect, North Korea has its own versions of the stealth helicopters used to insert Navy SEALs to kill Osama Bin Laden, only as a matter of happenstance and accident through unanticipated advantages of "outdated" technology. This isn't much different than what the Soviets did to defend their homeland using "obsolete" biplanes during WWII to silently bomb German troops.
A Republic of Korea Air Force MD-500 light observation/attack helicopter. Not only does North Korea possess the same type of helicopter, they have reportedly painted at least some of them to look like their South Korean counterparts. Image from dunkbear.egloos.com (Korean language website).
Another means of stealth insertion employed by North Korea involves good old fashioned deception. In the 80s the North illegally acquired American-manufactured MD-500 helicopters reportedly through a German arms dealer - a model of helicopter that also happens to be extensively employed by the South Korean military. Although seen wearing North Korean military markings, it's been speculated that some may be painted to look like RoKAF helicopters. It's hard to tell how effective such Trojan Horse insertion tactics would work without a real shooting war erupting, though it's possible if not likely that even the small team of special forces soldiers such a helicopter can carry can sew enough confusion to give advancing military units a significant tactical advantage.