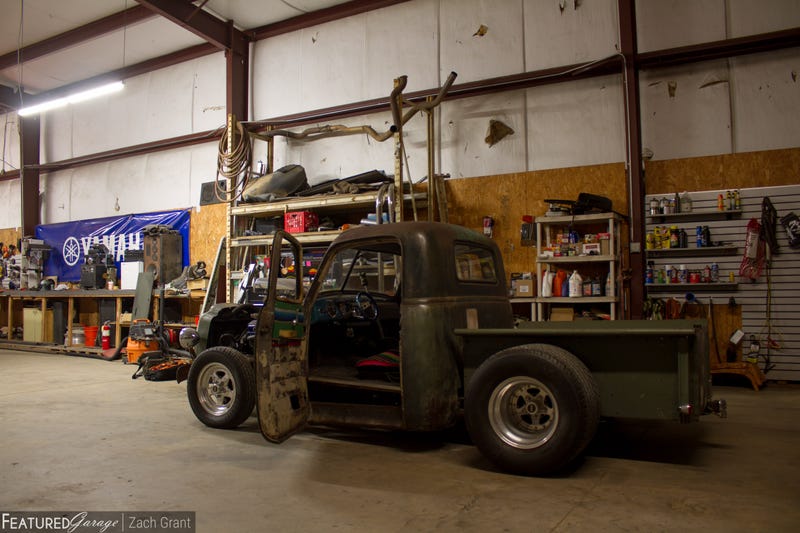 What makes a build 'done'? Is it completing a theme for appearance reasons? Getting it running for the first time? Hitting your target lap times with it? I don't think it should be. Every time to check that box, the next one is on the horizon. This truck here made me realize just how pointless trying to finish a car really is. All of its charm comes from what is left undone, and I think we need to take a step back and appreciate what we have and what we are doing at every step of the way, not just when we can sit back and say things are 'done'.
Every now and then I get an itch to go explore a part of car culture that I haven't been acquainted with yet. After asking around a bit and getting the same reply of, "My build isn't done yet, maybe next month", everywhere I turned, I asked a friend if he had something that would be interesting to write about. I was expecting him to let me do a feature on the immaculate Camaro he has tucked away but instead he throws me a curveball with an assortment of trucks to choose from.
As I pull up to his shop I knew he had a rat-rod truck that had been sitting in storage waiting for me but the whole story was still a mystery. It turns out to be a 1950 Chevrolet that has been thoroughly worked over and pieced together by two friends who decided it might be fun. The story that unfolded was about one friend who just so happened to have a yard full of trucks/cars/etc that had all been there for way too long and a man with the skills and tools to make it all happen.
What started as a half-hearted joke ended up with the frame from an 80's Blazer under the chopped up body of a 1950 Chevrolet. It is powered by a 350 Jasper motor with dual 4's and lots of shiny bits. The body is mostly all original parts from the Chevy but quite a few have been moved around, flipped backwards, or cut up and rebuilt. All the suspension came from the Blazer and supposedly this thing will still tow a trailer.
The real kicker to this build is that all of the parts were salvaged, recycled, traded for, or fabricated out of the yard full of cars they needed to clean up anyways. This truck exemplifies why we shouldn't strive for perfection. Take what you have and do something with it. By no means am I advocating starting with a good car and turning it into something cobbled together just for the 'look of it', but if paint or bodywork or new wheels isn't in your near future it doesn't matter. Everything that has a story and excites a bit of emotion in us is worth showing off.
Back to the truck at hand... I have said it before and I'm sure I'll say it again, but the details are what define any build. This truck is no exception to the rule, the details are just a bit different. The bodywork is definitely unfinished, you can see the ground where there should be kick panels under the doors. The new body panels are only tack welded on, albeit artfully and skillfully. These unfinished facets make it all the more striking though. It's almost as if partway through the build everyone just said 'good enough' and they went for a drive.
This idea of 'don't worry, just enjoy it' resonates with me and I think more people need to accept the imperfections and not bother with what the internet says their car should be. The grill, off of an old bus, is adorned with an almost sarcastic badge. This piece of faux chrome has every reason to be hated on, but somehow it works and I can't find a single negative thing to say about it. These small parts add up to something quite unique.
Mixing off the shelf tackiness with custom fabricated beauty makes for a dichotomy not found in today's car meets. Striving for the cleanest car at the show with the perfect stance and immaculate wheels doesn't convey a sense of awe like this does. Beauty is in the eye of the beholder, but I think I'd have a hard time finding someone that would walk by this and go 'meh'.
With parts, motor, and fabrication from Adam Musick and Steve Marabella the only thing left was to paint the parts that weren't too rusty to be saved. Their friend Chip did an awesome job with custom artwork that really shows the attitude with which this truck was built. I think this truck is the most interesting vehicle I've gotten to shoot so far, which is funny because it really has no purpose or reason. I guess being able to commit to a project purely because you just feel like it is something I wish happened more often.
Without Words:
For more swanky car pictures and what not, check out our (roflcopter and I) pet project featuredgarage.com.