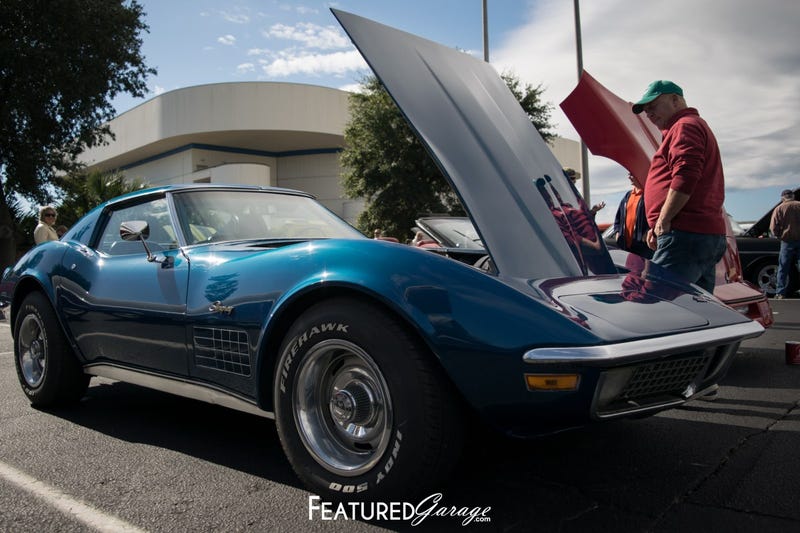 It's that time of year again. The time of year where the cold weather is counteracted with warm sentiments and hot cocoa, or Glühwein. It's also that time of year where people are encouraged to give rather than receive. This year the Northwest Florida Podiaty Association hosted their 4th Annual NWFL Podiatry Association Car Show in support of the the American Diabetes Association. An end of year car show that supports a charitable cause coincides well with the holiday spirit.
From vintage race cars to classic cruisers, modern muscle, and even tuners, the Podiatry Association Car Show offered something for the likes of anybody and everybody within the automotive community. In an effort to raise money for the American Diabetes Association, the show offered a people's choice award in which spectators could purchase tickets and place them into containers placed in front of each vehicle. There was also a raffle available to further contributions.
Car shows are a great way to show off your creation and indulge in a bit of vanity in the form of receiving a trophy for your creation. These types of events also allow the spectator to really get up close and personal with automobiles that they might not see everyday, or ever see again. Check out the array of badges adorning the front of this Bugatti. Well before the days of the swathes of vinyl stickers lining the sides of windows, people used decorative badges like these to further extend their personality on their car. You could liken it to a person wearing jewelry. Typically these badges signify a sort of fraternal meaning, similar to the various stickers we see today that pay homage to a particular brand or group. Maybe there needs to be a resurgence of these badges.
Now is the chance to really get in there and see what's going on with some of these creations, and here is something you don't see everyday — the V8 powerplant dubbed "Rocket" by Oldsmobile. Interesting notes about this American V8 include it's hydraulic lifters, oversquare bore-to-stroke ratio, and a forged crankshaft. Even more impressive is the life this engine had as this power plant began in 1949 as the first mass-produced OHV V8 engine and the last carbureted V8 with production ending in 1990. Quite a long run, this engine had. For reference, these engines produced 35% more power than the competing Ford flat head V8 of its time. The horsepower war in Detroit has been and will always be an interesting one.
There was an interesting way in which some people displayed their works. Some people setup a tri-fold poster displaying the timeline of their creation, while others offered free large print outs of their car. This person created a podium with information detailing the specifications of their Grand Sport. Considering that most people are walking around, taking in the sights of the other entrant's cars, providing a bit of insight and detail into a car is useful when the owner isn't personally standing by to answer specific questions.
Since we're on the topic of detailed information and modern muscle, one car that needs no explanation is this. The 2003-2004 Ford Mustang Cobra, known as "Terminator" in it's cult following. Let's just take a minute to consider what we're looking at.
The nickname "Terminator" was the code name used by the SVT development group. It sounds like Ford was trying to weaponize the Cobra for the ongoing horsepower war. This car is starting to become a sort of collector's car for performance enthusiasts, and to add a deeper layer of interest to this one, here it sits in it's factory Mystichrome paint. This is certainly a sight you don't see everyday.
On top of taking in the daunting amount of automotive grandeur, shown here with the bonnet of a beautiful Triumph TR8, it was also quite interesting to witness personal interactions between man and machine. Capturing the moment that is viewing an idol of a car allows the spectator to continue the enjoyment of the show in the comfort of their own home. Whether it's through the lens of a DSLR or taking a quick snap with a cell phone, it's nice to always be able to look back on that piece of machinery that instills and reinforces the automotive passion within us all.
The community is ultimately what makes shows like this what they are. It's the interactions, camaraderie, and interpersonal support that help fuel the automotive passion, and it's the collaboration that fosters new and innovative ideas. Plus, it's always exciting to see people congregate around your machine and pore over the details the you have embedded into it. With that said, there was almost an overwhelming amount of mechanical beauty to take in. So much that it took an hour just to walk the first row and absorb the personal touches embodied into each creation.
It's car shows like this that further the automotive community. Car shows that not only allow enthusiasts to thrive, but also give. Through charitable contributions, The Northwest Florida Podiaty Association is not only giving to the community by raising money for the American Diabetes Association, but they're also giving to the automotive community by facilitating the fellowship of car shows. Whether or not you're giving through financial means or giving by simply interacting, the act of giving is the very factor that promotes progression within any realm, charity or community.
And so for now, it is time to put the words aside to simply view and interpret the following images. For more information on this event, visit: http://www.adapodiatrycarshow.com/


Well, I hope you enjoyed the article. I took more pictures of this event and they can be seen at the bottom of the article here:http://featuredgarage.com/a-car-show-for…