I wrote this a couple years back so it's old news now but it never found a home so I'll subject y'all to it....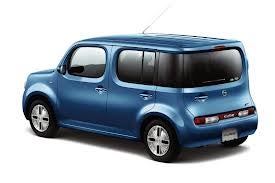 You have seen them at red lights and you've see them in the supermarket parking lot. Or maybe like me you've seen their bubbly, rounded off grilles coming toward you in the opposite lane on the freeway. I was riding down the interstate recently with my girlfriend and sighted one of them and it started up a conversation. "What do you think about those little Nissan Cubes? Those funny little asymmetrical jobs."
The discussion ensued. I'm a car nut, have been since I was a kid and to say that newer cars generally don't flip my switches is an understatement. And to go further this new wave of compact cars in SUV's clothing, or crossovers, is a market that I am utterly disinterested in. However this little car was a complete mystery to both us and our imaginations and curiosity got the better of us so we pulled off at the nearest Nissan dealership to have a test drive.
The term "bold styling" has become a terrible cliché, the sort of term that would be more applicable to the next American mid-sized bore-box to make potential buyers to get excited about this year's restyled tail lamps. So to avoid lumping what I think is a significant milestone (I'm not even sure that's what to call it) in automotive design, I'll do my best to avoid using the clichés. I feel like the folks over at Nissan have been avoiding design cliches with their Cube since production began in 2002.
First released in the USA in 2008, the Nissan Cube is very, let's say, odd. The steering wheel is in the
right place, and there are five doors that open with handles and it runs and drives around like a normal
car, but that's about where the sanity stops. Look at the rounded off window frames or take for example the asymmetrical rear window that wraps around the back corner of the car. Don't like the looks? Step around to the other side and reconsider.
Fantastic styling with a wild sense of whimsy doesn't stop with its "eccentric" outer styling. The Cube we test drove had a sort of ripple themed interior. The first thing I noticed when we climbed in was the headliner. Surrounding the overhead lamp it is formed into concentric expanding rings that look like the ripples on a zen pond after a pebble has been dropped in. This theme continues on the speaker grilles and in the bottom of the cup holders.
In front of you is an immense scalloped dash which has a funky, furry, little shag carpet mat that when I asked the salesman what the purpose was he shook his head and said this was the first Cube he'd ever been in. I would assume you could throw a cell phone up there. All this may seem a little gimmicky and in truth it is, but for good reason.
The cube has to be to survive in a segment of the market that's flooded with stuff like the PT Cruiser, KIA's Soul, that Scion box thing, and a number of other offerings including another from Nissan. Nobody drives these crossovers because they think "oh man if I could just have a tiny SUV." No they're as practical as they are plentiful. They're the new station wagons. They can haul the kids to school all week then move 2x4s on the weekends. In my opinion the Cube design really sets it apart from a field of mechanically similar vehicles.
Climb inside and you'll notice how immense it is, the head room in this thing is stunning. The massive dash lends the same sense of space to the cabin that you would expect from a mid-sized pick-up. It's a pretty clever lay out too with every modern radio convenience you can imagine available from the factory but even the base model Cube is equipped with six speakers. The front bucket seats were comfy, albeit low.
The rear 60/40 bench seat was elevated theatre-style and had plenty of room for our not so informed sales man to sprawl out. Behind that is a trunk area spacious enough for groceries that can be expanded by sliding the rear seat forward into one of three positions or laying it flat all together to make a tiny Nissan van with a convenient swing away rear door.
The cube features a 122hp 1.8L 4 cylinder which will get you up on the interstate and around town without issue, but driving enthusiast may find it less than inspirational. This car is less about speed and handling and more a car to be seen in. Besides if you go too fast people can't see your nutty little car. This is a car that you park in the drive and walk out to every morning and it makes you grin, a car you don't mind commuting in.
Don't be tempted to stack this car up against your established notions of what a car should be. This unique car requires a wholly different measuring stick. The Cube is about the feel, not the way it feels on the track, but rather the way it feels day to day. This car is like one of those flowers stuck on the lapel of a clown's jacket that squirts water in your face. Once you get squirted you kind of want to punch the guy in the mouth, and if it was anybody but a clown you might. But you don't you just let your pride take one on the chin and laugh it off. It's all about not taking things too seriously. Plus you're going dry off and that guy's still going be dressed like a clown.
So, in trying to find a decent way to avoid cliché while still capturing what makes this little car special I landed on one simile. In a lot of ways this car is like an old Mel Brooks film. You just get it or you don't. It can be coarse and in bad taste to some folks, and in certain company totally inappropriate. But if you get it, and you don't mind a little slap stick silliness and the occasional fart joke you can see through to what it really is, it's a challenge to the conventions a discretely intelligent and radical look at the established norms and begs the question "Why does it have to be like this?"
That's what I find exciting about this car. It confronts you and challenges what you think a car ought to look like. It doesn't look like it was designed by a group of accountants and marketing men worrying about how many "units" they can sell. Take the looks or leave them, and say what you will its performance, this car displays a passion for innovative design and a bit of bravery that the big three in Detroit are missing in their lines of play it safes and rerun cars.