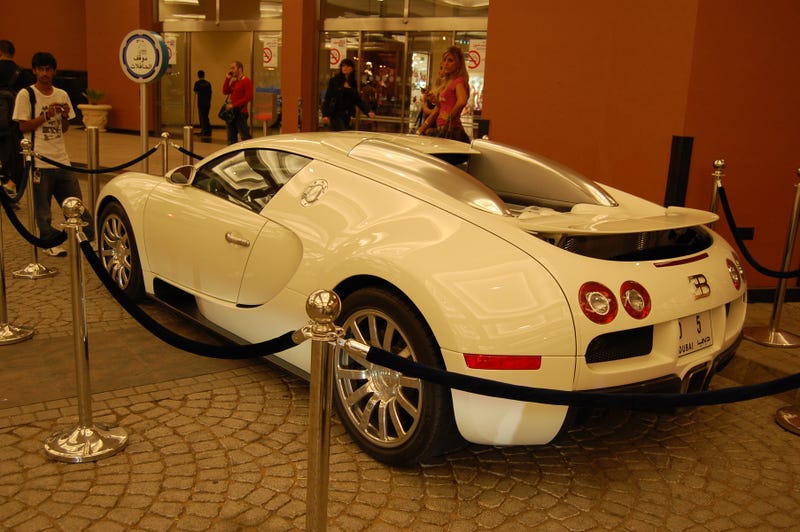 If you love car spotting, just come to Dubai. And you will find a staggering amount of different kind of cars. Lot of different cars. So, let start our journey, with this:
KTM X-Bow. I'm pretty sure he's not going to the mall.
Simply because, if you want to go to the mall you'll need this. The Fastest Shed in the wuuurrrllld.
But i think if i need to to the mall, may as well driving the proper car. Bentley Arnage.
Or may as well go wild and drive a Carrera GT.
But the thing is, at night everybody seems to prefer this Bug more than anything else.
I love this 1M. I got some feelings that this car will be a future classic someday.
I come from hell!
You see? You can have a 911 GT3 without awful stickers. It's much better to look at.
Automatch On The Move. Oh wait..
Saudi Man everywhere. I'm pretty sure none of them is Iron Man.
Hey, an Aston. Again.
Blue Mclaren. Nice taste.
Nice Countach. Need some red tough..
Some say it's the new Parismobile.
Anyone need some Flat Six Turbo?
Some say it's a Bugatti Veyron. But it isn't. It's a Bugatti Veyron Sang Noir!
A Mom and his 3 Fat Children. And A Photobombing Ferrari.
That cobra owner should have a pair of massive sized ball.
This Enzo owner is also maybe have some balls, altough not as big as that Cobra owner.
But, Look! A Nissan Sunny! Guys, it's the most amazing car ever! Guys! Guys!
Sorry fro cracking up guys. Have a Maserati MC12. This guy also probably have a pair of huge balls.
A (probably) Abandoned car. Looks like a Testarossa.
Aand that's it. There's still another one to come, but i need to feed my cat, Nexus. Enjoy this one first!