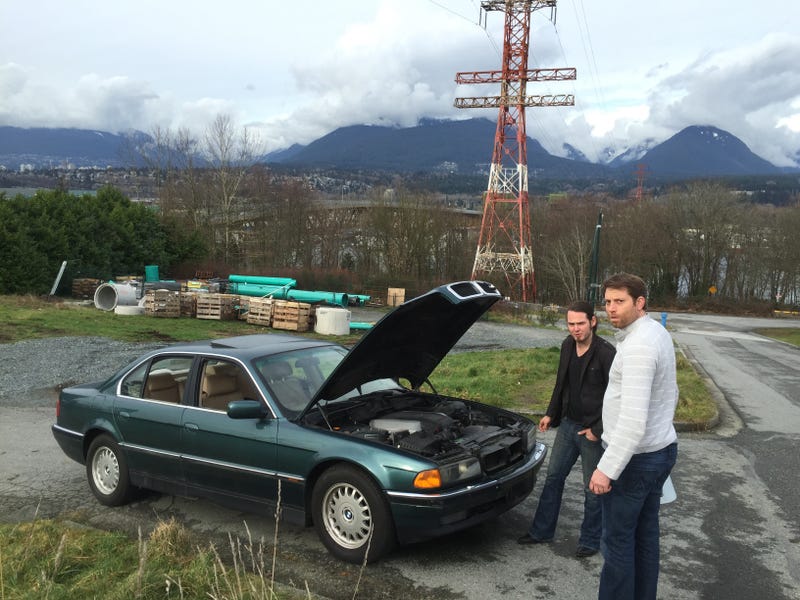 In addition to taking pictures of the 530 Touring,
we spent some time trying to fix yet another old 7 Series. This was bought initially for some parts for my friends other 740i, because the owner was adamant that it had a leaking head gasket. He said he had a customer bring it in for a new radiator, which he did, but then it blew the expansion tank off. We assumed he was correct, but decided to poke around at it today and see if maybe it just wasn't bled properly, which is a common occurrence with M60s. So we bled it, heater on full blast, front end downhill, as it's not supposed to be, because sometimes we're dumb. Lots and lots of bubbles, it took quite a bit of water.
Then we went for a quick test drive. It runs wonderfully, has all the power it should have, seriously everything works as it should on this car except for broken cupholders, and worn front brakes. Until it started getting too hot. So we stopped on the hill pictured above, faced uphill, as it should be, and bled it again. But then we were too low on coolant, limped her home and let her cool down.
Then tried again, and discovered that the coolant level indicator under the tank cap is broken, and just sort of floating around freely. So that needs addressed. But it held its temp, and we took it on a harder drive, actually pushed it, instead of just cruising. Still held correct temp......until it didn't. made it to 3/4 of the gauge, and we stopped, and shut her off. Turned her back on again, and the temp started going back to normal, and stayed normal for 15mins of idling we we fruitlessly googled for what the hell is wrong with this car. No luck, and it randomly started to creep towards the 3/4 mark again. Shut her down, tomorrow we shall try one more bleed and drive, if it can't hold temp we'll suck it up and do a compression test...... Oh, it's worth noting, there is no coolant mixing with oil, no white exhaust, no sweet smell, nothing that points toward HG issues that I can identify, as opposed to coolant circulation issues.
On another note, my friend also couldn't wait to swap on his new summer wheels, and I must say they look better than the stock honeycombs...
Next up for the beige bullet is some low....not too much, just some.
The purple people eater will be getting some low as well, more to come on that next week or something, if we don't get too distracted making the green 7 a useable car instead of a parts car.