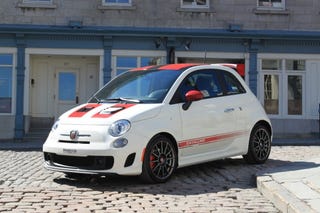 So what are some of the features you get on the Cavallino?
Painted Satin Black hood port extractor to relieve heat and under hood pressure at high speeds.
Painted Satin Black Intake Naca Duct Hood Port, to let cold air rush to the engine compartment contributing to lowering the engine operation temperature.
Functional Racing Rear Composite Spoiler with CNC Aluminum Mounts and color contrasting Side Blades.
Cavallino Door and Rear Hatch Badging.
Authenticity Dash plaque and Certificate.
The company will be introducing more customization features throughout 2013, including a functional front splitter to enhance down force and improve frontal airflow (available late 2013) and a front air dam port to replace the central grill with a larger opening to help the intercooler breathe more efficiently and to embrace a pair of high power LED day time running lights. (available late 2013).