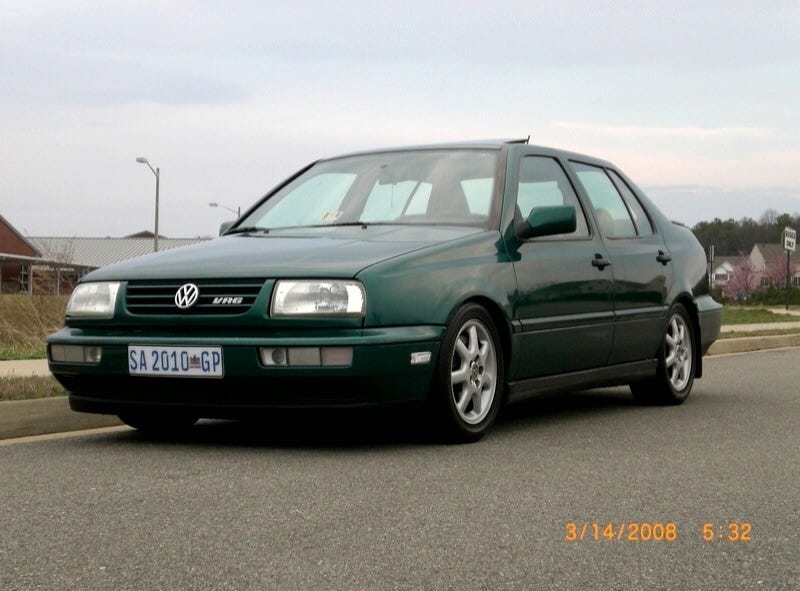 Ok, not that. That's the Euro version and it's been lowered, but otherwise, same car in the same color, a 1998 Volkswagen Jetta MK3 GLX VR6. Has an odd feature - the VW ornament is...gold. I was like wtf? It's some kind of "Gold Edition", apparently, this was an actual thing, but v-dub experts plz feel free to correct.

I'll get the bad news out of the way first. It has a automatic transmission. The good news is, it's recently rebuilt and operates smoothly. My friend, who is an Oppo but doesn't know it yet, really wanted a light, manual coupe or hot hatch, RWD, AWD, FWD, whatever. An Integra, or a GTI, the usual suspects. But he wisely chose to keep his options open and look at both manual and automatic transmissions. He would have prefered a manual, but didn't want to cut himself out of a good chunk of the market. As this car will be a DD to get him to work and school, reliability and comfort are factors, and because of the price he was willing to pay - $1,000 - condition is very important, both reasons to cast a wide a net as possible.
(Not the same car, either, but same style 7-star factory rims and color)
The VR6 motor in the GLX likely needs no introduction. It still sounds as good as I remember, if a bit muted. It's lost some of its ponies of course, but pickup is still pretty good. Otherwise as the top of the line Jetta in 1998 it came with features that keep it in today's game, like dual airbags, 4-wheel discs and ABS.
Problems include a wheel bearing needing replacement and an alignment fix. And that's it. He's going to take some precautionary measures, like replace the battery, general fluid change/flush and possibly replace the sparkplugs. Their Bosch atm, but they're worn.
This is a one-family car. Husband and wife ownership. Only 188,000 km on it (116,000 mi) and the bodywork and paint is nearly mint. Amazingly, no rust except a couple microspots that are just now starting to build. The car seems to have been well-taken care of. Best of all was the price. My friend is a shameless lowballer, and talked him down from $1,200 to $850. The car also came with 4 winter tires (just in time) on steelies, and not just any tires, but Michelin Pilots with what looks to be, like, 96% tread.
So any Opponauts have experience or pro tips on the 3rd gen Jetta that I can pass on to my friend?