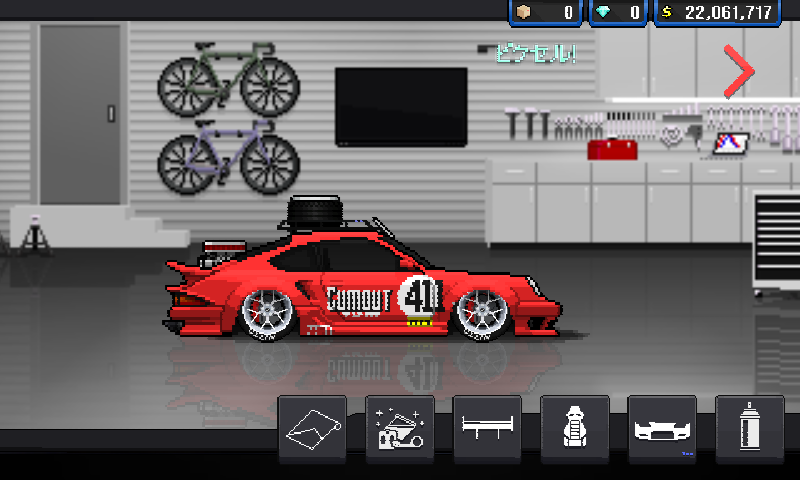 Pixel Car Racer is a very fun mobile game that I would recommend to every car guy.
From the body kits, to the 60+ cars all steming from different continents it's a crazy amount of fun!
The detail is absolutely amazing, your car even scrapes if it's to low the loading menu!
On my Porsche (discontinued car since the latest patch/update due to copyright) you can attach blowers, airfilters and even have varying degrees of open intakes as well as these being available on all the cars in game!
The shop is full of cool and unusual parts that stem from real life brands such as RB, Padem, BN and fortune kits as well as several real life engines ready to be swapped into any of the cars within the game. From the GTRs vr38, to an LS to the mighty KA this game has it all and gets monthly updates.
The game has several modes, varying levels of difficulty and 2 different settings. The only track is Tubuska but all you can do is drag race there with 1/4, 1/2, and full mile options. The real fun is using the money you made on the track to challenge or cruise in the different modes like touge and cruise both of which can be played in a Colorado setting or a Japanese setting.
Tuning is awesome, and you have full control over your gear ratios within the game aswell as the customization that I've done to make this poor civic look riced with different rims, a rust livery, fart cannon, and sticker bomb you can see how far into customization this game goes.
Your garage starts with 2 spaces but for 100k you can have another one, up to 6 slots are available.
The dealership and car list is where this game shines. With 60+ cars and different mods for every single car combinations are endless.
The finale to this write up on Pixel Car Racer is my question. Will you try it? Do you play it already? And do you enjoy it as much as me?