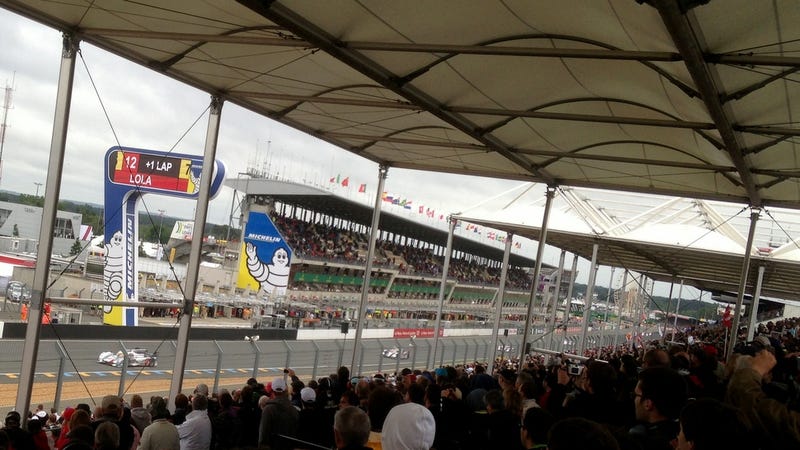 I'm writing this while on the train from Le Mans to Paris. The 2013 race ended a few hours ago and Audi won again. Many things happened during the race, including the death of a driver, but I'm not going to dwell on that here. What I want to provide is some info on how to attend the race as a normal fan. No special treatment, no media credential, no PR rep driving you around in a golf cart, no suite and no place to sleep. Just an average Jalop and his/her backpack. I will tell you how we did it. This is a long post, but I wanted to include info that I couldn't find anywhere while we were planning. Every time I did a search I would find a tour company trying to sell a trip to Le Mans or some story about the race itself.

Lodging
We stayed in Paris and didn't have lodging at the track. We rented a nice apartment via AirBnB.com form about $100/night. Other sites exist. As I was traveling with my wife, and I had my camera gear, a hostel was out. You might be able to go cheaper that way, but we were very happy with what we got. Hotels in Paris during the summer will run you over $150 a night for anything with a recognizable name and finding a deal can be tough for the impoverished race fan.
Le Mans is always the weekend right around the solstice, if you are lucky that will mean you are in Paris for Fete de Musique. It is a huge, city wide, festival where bands setup and play in the streets. Lots of great energy and some good music.

Our place was in Les Halles. Lots of bars and restaurants. We had a great steak at a metal bar called The Black Dog.

Getting To The Track

Don't even think about driving. Just don't. Traffic is a bitch, you will have been up for the better part of 36 hours and some of you, maybe many of you, will have drank too much. Train is the way to go. Tickets can be ordered from Rail Europe online well in advance and you don't even have to speak French. You can take the TGV for 150€ and an hour of your time each way or the slower train that is 36€ and 2.5 hours each way. We went slow boat as I'm not made of money. I will caution that you want to get there earlier than we did. Our train arrived about 1.5 hours before the race. We had issues with will call (I will discuss that later) and we didn't end up getting to our seats until about 15 min after the race started. Trains run between Gare Montparnasse and Le Mans ever couple of hours. They are comfortable and some have power to plug into. On the slower train you can book 1st or 2nd class. I chose second because I blew my wad on race tickets.

From the train station in Le Mans you literally walk outside and take the city tram toward Antares. Get off at the Guetteloupe stop unless you are staying sound Tertre Rouge. Tram costs around 5€ round trip and takes 20 minutes.

Getting Your Tickets

Order online, and for the sake of all that is holy, don't do will call. Spend the money and get them sent home. The location where you have to pickup will call tickets is a 15 minute, or more, walk from the tram stop at the track. There are no signs at the tram stop and the well meaning folks walking around with track vests speak minimal English. We got sent the wrong way and that is part of the reason why we missed the start of the race.

Seats
Buying tickets for Le Mans is a two part deal. First you have to buy general admission. 74€ for that. Then, if you want a grandstand seat it is extra. 60€-100€+. We got grandstand seats in Barnato located at pit exit on the front straight. There is non-reserved, uncovered, general admission viewing in front of each of the stands. Kind of cool. I opted for buying reserved seats for two reasons. First, my wife was attending her first 24 hour race with me. I wanted to make sure we had a home base that offered some little comfort. Second, to quote Jason Statham, "It always rains at Le Mans." Our grandstand was covered and offered protection from the rain and some from the wind. Our stand did not offer a solid rear wall, so wind protection was limited, but we did have reasonable views of the pits and the hill up to the Dunlop bridge. There was also a jumbortron in front of us as well as a scoring pylon.

Seats are reserved at the start of the race and at the end. In the middle it gets indeterminate. At first they give you a general grandstand in and out so you can roam the stands if you have a grandstand ticket. From 10 PM to 6AM all the workers disapear and everyone can sit in just about any stand. Only exception seems to be the ACO stand along the pit stretch.

What's Happening?
One of the toughest things about being a road racing fan, not to mention an endurance racing fan, is figuring out what's happening. I have a pretty cool race scanner that my folks got me while I was I college. I use it to seek out teams for info and laughs and the TV/Radio broadcasts. I wasn't able to track down a WEC frequency list prior to the event, but did find a couple of teams by scanning around. I also found Speed's production frequency so I was able to hear the commentators, producers and the chitchat during commercials. My true source of info though was Radio Le Mans. If you like endurance racing you need to get familiar with these folks. Seriously. For Le Mans they go all out and have a fantastic team in place. Great color people, amazing historians/statisticians and really good pit reporters. Stellar stuff. You don't need a scanner for Radio Le Mans either. Any FM radio will pick them up at the track or they sell special radios for 10€. I saw lots of people with Radio Le Mans radios hanging off their ear. The track does offer French and English commentary over the PA, but it is pretty dry.
Food



There is all kinds of food and drink at the track. Most looked pretty good. Lots of sandwich places. Prices were what you would expect for race track food. We sprung for a 3€ tea as we needed something warm. Our plan was to pack in our food. We hit a bakery in Paris for fresh bread, cheese and meat and made sandwiches when we got to the track. We also brought Cliff Bars, water, fruit, jerky and Red Vines. Never forget the Red Vines. All up we maybe brought 30€ worth of stuff and did just fine.

What To Wear

Everything. Do you own a wet suit? Great, bring it as it may flood. Weather in this part of France can be volatile. Just assume it is going to rain at some point. It rained off and on for us the entire race. A few heavy showers, but mostly light drizzle being propelled by 15 MPH winds. It wasn't great, but we had sweatshirts/flames, jeans, water proof jackets, rain panchos, hats, light gloves and very comfortable shoes to help deal with it. Only thing I wish I would have brought was a scarf. My nose got cold in the middle of the night.

Then there were the clothes i didn't use. I also had a pair of shorts and extra sox, undies and a T-shirt. I didn't want to end up stuck cold and wet if I got in that situation. Going to a 24 hour race is as much about your endurance as that of the cars and drivers

Let's Go See The Track

There are a number of free trams/busses that run around the track. Only the tram that runs to the Porsche Curves, Arnage and Mulsanne operates the entire time the race is going on and that was the only one we used. I wouldn't call the busses schedule "regular", but it got us where we wanted to go eventually. We had significant waits getting out of Mulsanne around 1030 PM Saturday night and going to the Porsche Curves at 6 AM Sunday. The busses were warm though and I admit to catching a nap on a couple of legs.

Once you get to each of the legendary sections of track via buss/tram you will be offered viewing burms and that's it. Maybe a portajohn and someone selling burgers. Arnage/Indianapolis offered the best, close views of the cars in a relatively slow speed section. Mulsanne was kind of disappointing. You could see the cars coming out of the final corner of the straight and the run through the woods to Indianapolis, but none of the famous, 240mph+, Mulsanne straight. We checked out the Porsche Curves from inside the track early Sunday and the view was ok. Going to these corners does offer you a perspective on the scale of the track. All, except Indianapolis, are named for the towns in which they reside.

We also walked the track from Blachemont down by pit in to the Dunlop bridge on the pit exit side. This is the most built up area of the track and includes the pit stretch, the carny rides and the infield vendor area. We never made it to Tete Rouge and you can't really go view the Mulsanne straight.

Distractions

There are carney rides and lots of shops. We did ride the famous Farris wheel down by the Ford Curves (pit in). Cost was 6€ per person. Really not bad as it is about a 15 minute ride and the view is amazing. Especially at night. Each car seats 5 and if you don't have enough people they will find someone to make up the numbers. My wife and I rode with three Brits and had a great time.

Shops range from team gear, official race stuff and random vendors selling shirts, stickers, models, art, books and who knows what else. A lot of the stuff was expensive. A team shirt will cost you 25€ min.

Sleep

Look, you will want to sleep at some point. You just have to. We failed miserably. We brought warm clothes, those Mylar emergency blankets, ear plugs and tried to bed down near our seats in Barnato. As the stand doesn't have a solid back it got windy and cold. We moved to the front stretch across from the pits and those stands had walled backs that cut down the wind, but were brightly lit and loud. We caught maybe an hour of sleep there in fits and starts. My best sleep was on the bus back from the Porsche Curves.

Knowing what I know now I might bring an inflatable air materess and try to either set up shop on the floor of a front stretch stand or in the Dunlop stand. It had benches instead of seats and would allow for a flat surface. A sleeping bag would be good too, but then you have to pack it around. Damed if you do and damned if you don't.
You Gotta Go
I will spare you the picture here.
There are permanent restrooms in the built up areas from pit in to Tete Rouge and in the fan area in the infield. The toilets do not have seats and the urinals are a giant trough out back of the main toilet building. Most men just peed wherever. Floors in the bathrooms were always wet, it was raining (that's what I kept telling myself), so it was kind of explainable. There was no soap or towels, but there was always TP. Nicest were in the infield vendor area.


Jumping the Fence

You've seen it on TV. The huge throng of fans under the podium at the end of the race. You want to be part of that. You need to be part of that. Race officials allow it, but they don't make it easy. In fact, there is barbed wire along most of the catch fencing and walls I saw. I've never seen that at another track. What we did was wait in our seats for the race to finish and try and figure out where people were getting in. My wife spotted folks streaming in for the stands in front of the pits. We ran down there to the stands just past the ACO stand and found folks climbing a rail and another wall and then having to hop down into a ditch/passage that had a door that lead to the track. Not something for folks with mobility issues or kids. You are looking at 4 ft+ jumps over uneven footing and broken beer bottles. I banged up my camera doing it. It was totally worth it. I think they open other areas as there were older folks and kids down there eventually, but we didn't see them. We got pretty damn close to the podium, so we were part of the first wave.

On the walk out, most of the gates at the marshal posts were open. We walked all the way to Tete Rouge where we exited the track and caught the tram into town. I think this actually saved us time over walking around the track. It also allowed us to pick up rocks and rubber and to check out the Dunlop Bridge.

Getting Home

As I mentioned, we stormed the track and then grabbed the tram back to the trance station (gare) in Le Mans. The tram ride was 20 minutes. We had no wait for the tram, but it was packed when we left. We were back at the main station about an hour and a half after the race finished. Not bad. There was a train that left at 5:30 PM that I could have booked, but I had booked a 7:30 PM as I didn't know how it was all going to pan out at the end of the race. We just ended up using the time to get some dinner and a much, much needed cold beer. We ended up back in Paris around 10 PM.

That's How We Did It

Overall it was a good experience. There were some things that have gone better, but we lived through it and had fun. Hopefully you can use some if this info to get you and your friends over there to experience the race. It's not that hard, you just ned to be ready. Have fun.
Update: My photo dump of pictures from the race can be found here: