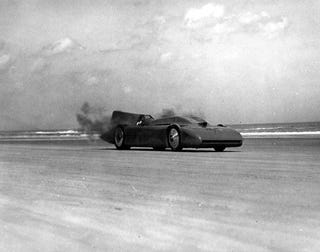 The Campbell-Railton Blue Bird.
Everyone likes speed, Sir Malcolm Campbell was a cracking example. He was was an English racing motorist and motoring journalist. He served in WWI in Queen's Own Royal West Kent Regiment and in the Royal Flying Corps. He drove a Bugatti T37A (Pictured below) in the Grand Prix de Bouloge in 1927 & 1928, he won both of those races. Octane ran through him, it could not be removed from him.
He also did land speed racing. In 1924 at the Pendine Sands near Carmarthen Bay driving a Sunbeam with a 350hp V12 he ran 146.16 mph (235.22 km/h). That car is now on display at the National Motor Museum, Beaulieu. Later in 1927 driving a Napier-Campbell Blue Bird (pictured below) at the same location he ran in 1924, but this time he ran 174.224 mph (280.386 km/h).
He was not done with going fast. Fast forward to 1931 he is now at Daytona Beach, he is driving the same car he set the record in 1927. He had more space so he could go faster, he ran 246 mph (396 km/h). Go ahead 2 years and it is 1933, he is still at Daytona. This time things are different. He is using the same car he used in 1931, this time is has a new engine (Rolls-Royce R). He ran 272 mph (438 km/h). The problem was traction, he lost about 50 mph (80kph) due to tire spin.
2 years later it is now 1935. He is using the same car from 1933 but it has changed lots. It now has a rectangular nose, a larger tail fin to make it more stable, and ridges over the cam boxes. Mechanically it changed lots too. He put on dual rear tires to help with traction, and the final drive was also split into separate drives to each side. This reduced the load on each drive, allowed the driver position to be lowered. This required the wheelbase to be shortened asymmetrically on one side by 1½"(37 mm), and Airbrakes were fitted.
He is back at Daytona Beach to beat his old record. He ran 276.82mph (445.50 km/h), he knew he could go faster. The uneven sand caused loss of grip. He was looking for large, smooth flat area to run. He ended up at the Bonneville Slat Flats. There he ran 301 mph (484 kph). Between 1924 - 1935 he broke 9 land speed records, three at Pendine Sands and five at Daytona Beach. His first two records were driving a racing car built by Sunbeam. The original is located at Daytona speedway circuit Museum, and a replica is at Campbell gallery at the Lakeland Motor Museum, England.
He was not limited to land, he also ran on the water. He developed and flotation tested Blue Bird on Tilgate Lake, in Tilgate Park, Crawley. He set the water speed record 4 times, the first 3 were set on the Blue Bird K3 (pictured below). It used the same Rolls-Royce R engine.
In 1939 he had his last & final run. It was on the Blue Bird K4 (pictured below), it was a 3 point hydro plane. At speed, the force on this step is enough to lift the bow upward, reducing the wetted surface area of the hull and thus also the frictional drag. A "three pointer" has a two distinctly separate floats fitted to the front, and a third point at the rear of the hull. When the boat increases in speed, most of the hull lifts out of the water and planes on these three contact points alone. He ran 141.740 mph (228.108 km/h) on water. In 1948 at the age of 63 he died of natural causes. He was one of the few land speed record holders of his era to die of natural causes, as so many had died in crashes.