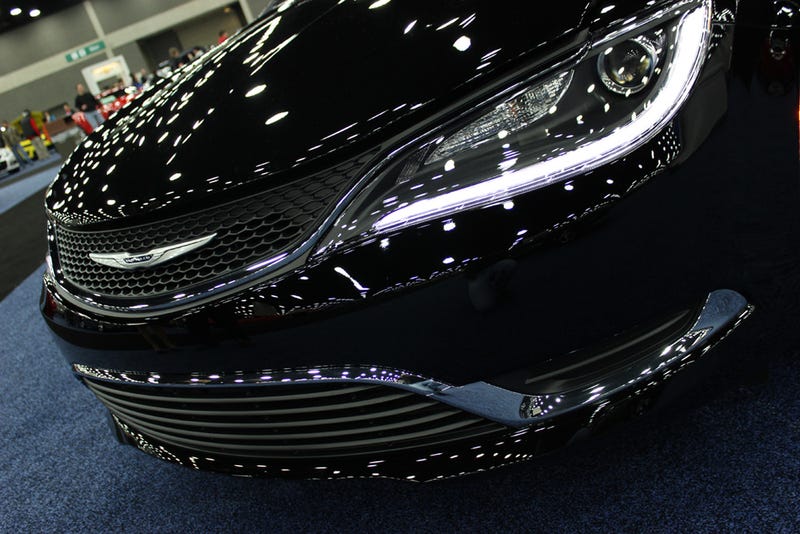 This past Sunday, February the 23rd, I made a trip to the Louisville Auto Show at the Kentucky Expo Center in — where else? — Louisville, Kentucky. Parking was terrible. It snowed. I almost got sideswiped by a Lexus.
At the Louisville Auto Show you will not see new models from Bentley, Porsche, or even Audi. But who gives one good goddamn about them, anyway? Those are brands for those one-percent snobs who eat expensive caviar and read The Wall Street Journal while sitting on a gold-plated toilet twirling the ends of their mustaches or whatever it is rich people do these days. Chrysler was there and they brought along the new 200 mid-sized sedan. And let me be the first to say it was pretty freaking great.
Here are my initial impressions of the new Chrysler 200's design and quality from the, like, five minutes I spent screwing around in it before I had to give up the driver's seat up to an old man in a North Face jacket.
The Exterior
Well, let's see here. Um, it's nice, for starters.
The particular 200 Chrysler dragged along for the show was apparently in Limited trim based on my research (the rep at the show didn't say), meaning it's pretty much a set of nicer rims and tires and few extra chrome bits away from being the base LX model. According to Chrysler's website, a 200 Limited like this one will set you back $24,000 bucks and whatever extra you have hidden in your sock drawer next to that box of condoms you haven't touched since John Kerry's long-winded campaign for Bush's job.
Personally, I think it looks great to be such an average-priced car. It's almost — hell, it does look more expensive in person than what its sticker price suggests. And I tried my best to spot out any obnoxious panel gaps or questionable exterior trim. Nope. Nothing.
Yeah, I can hear you. "It looks like a Ford Fusion." "It looks like a Tesla." "It looks like an Audi." "Blah, blah, Impala, blah, blah." So? It's better to be in company with those four cars than your typical bland-ass beige barge. I say Chrysler's done an excellent job here.
The Interior
We've all seen the photos. We all know the design was apparently inspired by the same chair Kelsey Grammer sat in on Fraiser. But what we don't know is how well the 200's interior is screwed together.
I couldn't find any faults to report on, really. None. None of the textures on the plastics felt cheap and what hard plastics you encountered didn't have any razorblades to shear your fingers off with. In fact, most of the stuff you were most likely to run your fingers across was that spongey soft-touch stuff that auto rag editors like to twerk on after everyone in advertising shuts the lights for the day and all of the interns go home. All of the switchgear felt solid and nothing wanted to fall off in my hand. Fit and finish was nice. And the seats ... ohhhhhhhh, those seats. By far some of the firmest and best-bolstered no-frills cloth seats I've sat in since ever.
There was real brushed metal trim on the dash, but I'm going to be completely honest here, that was the one thing about the interior that didn't impress me all that much. Oh, don't get me wrong. It was nice. But considering the fact my Dodge Charger has real engine-turned aluminum on the dash, as did the '70s Pontiac Firebird, it isn't something that you're going to be bragging to your neighbors about and it isn't something rare at this price point. Still, it's better than that plastic burled diarrhea alternative automakers have used in the past and I hope its more commonplace in the future.
This is also a very clever interior. There's storage below the floating island that houses the hard controls for the uConnect infotainment system and the rotary knob for the automatic transmission. And that island is also very ergonomic, too. Thanks to the angle at which Chrysler designed it, everything is placed within a lazy reach when you have your right arm napping on the center armrest.
Then there's the damn center console which is so clever in and of itself, it's outright smart-assed. You can access the storage it provides by either raising up the center armrest in typical fashion, or by squeezing the tab in the upper left hand corner of the cupholder assembly and sliding it back underneath the armrest. What this reveals is a massive sinkhole that might almost be large enough to conceal next year's "look, Ma, no liters!" three-cylinder engine block. There's also an aux jack somewhere down there, too. To slide the cupholder assembly back to its original position just squeeze that tab again and your concealing whatever poor decision you bought at that, you know, one store out on the far end of town where the floor is always a bit suspiciously crusty around the DVD rack.
Like the exterior, the interior is certainly a nice piece of work for what amount of money you pay.
Final Thoughts
If you noticed, I wasn't comparing the 200 to any of its competitors here. Well, when it comes to exterior and interior design and quality, I can say the 200 is certainly near the top of the pack; it's far above that thing Chevrolet calls a Malibu, more interesting than the tired Toyota Camry, more premium than the current VW Passat, and better executed than the Nissan Altima. It's biggest rival comes in the form of the car it was designed to surpass, the Ford Fusion. Is it better than the Ford Fusion? That's tough to say. But the Ford certainly does have some stiff competition from Chrysler here and I wouldn't be terribly surprised if it comes out ahead.
But, if you also noticed, I didn't get to drive it. And that could certainly change where the new 200 falls against the competition. We'll likely know the answer to that soon enough.
In the meantime, Chrysler certainly deserves a pat on the damn back, regardless. It wouldn't have been hard to outdo the old 200; a covered wagon with leather seats drawn by a team of mules would've been a step up. They chose to go more than just the extra mile on this car inside and out and it shows.
So, yeah, let Germany brew beer and let Switzerland make watches or whatever it was Chrysler's recent Souper-Bowel ad said. As long as Chrysler builds cars like this one, I don't think they'll have any trouble finding buyers. In fact, I think they've finally built a mid-sized car that can worry the shit out of the rest of the industry.
Blake Noble manages the trainwreck of a car blog called Ignitionist.com. If you enjoyed this article, feel free to follow the madness here on Kinja or on Twitter @ignitionist. All hate mail, tips, and kudos can be sent to theignitionist@gmail.com. Thanks so much for reading!