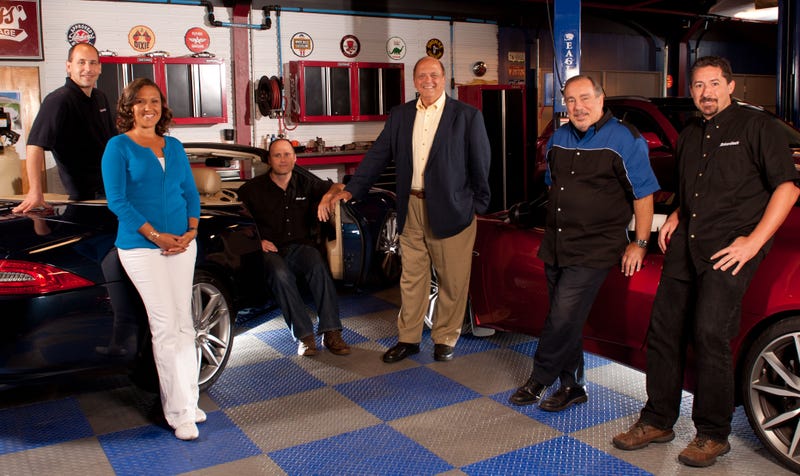 Did you know that Motorweek, Television's Original Automotive Magazine, is broadcast on television as well as on Jalopnik? So gather round, and let's watch the team review the new Jeep Cherokee, Dodge Durango, Toyota Corolla, and give the latest scoop on lithium batteries!
If you don't have a DVR, you can watch it here. If you have a DVR and it isn't recording Motorweek what is wrong with you?
All times will be listed in minutes from the beginning my DVR's recording.
00: All television shows should have drive-by introductions.
00: More off-roading than 99% of Cherokees will ever see.
00: Pat's garage is so clean I want to eat off of it.
00: Eleven generations in, you think the Corolla would be better by now.
00: A title card with cars but without middle-aged men in silhouette. Are you taking notes, Top Gear?
01: Planelopnik interlude!
01: Questions asked by 2014 Jeep Cherokee drivers: Isn't the road the only terrain I'll be on?
02: 3M: Because Greg Biffle is the really good NASCAR driver you always seem to forget.
02: John Davis is in a blue jacket, blue shirt, and standing next to an all-white Grand Cherokee. Is he channeling his inner Aspen coke lord?
02: "There's a lot to like about the new Cherokee beyond what meets the eye" well I sure hope so.
02: As if Jeep purists would buy a new car.
02: Crossover is a far too utilitarian-sounding word for a lifted FWD platform.
03: Are aerodynamics to blame for the unfortunate looks of the Cherokee and its corporate cousins from Ferrari?
03: Cherokee is built on a modified Alfa Romeo platform. Would an Alfa Romeo SUV be heresy?
04: Silly Jeep, hawks can fly. They don't need to be good off-road.
04: Maybe it's the camera angle, but that's not bad rock climbing for what the Cherokee is.
05: Jeep has an automatic terrain selector mode. Is this a Range Rover Evoque without having to haul around dead cows and trees?
05: XJ fans would only be happy with a modern Jeep wagon if it came with an I5 diesel, column manual shift, body-on-frame, and snorkel.
05: The Cherokee, like many other crossovers, wants to be sporty on tarmac. Would a crossover racing series in support of the WTCC or GRC be a good idea?
06: The I-4 Cherokee gets better mileage than my Volvo...
06: You can buy a Cherokee for the price of a V6 Mustang or a BRZ.
07: Why does Jeep need another four-door Wrangler? I'll tell you why! Because they...umm...don't.
07: The Mazda 6 is sooooooooo pretty.
08: 1981 John Davis looks hella fly.
08: As does the era's Pat Goss. Those pecs...
09: No national fueling infastrucure for propane?
10: Still no Clean City Coalitions in Michigan's Upper Peninsula. What's the deal, uppers?
10: Using owls for environmental imagery might be a little heavy handed.
10: "5 Billion Gallons of Petroleum Displaced," all into one G63 AMG.
11: I can't remember the last time I rode a public transit bus fulled by petrol or diesel.
12: Pittsburgh!
13: Pat Goss smokes his vapor storage canister erry day. Do you?
14: "This is a smoke machine, and it produces smoke." I would say Pat Goss is stating the obvious, but he may be speaking to that Camry's owner.
15: Surprise Volkswagen Quick Spin!
15: R-Line VWs have no additional power, but they have rims and bodykits! Also a sport suspension and better interior.
16: The 2.5 NA is going away. That sound you hear is the world cheering.
16: I'm glad the seven-seat Dodge Durango is not a Ram, but it probably should be.
17: Why do people buy the Grand Cherokee over the Durango?
17: Especially the Durango with the 5.7 liter V8?
18: Why don't I own a Durango? Ron Burgundy is right folks.
19: Motorweek's long-term Nissan Pathfinder tester is the first Pathfinder that I can remember seeing in a long time.
19: "Why, it's almost as versatile as, shall we say it, a minivan." John Davis laying down truthful commentary about contemporary car culture.
20: What's the best-selling toaster name of all time?
20: The boringness was supposed to change with the 11th generation. You'd think a huge corporation like Toyota would have accomplished that goal.
20: Mouse died from over-excitement. Found new mouse.
20: "Dynamic" "new" styling direction.
22: Eco Corollas deliver more power than S Corollas. Corolla logic.
22: What's a worse transmission, a four-speed automatic or a CVT with paddle shifters?
24: "Friendly commuter nature" is a good description of the Corolla.
25: Next time on Motorweek: the new CTS & Hyundai Santa Fe! We'll see you next time, John!