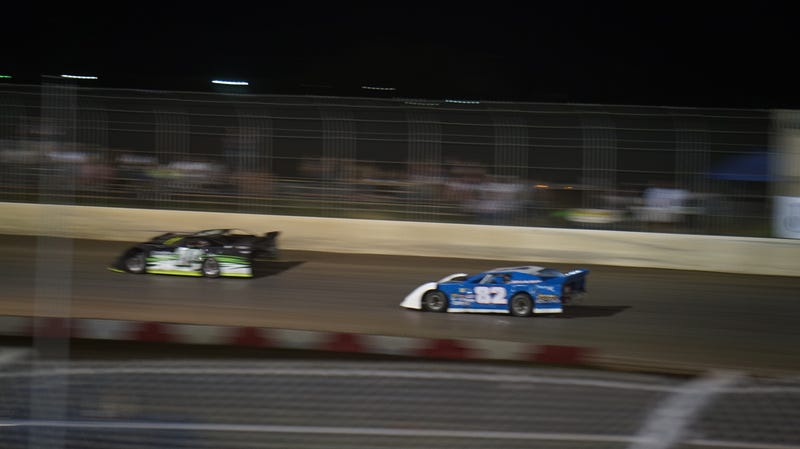 So this past weekend I was sitting around looking for something to do on a Saturday evening. All my friends were out at some music festival but since I no longer can handle booze, loud music, being up late, and all those other things that come in that scene I decided to pass. This left me at home with no plans. While I regularly would have been content spend the evening with my PS3 and pizza I felt that it would be a waste especially with the gorgeous weather outside. Browsing through my Bookface page I saw a post about late model and modified racing going on at Willamette Speedway later that evening. This is a 1/3 mi dirt track about an hour south of Portland, OR. I had never been there before but I knew this facility was partly owned by NASCAR driver Greg Biffle and had recently been remodeled. I decided to put on some pants, grab my camera, and hop in the car for the drive down I-5.
Now I had been to some late model races at paved oval tracks before but dirt ovals are a whole different world so I didn't know what to expect since most events I attend are of the drift/rally/road racing variety. I pulled into the track's parking lot and tried to inconspicuously park my compact Toyota among a sea of lifted diesel pickups and Camaros. Admission was $12 which I thought was not bad considering the amount of racing action that was going on. There were 5 different classes racing that night. Street Stocks, Super Sports, Sportsman, Modifieds, and Late Models. Each class ran a few heat races with the top finishers moving on followed by a last chance qualifier B Main and then the A Main for the big prize. This format was pretty similar to what I had seen in the Global Rallycross races with plenty of short but exciting races.
The action started at 6:30pm and the first races were the Street Stocks. They were the slowest but also the most fun to watch. The drivers would go 3 and 4 wide into the turns and there was plenty of bumping passing going on. Like they say, rubbing is racing! I got so excited I even pulled up Craigslist on my phone to look for a street stock to race myself! After watching a few races from the top of the grandstands I decided to go look for another vantage point to snap some pictures. I walked over to turn 1 where you could walk right up to the catch fence and watch the cars just a few feet away. Imagine that at an F1 race! It was awesome to see the drivers throw the cars sideways into the turns and throw dirt in your face as they slid by. The racing action was great all night. Cars could take different lines through the turns and had no trouble racing side by side which resulted in plenty of lead changes and always kept you guessing who would win each race.
After a quick trip to the concession stand for some chicken strips and $2 dollar beer(I'm not sure it was actually beer but hey it was $2 bucks) it was time for the main event which was the 40 lap A Main for the late models. The race featured plenty of great racing but also plenty of spins and cautions. It seemed like every lap there was a pass for the lead with cars being able to run both high and low on the banking in the turns so the drivers had no trouble going side by side. This of course led to drives going too hot into the turns and sliding up into the wall or spinning around. This just made it more fun to watch. In the end the race only ran 32 laps and ended around 11pm. I made my way down from the grandstands past a couple of drunk country folks trying to get into a fight and walked over to my car. My camera and phone batteries had died and my face was full of dirt but I got my racing fix and went home a happy man. Now planning to return when the World of Outlaws sprint cars come to town.