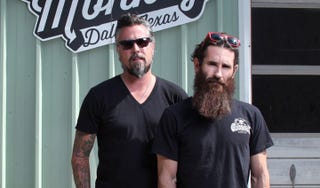 I've always liked TV shows about cars. Especially the one in which they build cars. The thing is, I had never found a show in which, in all honesty, they did cars that I mostly thought were cool, cars I would own. But then, something happened...
It was early in June 2012. As I was surfing online looking for a new TV show, I fell upon the words Fast N' Loud. Out of curiosity, I got the first 2 episodes. I watched them on the spot, and a weird feeling came to me. ''Wow, I think we got something over here!'' For the first time, the vehicles on the show were appealing to me. I thought that even though that salt-and-pepper dude was mildly annoying, if they went on feeding me with brown hot-rodded Model A with 4-bangers and Olds 88 with 303s, I might have finally found ''my''show. As the early seasons went on, everything was just getting better, '64 Galaxie, '32 Pontiac and even a Gasser, this show was a real treat. Until a certain Ferrari pointed the tip of her bumper...
That Ferrari was a F40, a wrecked F40, and this was the cliffhanger at the end of the 2nd season. As the 3rd season started and they begun rebuilding the hot-blooded Italian machine, I started to have a weird taste in my mouth. The 3rd season rolled on and I was less and less in a hurry to get the latest episodes. What was happening?
By the end of the 3rd season I had finally diagnosed the issue. The show that had started in a small garage, with less than a handfull of mechanics, a weird owner and real cool builds had switched from being about the cars, to being about the characters. For the petrolhead, it was doomed. The quest for the perfect show was on again. It had gone from a niche ''car guy'' TV show about amazing hot rods, to being a general family, reality TV show about a Bar N' Grill and a long ''beard''. And as it went on, it got more and more obvious that a ridiculous amount of the footage was staged, or as I would say ''fake as f*ck''.
In the end, I admit it, I still watch it. I can't help it, as long has there will be cars in it, it will have a tiny bit of my interest. But sadly I'm just not excited anymore about the next episodes.
Lately, I regained hope in the gods of car TV shows, as in the same way I had found Fast N' Loud, I found Restoration Garage. It is flawed, but seems to have potential.
Have a good evening OPPO ;)