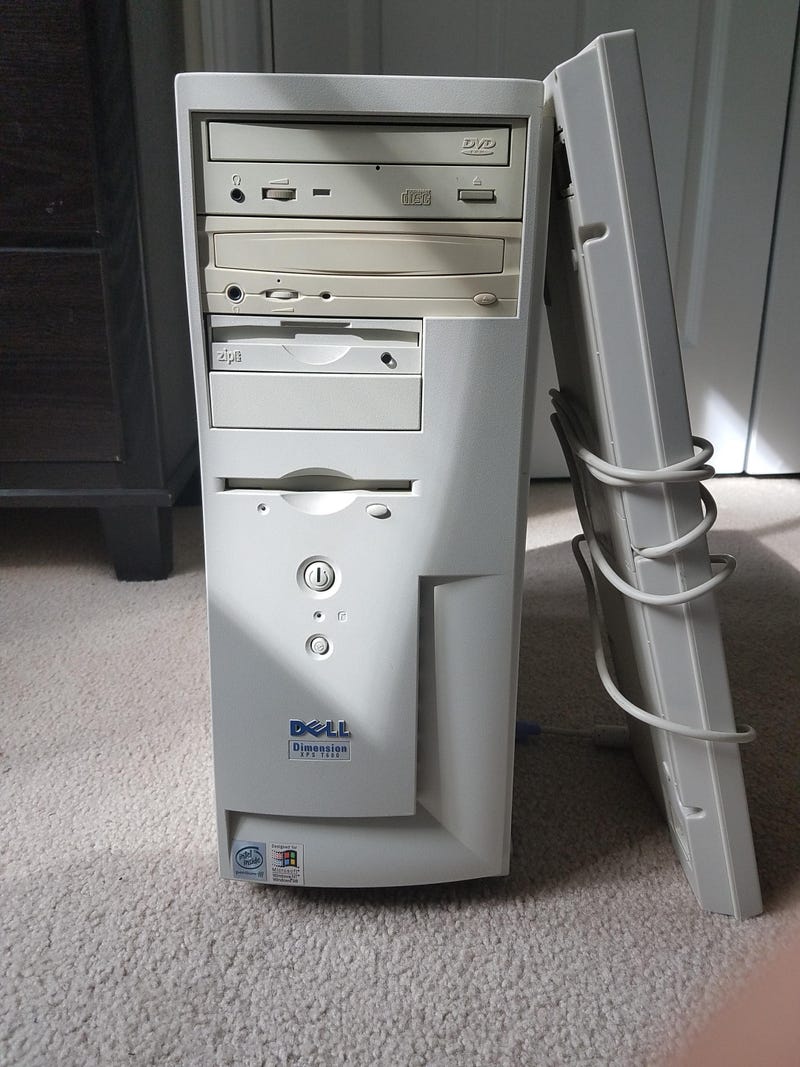 Got 4 desktops on local craigslist for a total of $30 the other day. I expected crap and I did get mostly crap but I found a couple decent things in there. The first one we'll feature is a Dell Dimension XPS T600 which was in pretty good shape. PIII 600MHz, 512MB RAM, 13GB 7200RPM HD, IOMEGA Zip Drive, DVD-ROM + CD/RW drives, 3.5" floppy drive, 3DFX VooDoo3 3000 16MB AGP (!!!) Turtle Beach Montego II A3D Aureal AU8830 PCI sound card, 56K PCI modem, PCI ethernet card, a spare ISA slot. Runs 98SE perfectly. These machines are versatile, you can install whatever you want from MS-DOS + Windows 3.x to anything in between until (and including) Windows XP. These machines as well as the VooDoo3 and Turtle Beach sound card are highly coveted in the retro gaming community so I'm selling it on eBay.

dem ports
clean
had to sand some scuffs lightly
inside all cleaned up

voodoo3
Came with the original keyboard... run of the mill Dell rubber dome
Found a Zip Disk lying around, put the drivers on it.

BIOS screen
Windows 98SE
internet ready!
Next one is this shitty Dell Dimension 2400. It would not post/beep/no video and the motherboard diagnostic lights indicate motherboard failure. Not worth anything to fix so I took out anything useful (drives, CMOS battery, processor, RAM, etc.) and will recycle this.

Also had a fair amount of rust
A Dell Dimension 8200, 2GHz Pentium 4, 1.28GB RDRAM, 80GB hard drive (didn't come with one, yanked from that 2400), DVD-ROM + CD/RW drives, 3.5" floppy drive, NVIDIA GeForce2 MX 64MB AGP graphics. Also going on eBay

The case was pretty filthy but it came out okay.

Swivel design which is a bit annoying
Original keyboard and a spare USB mouse
BIOS screen

Windows Me! 98SE hates more than 512MB RAM and then you gotta edit VCACHE settings and I did what I could but it wasn't stable at all. This seems to run perfectly after disabling system restore and installing an unofficial service pack.

dem programs

net ready as well!
The 4th one is some Powerspec 6340 with an AMD Sempron 3000+ 2GHz, 1GB RAM, no HD, DVD/RW + CD-ROM drives. Ordered an NVIDIA AGP card + a hard drive for it, then will try 98SE on it once those parts arrive. Should end up with 3 out of 4 complete systems... I'm gonna sell this one too.
This next one is a keeper. Found a Lenovo ThinkPad T420 listed as damaged on eBay for cheap and I ran its serial # through Lenovo's Parts Lookup tool. That's why I bought it... Sandy bridge i5, 8GB RAM, 14" 1600x900 screen + webcam, 1GB NVIDIA NVS4200M... had some spare drives lying around from previous stuff so I replaced the DVD drive with a 2nd bay SATA caddy that houses a 320GB data drive. There's a 128GB mSATA drive in the mSATA slot and a 120GB SATA drive in the main bay. XP on mSATA for retro gaming purposes and 7 on main SSD. Also got an ExpressCard 34 USB 3.0 card + Thinkpad docking station. I'm getting rid of all these old retro things and going to use this machine for whatever retro purposes: MIDI, older games, futzing around, etc.

Bonus, the T420 came with a bunch of different keyboards by part #. Apparently this one came with the most desirable one.

speccy
missing "V"

underneath, after a fresh cleaning of the fan + heatsink + new thermal paste

side
the other side
the rear... total of 6 USB ports in a laptop which is a bit much but USB 3.0 was necessary!

Was able to sell off ALL of my spare retro parts to someone on a vintage computer forum... so right when I got rid of all my old junk... got 4 more desktops. Even with the cost of shipping I'll be able to make a decent profit on these, especially the white one. Anyways thanks for looking.