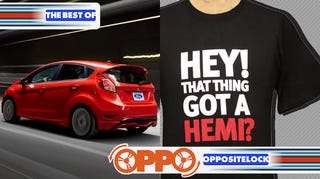 Assembled here are the best Oppositelock posts from last Wednesday and Thursday. Today we've got a list of cheap and practical pocket rockets, the bane of choice, Down on the Street in Germany, terribly awesome first cars and more.
Hot Hatches - A (Slightly Cynical) US Market Guide - Garret Davis
The hot hatch isn't exactly a recent trend in the US, but it never really caught on here like it did in Europe. Sure, we've had the GTI here forever, the Civic SI could sometimes be had in a hatch, and the MazdaSpeed 3 has been tearing up our streets for the better part of a decade now, but we still never had the selection that our European friends did. That is starting to change now, though, and we have more hatches to choose from than ever before. Read more…
---
I Could've Had a V8!? Spare Me Your Supremacy and Shut Up - Blake Noble
Choice is the absurdly annoying and constantly nagging variable of human reality, the fuel for the chain of events we know as life. From sunrise to sunset, we're all constantly bombarded with requests and situations that require us to exercise our free will. Escape is futile. Read more…
---
From Germany with love - Mark Linde
Yes, dreamcars are exciting. But for me being a Jalop is also about caring for the more or less normal cars out there. That's why I'm so fond of articles like the one about the Wagons of Williamsburg on Jalopnik. Apart from the cars they show, the pictures furthermore enable me to catch a glimpse of the US beyond Hollywood and tourist attractions. So I thought you might be interested in sneaking a peek as well. Dim the lights and relax while I take you with me on a quiet night walk through Manual-Dieselwagon-Country. Read more…
---
5 Terribly Awesome Cars for First Time Drivers - APiDAOnline
It's happening - you can feel it - it's a war between safety and speed, between fun, function and fashion. The first car phenomenon occurs twice in life; once when you get your first car and again when your first child gets theirs (thereafter, with subsequent children, somewhat less phenomenal) and no matter which side of the debate you're on, your choices are anything but clear cut. Read more…
---
Cruise In A Bathtub Shaped Nash For Less Than $10k - TheDailyTurismo
You don't need a $175k 930 Turbo that makes an entrance like tin foil in a microwave for a weekend classic driver, all you need is cool looking ride that puts a smile on your face. Aftermarket support for replacement parts is important if you plan on putting many miles on it and things like functioning heaters and AC might be important depending on where you live. For the married man, capital investment price comes first because any such decisions need to be approved by the CFO, so the question is why spend the cash on makes/marques/models hopelessly inflated by greedy flipvestors when you can be cool & cheap instead? Read more…
---
Automakers officially ask NHTSA to allow cameras to replace mirrors - Juan Barnett
Last December I pointed out a letter submitted by Tesla to a then proposed rule regarding rear view cameras. In their letter Tesla highlighted the advantages of replacing all your mirrors with cameras… Also, you may recall the Model X was shown without mirrors. Unfortunately, I doubt this rulemaking will conclude in time for Model X production. Read more…
---
2006 Honda Pilot EX, an Oppo Review - texasfordfan
Last Tuesday, I sold my Honda Pilot. It was my first car. Kind of. It was my mom's car, it had the title in her name, and she paid for the insurance, gas and maintenance so I could save all my money for college. I figured since it was gone, it would be a good time to review it. It will be extremely biased. Read more…
---
Why this Lifehacker article is wrong - NotInDetroit
Drive Smarter, yes. But does that mean driving slower? Lifehacker says you might as well drive the speed limit as going even 10 MPH over the limit will cost you in fuel and legal bills without much of a time savings. But is that really true? Read more…
---
Sittin Waitin Wishin: 2014 Maserati Ghibli - JonathonW8
So I guess we're moving on up, maybe not from the projects or slums, but rather from a Mazda. And moving on up we are, to a Maserati! Now, many of you are familiar with Maserati, from their most popular car, the Bora. Wait that's not right, I meant the Quattroporte. Maserati in recent decades has transformed its identity fairly drastically. Read more…
---
The Best of the Rest
Revrseat70 showed off his beautiful Eunos roadster, it also happens to be for sale, hint, hint, *cough*, hint. MPA posted photos of his beater. B. Body Burnout did some car spotting over lunch. NaturallyAspirated installed new mirrors on his Subaru. Pearson Hurst picked up a free Ranger. RotarylessLover braved the cold in his Miata. JQJ213 shared photos from a journalism class.
---
As always, If I've missed something and you would like me to include it, let me know.
Discussions
There were several posts that asked questions and sparked some good conversation last Wednesday and Thursday. Take a peek and chime in on some of those listed below:
Just the #tips
These posts have already been shared with Jalopnik directly but deserve to be mentioned again because they were first posted on Oppositelock:
Want to participate on Oppositelock? Check out the handbook for posting on OppositeLock as well the Oppo tools to help you get started.