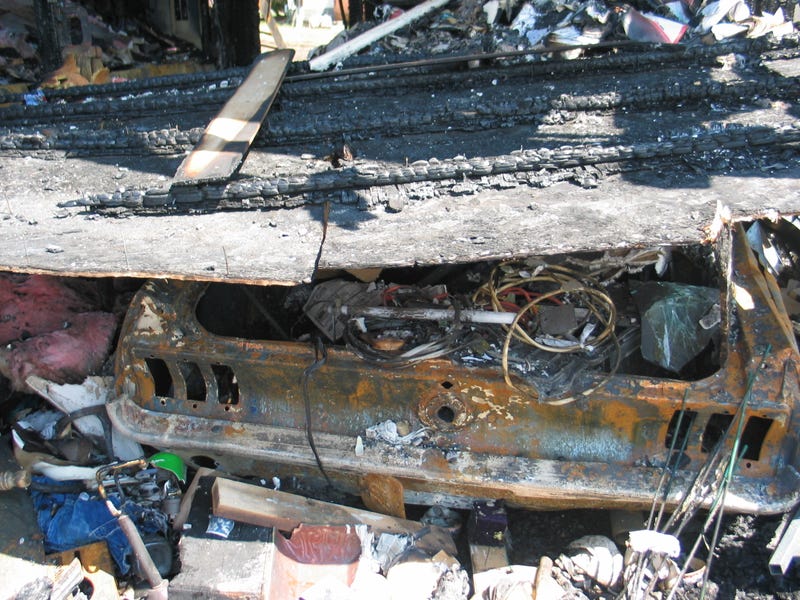 Nine years ago on a cold day in April, the 1967 Mustang coupe my father and I worked so hard to restore was lost in a garage fire. I know a lot of you have project cars and now that spring is here, you will begin wrenching on them as the weather gets more pleasant. I tell this story so you and your projects stay out of harm's way. And should harm come to you, maybe you will be more prepared. I did touch on this story somewhat in the comments of another post but I feel compelled to give you the full, detailed story. To understand how much was lost in the fire though, I have to go back to where it all began.
From birth, I was surrounded by old Ford stuff. My dad got around in either a 70's F-250 or a custom Ford dump truck with rusted out floor boards that he used for work. I used to kick a soccerball around a pair of '68 Mustangs that were rotting away and sinking into the ground. I would pull out the hi-po 289 heads that my dad kept under my parent's bed and just stare at them, wondering what the hell they were or how they worked. I would ask my mom about them and she would say "oh those are just your dad's damn engine parts. I wish he wouldn't keep them there." My dad wasn't a rich guy, he collected a lot of old Ford stuff over a long period of time. He got each part for cheap from a junkyard or a swap meet. During the time I was growing up, he bought a running but very rough '67 Mustang coupe for $500. Bear in mind, at one time the vintage cars that are so valuable now used to be just normal, everyday cars.
As I got older, my dad thought more about offloading all of his old Ford stuff. I told him out of the three Mustangs and miscellaneous parts that we had, we could build one good car. We focused on the '67 because it was the most complete. I learned so much from him on that car. We started with putting a reliable drivetrain in and upgraded the suspension. We had a 302 built using the very same hi-po 289 heads I described earlier. We did our own 5-speed conversion without the overpriced kit. We put upgraded springs and sway bars in it. I drove it daily in the fall of my senior year of high school (I still can't believe he trusted me with it). When winter hit we did a full restoration, replacing floor boards and quarters.
The hood and trunk came after my dad painted the car, but some people thought they looked better kept in black. So that's what I did. I eventually put front discs on it as well. I felt so fortunate to have the car. As a very young child, the Mustangs rotting in the yard were like beautiful relics from a glorious but forgotten past. Now that I was older, fixing up and driving the '67 coupe was like fulfilling some sort of mythical destiny. It had no radio, the incredible noise of the 302 small block pushing toxic gas through two very free flowing Flowmasters was all the music I needed. I was afraid to take it with me to college though and thought it was safer back at home.
On a cold day in April, my dad was working in the shop on his motorcycle. Since it was cold, he had the shop closed up and was running an open kerosene heater. He was having an issue with fueling on the motorcycle and decided to drain the fuel tank. The fumes from the gas became pungent so he decided to turn the kerosene heater off, knowing the heater was a hazard. But as he walked over to it, the shop suddenly exploded into flames. He had the sense to run out of the shop and put himself out, but he still suffered severe burns. As they took him to the hospital, the shop, the tools, many old Ford parts, the motorcycle and the '67 coupe burned to the ground. I got the news at school a month later since my dad was determined that I finish the semester. The news made me sicker than any actual illness I ever experienced.
The rims were aluminum so the fronts warped a bit while the rears melted into puddles. The fiberglass hood and trunk melted as well, although we suspect that the hood may have actually saved the engine by encasing over it and suffocating any flames around it. My dad went through a very long and difficult recovery period but he made a full recovery, barring his scarred legs covered in skin grafts. We sifted through the mess, took out what was still good and threw the rest away. We kept the drivetrain and exhaust from the '67 but nothing else. Unfortunately, we never raised the agreed value on the '67's insurance from when we first put it on the road so we got way less money for it than what it was worth. Also, the shop had no insurance on it either. It took my dad decades to collect the tools and parts that he acquired. Not having adequate insurance on what we lost made the fire a tremendous setback.
Building off an old barn on the property, we built another shop and bought a 1964 Fairlane for a long term project. The Fairlane is still far from finished, so I bought a 1971 Mustang as a running project that I could toy with. The '71 was cheap and I knew it was rough, but I didn't quite know how rough. I do have some buyer's remorse from it and in retrospect, I wish I was more patient with the Fairlane. Regardless, we put the old 302, 5-speed and exhaust from the '67 into the '71. It was so amazing to hear that engine make noise again, pumping air and fuel through the same heads I studied as a little kid. And that engine will make its way into the Fairlane after I either part out or scrap the '71.
I miss the '67 badly though. I try to look on the bright side though; cars are replaceable but my dad is not. And I suppose I should feel lucky to have been a teenager with a '67 Mustang for a daily driver. But all the work we did just *poof* went up in a big ball of fire. I thought we could just jump back in and work on cars again, but everything is so expensive now. It's tough when you go to a swap meet and everyone wants catalog prices for their junk. It's even more disgusting when you see a vendor buy something from another vendor and post the item in their own tent for $100 more… in the same day. There are many vultures and speculators doing their best to destroy the vintage car hobby for the common man, but my dad and I press on out of true love for old automobiles.
So, the two big takeaways from this story:
Enclosed areas and gas fumes are bad. Very, very bad.
As you make improvements to your project, adjust the value it is worth with your insurance.
Good luck with your projects this spring. Stay safe and motor on.