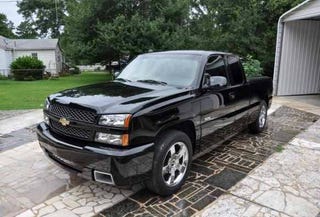 For sale is my 2003 Chevrolet Silverado, with only 64,000 registered miles. I really took care of this car ever since i have bought it.. The vehicle has had much done on it using only manufacturer pieces. It's been a long time since I bought it, the vehicle has a CLEAN history. it is likely to be awesome for you if well kept. On the market today with small mileage. Under a few thousand mi driven each year with it. I'm selling for 1000 but I'm prepared to take a fair offer. selling this AS IS...
The linguistics of CL can be quite amusing...
What qualifies as "serious damage!"?
What is the difference between registered and unregistered miles?
How can you describe the history as clean when there are so many adjectives advocating otherwise?
$1000 seems like a strange price for what appears to be a 2003 Silverado SS - although it is probably just a mask
What?!