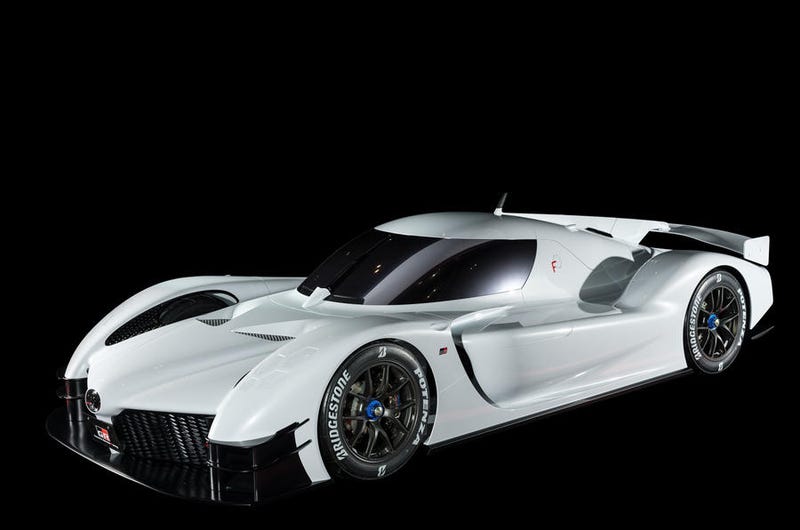 Rejoice my brothers! The Endurance Gods have listened to our prayers!
Of course, they'll have to win in the super season, because Akio won't stand losing to a bunch of empty pockets, rolling billboards privateers.
Earlier today, the FIA announced that models such as the Aston Martin Valkyrie and McLaren Senna will be allowed to race in competition form with the introduction of a new top class. Toyota's decision to show its hybrid concept, which looks close to the form that will be adopted by such models, therefore hints at intentions to be part of this new pack.
Autocar is awaiting comment from Toyota regarding its Le Mans showing, but it suggests both the engineering and design of the GR Super Sport foreshow what's to come with a future Le Mans model and a roadgoing equivalent.
First shown at the Tokyo Auto Salon, the concept is based on the company's World Endurance Championship prototype racer, the TS050 Hybrid. The concept features the same carbonfibre structure as the racing model and has a 2.4-litre V6 petrol engine with electric assistance behind its cockpit.
The LMP1-category TS050, which is competing in this year's championship and will start from pole at the crowning Le Mans 24 Hours round this weekend, delivers a combined 987bhp to all four wheels. The provisional regulations for the hypercar-based 2020 Le Mans class would cap power outputs at 965bhp, however.
If Gazoo Racing's concept does spawn a road model, it will sit above the new Supra, which is due late this year.
The Yaris GRMN sticks with turbocharged petrol power, but the Supra, which has been part-developed alongside the new BMW Z4, is due with four and six-cylinder engines, the latter of which will be available with electronic assistance.
Gazoo president Shigeki Tomoyama said: "If the e-Palette concept [an autonomous pod that was revealed in Las Vegas] is the next generation of the horse-drawn carriage, the GR Super Sport Concept would be the polar opposite as the next-generation racehorse. Its appeal is more personal, like that of a much-loved horse to its owner.
"Despite the differences between the two concept models, both are electrified vehicles equipped with the latest IT technologies and are set to become safe and environmentally friendly connected cars."