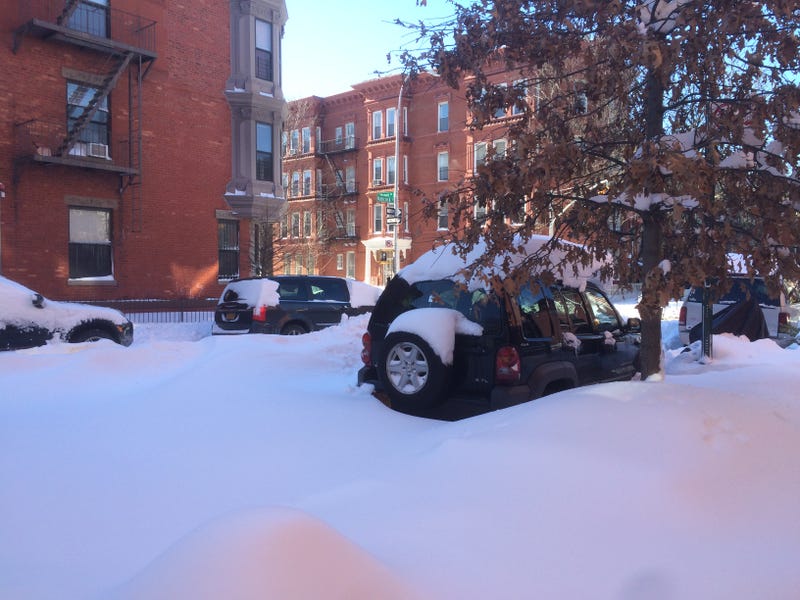 Some shots from the neighborhood before, during and after all the fun.
It begins!
I dragged my wife out on a beer run at 8am yesterday since it was becoming apparent the storm was going to be a biggun. I grabbed a mixed six pack of Founders, Bell's and Long Trail.
That truck full of hot bread was just asking to be jacked.
By 3pm the shit was really hitting the fan. My street is classified as tertiary and thus didn't end up getting plowed once until around 8pm. Yet a brave few violating the driving ban saw the 20 inches of undisturbed powder as a challenge and attempted to drive down it, only to end up stuck in front of my window. This dumbass could have had a shot but didn't carry nearly enough momentum. He was stuck for a good half an hour, at one point blocking the path of a fire truck responding to a call and forcing it to navigate a sketchy turn, before he forced his passenger out to push him back to the intersection.
Speaking of pushing. This corner claimed, at various points, an ambulance, a plow, a delivery truck, and several front-wheel-drive sedans as victims.
Post-car streets.
My kitchen window had about five feet of snow backed up against it when we woke up.
So we made a snow cave!
Compare this to the "before" photo above.
A E-sized A-Class.
You shall not pass!
Trudging home.