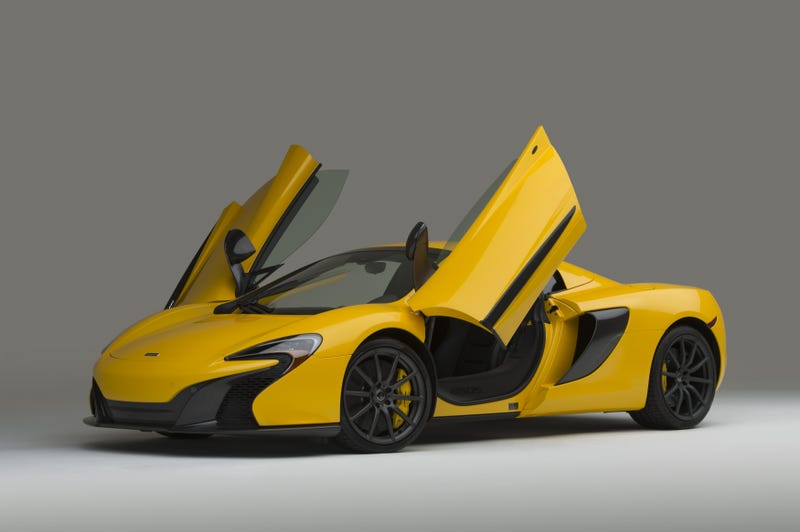 Today I had errands to run culminating in acquiring a suit to posh-up my dumpy self. I decided to wash the car before anything else. I saw in the rear view mirror, on my way to the self-wash, a Geo Metro converted into the smallest El-Camino ever conceived, with hood scoop. Moments later, while I was swiping my card readying the spray gun, a Mclaren 650s coupe in startling yellow appeared, at the same self-wash, to . . .uh . . .I assume be washed by the owner or by someone the owner paid and trusted to wash it for him or her. It sounded great just idling by and certainly didn't look like it needed a bath.
I soaped my comparatively shitty Mazda3; the 2008 S model in black with the grazed headlights and heavily golf balled roof that paid off the loan with insurance money. Once clean, I got in and continued my journey out of town to do my errand. I found my route followed an old and rough-red-painted Corvair Monza, driven by an equally old and rough man. He. Was. Slow.
The driver continued on his merry and geriatric way ahead, I turned onto the highway taking me to the next town over and merged, singing the 2.3 through the K&N intake up to sixty in second gear, right next to an early eighties Porsche 911 targa.
This was one of those days where we see a bit of everything across the spectrum. Oh, before I forget, I bought a suit. The tailoring adjustments will be finished in a week. My posh behind be fine and it better get me the next job this year!