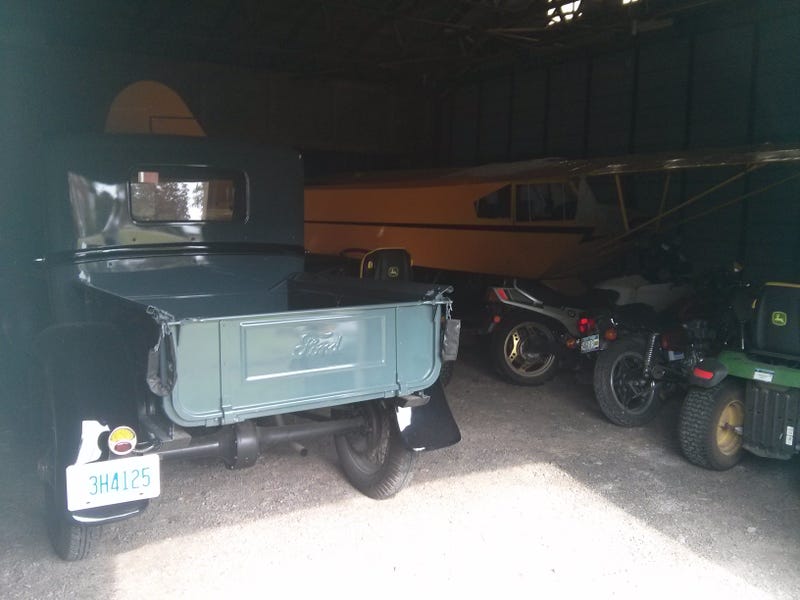 You know it's gonna be good when the first things you see are a '31 Model A pickup and a TR6.
The fellow that owns all of these wonderful automobiles to s the owner of a property that rents out cottages on the north shore of lake Ontario, in a tiny town called Cherry Valley. He flies a light aircraft, out of a hangar on his property, which is where most of the shiny cars are stored. We'll get to the unicorns in the barn in a second.
First, the Hangar.
Obviously, the first thing that catches the eye is the vintage Piper Cub. I'm not sure how old it is, but he said it was at least fifty years old. And as we pulled up to the hangar, he was just landing it on the 1700" runway in the field across the street.
Let's start on the motorcycles, since I know the least about them. Pipe up if you know.
Some kind of Honda with a 4cylinder boxer. Apparently its a huge 1000 or 1200cc engine.
Im guessing an 80 something TURBO CHARGED Honda!? A turbo on a bike seems a bit nutty to me.
This is a ?76? Moto Guzzi Eldorado with a side car. Apparently its a former California Police bike.
A 1974 Moto Guzzi city bike from Switzerland anybody? Single cylinder, aircooled. He's been using it putt around his property when his golf cart craps out.
On to my favorite.
This. This is a Moto Guzzi 850 LeMans. This fellow is the second owner of the bike, The guy he bought it from was friends with the President of Moto Guzzi America, and ordered the bike through him, with the racing faring, which was not put on street bikes. This all from the owner, who is 70 years old, so some of the details might be a bit foggy.
No body is allowed to ask him if its for sale. I want it.
Now the cars. You may need a clean pair of shorts.
Lets start easy, with a meticulously restored 1931 Ford Model A pickup. Since its a '31, its pre V8, so its packing the little old 4 cylinder flatty.
A VW Golf/Rabbit pickup anyone? Sorry about the poor picture quality.
How about a completely homemade replica of a 1934(?) Mercedes-Benz, complete with the obligatory smallblock Chevy.
Or a beautiful Triumph TR7 that's halfway done having a head gasket replaced?
The real star in the hangar was this thing. An original 1939 Ford Deluxe Coupe. Its even more amazing when you consider that it's a one owner car. He bought it brand new in 1939 in Ottawa, but, oddly enough, he didn't order it with heater or defrost. Go figure. Does have a very nice 24 stud 221ci flat head.
Theres a Triumph TR6 hiding in there, and another one on the left of it.
Those two forlorn looking little headlights belong to a 1981 Mazda GLC, thats a Mazda 323, to you 'Muricans, and its actually one of the cars we went to see. He has two of them, and my father is planning on buying them both. Still not sure what he plans on doing with them, but he's had a soft spot for the little cars since he put over a million miles on one.
The red thing in the corner is unidentifiable as far as I'm concerned, but the back is almost making me think Delorean. What about you? There is a 4th Triumph TR6 buried in the pile above it.
This is the car we came to retrieve though. The 1975 JPS that I've plastered all over Oppo at one point or another.
On to the Barn.
A decrepit Bug Eye Sprite,
No less than THREE Datsun roadsters of some kind, one of them still wearing ancient racing colours. Please tell me what they are.
More Datsun roadster race car.
I have no clue what this thing is, other than the model was called a Talbot. But it wasn't made by Talbot.
It's a bit hard to see, but there is a red Lotus Cortina GT hiding in the corner behind the three Datsuns.
A better one of the Cortina. Its stripped bare, but the shell is fairly rust free from the looks of things.
What I am about to show you is a VERY unique car. A Canadian made sports car, roughly based on a Renault 10 chassis, I give you the Manic GT. Made in Quebec Canada, by the Manicouagan River. Wikipedia says that the company was around for a couple years, but that's wiki for you. According to its current care taker, this Manic is #1. This was supposed to be a preproduction prototype or test mule of some sort, because when he received the car the Renault gearbox had been flipped around so it was now mid engined, and the Renault engine was replaced with a Lambordini, (yes I meant to say Lambordini, I know what I heard), with two 45mm carburetors. It all fibreglass except the bespoke Renault chassis, which had its floor pan cut out and replaced with a very sturdy looking tube chassis.
It looks like an '80's 911 and an Opel GT had a child while on vacation in Canada.
hopefully more pictures of a better quality will be forthcoming when we go to look at the pair of GLCs later this week. He doesn't want to sell the Manic surprise surprise.
If you guys could help me discover anything about any of these that would be awesome.