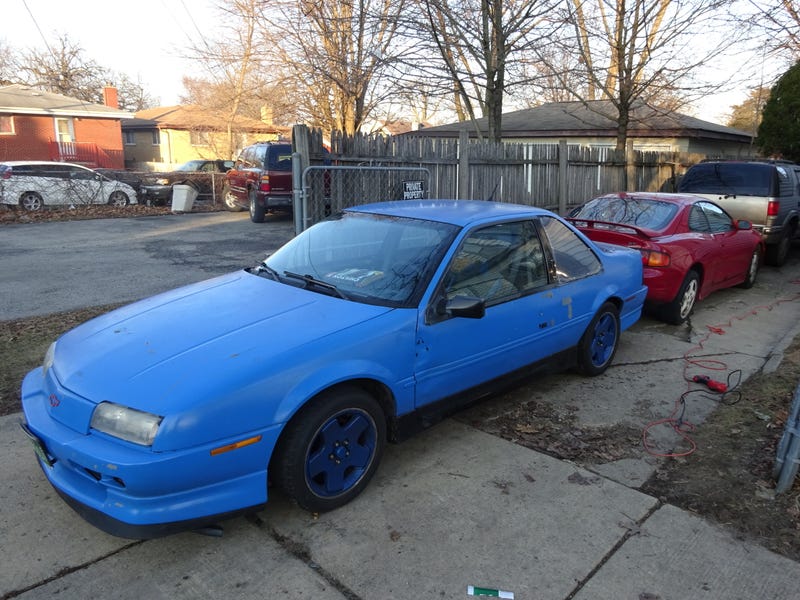 Today's adventure is replacing the rear quarter windows with Plexiglass!
After a valiant battle trying to whittle away at the adhesive poly caulk to gently pry out the glass with a suction cup, I ended up shattering the window altogether by accident. They really laid in on thick from the factory, probably because it had to support the window and entire quarter rubber weatherstripping. Oh well...
Now for the business, I made a rough template using foam board that's more at home in a science fair than my shenanigans. I bought a huge sheet of poly- carbonate Lexan that happened to be on sale at Menards. Now remember kids, You want the good stuff, the had much cheaper acrylic sheets and such but that's no good. Lexan is wayyyyy stronger, super shatter resistant, offers UV protection, and most importantly in case of fire, it's non-toxic and essentially self-extinguishes itself.
So I copied the template to the Lexan and hacked away with a special hook blade. My Harbor Freight rotary tool broke ages ago after 3 uses and I never bothered to replace it with a new Harbor Freight rotary tool. Harbor Freight is my jam. I still had my trusty Harbor Freight angle-grinder but that seemed a little overkill. Surprising that thing is still chugging after 2 years. Harbor Freight is a mixed bag of surprises. By hand, it took me awhile to do this step. "Handcrafted by skilled Artisans in a workshop?" lol. Yes. yes it was.

Next was trimming the edges to fit with a steel filer, and making some holes to where the aluminum rivets were going to mount.
Also, I had to haphazardly strip the remnants of the adhesive caulk which was a PITA.
I masked and spray painted the interior side edges a gloss black with 5 coats. A little trick I picked up painting Hobby R/C car Lexan bodies back in the day.
Even though I could have just mounted it as is, I'm not a savage. These things are never really watertight, but just to mitigate it, I used some general purpose silicone. I don't need it to be an adhesive since I got the rivets for that, I just need SOME weatherproofing since this car is still streetable.
I also suck at applying the stuff. I'll clean up the excess in due time.
The Lexan weighs in at about 1.8 lbs. The old glass, ?????. It shattered so I wasn't able to weigh it but I'll weigh the passenger side when I remove it to see the difference.