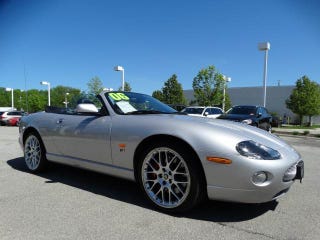 Another location in the dealer chain where I drove that M3 has this 2006 Jaaaaaguar XKR with 53k miles for $25,995. It's yet another silver car and I kinda hate silver, BUT this is one car that I think looks quite nice in silver. Such a bad idea though, right?
Yeah it's more of a cruiser, but I don't necessarily mind that. I do mind it being a money pit. But it looks so nice.
The interior is carbon fiber instead of proper ye olde timey wood, and leather with contrasting stitching. As long as you look past the crap 90s euro Ford switches and odd squirqle shaped nav screen.
Since there's probably no hope of adding an aux jack, at least there's a tape deck so I can use one of these jobs to listen to Pandora.
I even already own such a device for using in my Grand Cherokee. It was 6 bucks at Walgreen's. I could go all luxury and order another one from Amazon.