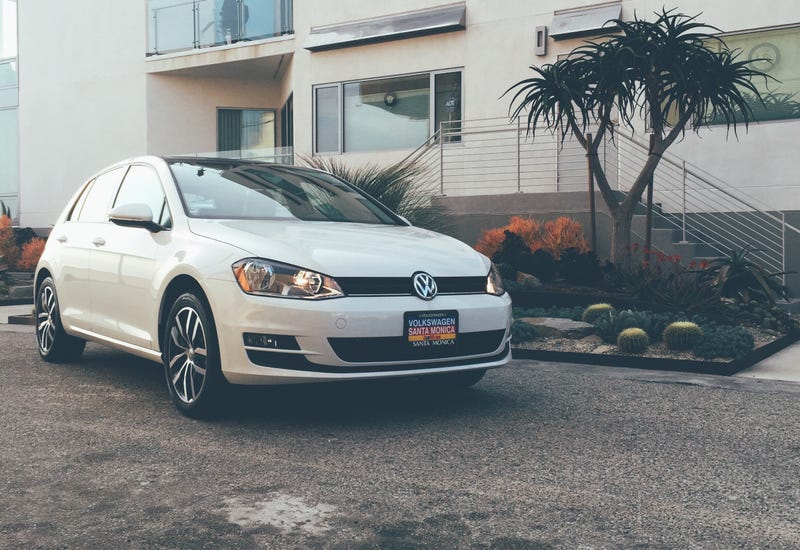 Yesterday my girlfriend and I left Volkswagen of Santa Monica in a brand new Golf 1.8 TSI. Sounds simple enough but let me tell ya, the past three days have been a hilarious journey through the highs and lows of the car buying process.
I have to say, the cast of characters in this story is pretty amazing. Overeager salesmen, aggressive managers, the guy who just wants to be your bro, they all pop up in this tale of attempted bait and switch, misinformation and hard fought victories. I'm not going to drag anyone's name through the mud, that would be uncalled for but I will say that just because one dealer is under the same ownership as another does not mean they are doing business at the same ethical level. She got her new car at VW of Santa Monica which is part of the LACARGUY dealer network, through use of simple deduction skills, that should tell you where we had the negative experience.
Why did the experience at the first dealership leave such a bad taste in my mouth? Well for the most part it has to do with how they treated my girlfriend. Basically they see young white female in a leased Jetta and think, easy target. Yeah I was with her the whole time but it's not like wear a big sign that says I know a lot about cars and car buying, fear me oh ye salesmen, fear me! Perhaps I should, might cut out a whole lot of the bullshit we dealt with.
Anyhow, our story begins as most great stories do, at the beginning.
Part 1:
My girlfriend and I headed down to get some information about turning in her Jetta two months early and see what kind of (if any) lease equity there might be in the car. She only drove 10,093 miles out of the allotted 36k, the car was in fantastic condition and it was a manual, rare find around these parts. The payoff was $9,300 and I figured a dealer would be able to get around $13k for it meaning there was probably enough equity in it to cover a down payment should they choose to purchase the car from VW.
So while the appraisal guy looks at her car we go out with our new best friend to test drive a Golf TDI and a GTI. My g/f doesn't need or want a GTI but it was a quiet Tuesday afternoon and we had some time to kill before going to Furious 7 and I hadn't driven one yet either. She likes the TDI, knows right away that the GTI isn't for her (we swap seats so I can drive after two blocks) and we head back to the dealership. At this point we have a good report going with the sales guy, he drives an '08 S6, we chat about Audi stuff, generally an all around good vibe going.
Fast forward 3 hours and my girlfriend has just finished signing paperwork to get her into a four door Golf TDI S. They would make the two final payments on her Jetta, the first one on the Golf and I got all the numbers where she wanted them, plus a few extras. I feel pretty good about the deal, she's just ready to leave at this point and then the sales guy drops it, ok so are you ready to drive off in one of these Golfs today? We were not and the reason was both of them were black on black, my girlfriend wanted white on tan, she signed for white on tan. After being asked a few more times if she was absolutely sure that she had to have a tan interior, I stepped in and made it very clear, white on tan or there is no deal. This wasn't a negotiation, we were ready to walk away, after all she didn't need a new car that day and we told the guy just that.
Well he got the point, told us they'd find a white and tan one and disappeared to the managers office. I pull up AutoTrader on my phone and do a 200 mile search (free dealer transfer radius) for white/tan Golf TDIs. There's only one and it was down in San Diego, just 111 miles away. When the sales guy comes back I share this information with him, he says we don't have the best relationship with that dealer but we can try. I should have known right then and there that something was up but I let it slide because yeah, sometimes dealers don't have great business relationships.
So while they work on the transfer deal, we go up to the F&I office, pass on all the payment inflating options, make the down payment and head back downstairs. At this point both my girlfriend and I are ready to get the hell out of dodge, we're hungry and mentally exhausted. Sales guy tells us that they can't get a commitment out of the dealer in San Diego this afternoon and asks if there's any chance of a white on black model being satisfactory. I tell him no for the umpteenth time and that we're done for the day, we expect to get a call in the morning letting us know if they have that car or if my girlfriend needs to get her money back.
Excerpt from part two of our epic saga coming over the weekend!
Having not received a call by 1pm the following day, my girlfriend rings up our sales guy he tells her the car has arrived, white with black interior, then pauses and puts her on with the sales manager.
Cheers.
Andrew Maness writes about cars because he has one and also has a computer. He's been known to drunkenly tweet as @thisnicelife and upload photos to @theroadlessdriven. He also has a YouTube Channel and thinks talking about himself in the 3rd person is really weird but knows it's necessary if he wants to be taken seriously as an automotive journalist.