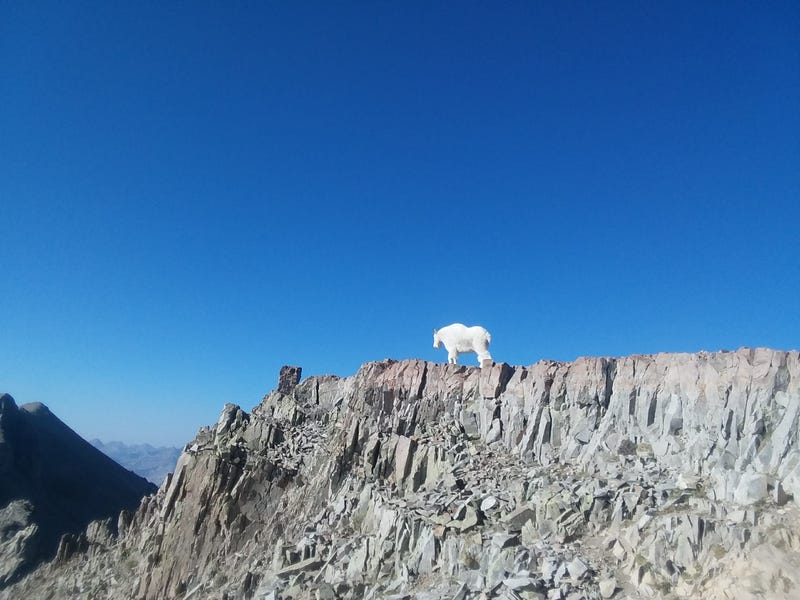 Shameless ripoff of title from another oppo and leading with a picture of a Mountain goat from an epic hike... Its like we had the same minds lol.

This weekend though I had A BIT more planning than the aforementioned adventurer. Somehow I actually managed to stick almost entirely to my plan for the weekend and was very happy with all of my choices. Here is a quick rundown of my adventure followed by a bunch of photos:
Drive to Solitude Ski Resort via Guardsman pass from Park City.
Hike around 5 miles round trip up the mountain.
Epic round of disc golf at Solitude.
Set up camp at Spruces campground.
Hike 9 miles round trip to Desolation Lake from the North Fork Trailhead.
Make it back to camp just after sunset and cook up a nice camp meal.
Drive in the morning to Alpine Scenic Loop.
Hike 14.5 miles round trip to Mt Timpanogos from the Timpooneke Trailhead.
Drive the rest of Alpine Scenic Loop in the dark.
Make it back to my hotel after 2 hours of backroads in the dark.
It surely was an epic weekend and aside from the hike on Sunday taking a bit longer than I expected, everything was pretty much on schedule and went as planned. Pretty much all of my goals were met: See fall leaves, Hike past 11,000 feet, and build a campfire under some stars. The only thing that could have made the adventure sweeter was having my Miata for the journey, but hey the STi certainly did not disappoint!
Now, my photo collection in some semblance of order:
When I got back to camp around 815pm I built a nice big fire and cooked a couple hot dogs over the open fire. While that was going, I cooked up a can of corn and a can of baked beans on my camp stove and then mixed it all together for a hearty camp meal. This was supplemented by more hot dogs as I sat around the fire along with some dark chocolate reeses and more fritos. That along with the reeses and protein bars along the trail earlier kept me well fed for the day's activities. I eventually ran out of wood to burn around 1030pm and settled in for bed by 11pm.
I woke up around 8am and cooked up a breakfast consisting of a can of Chunky Mushroom and Swiss Burger Soup and a banana. Then I packed up camp and headed out towards the Alpine Scenic Loop a bit South of where I was on Big Cottonwood Canyon. Eventually, I arrived at the Timpooneke Trailhead for my next epic hike. At the trailhead, I fixed up a peanut butter sandwich to eat real quick and packed up the rest of my kit for the day.
Kit for the day:
3L of water in my water pack
0.5L of gatorade in a water bottle
2 protein bars
1 banana
4 dark chocolate reeses
1 pouch of tuna
Another pastrami and pepper Jack sandwich
Wool hat for the summit/emergencies in my bag
Wool Darn Tough socks on my feet
"Safari" wide brim hat on my head
Sun glasses on my face
Short sleeve shirt and shorts (breathable materials)
Sun block
Bug spray
No headlamp or flashlight (foreshadowing)
I survived my 14.3 mile hike and had an epic story to tell at the end of it all. My weekend was a great success and everything was exactly what I could have wished for. The drive home from there were 2 hours of pretty uneventful trekking home. It was a pretty interesting drive in the dark to complete the rest of the Alpine Loop, being that it was super narrow and pitch black out. The oncoming cars were scary but it was not too long before I was on the highway cruising back to my hotel.
I now sit here trying to rest up for work to begin again tonight and reveling in the glory of an epic adventure. Till next weekend for the next one!