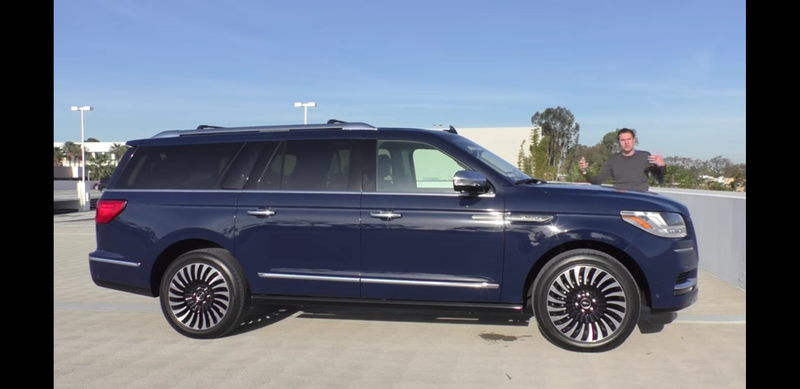 I realized I'll never be able to look at the new Navigator without feeling deep disgust. And I feel bad about that, because it seems like a great SUV. But Lincoln made one particular design choice that is worse than "floating" pillars, worse than angry headlights, worse even than fake vents.... And now I'm cursed to see it wherever I go.
Look at the pictures above and see if you can figure it out.
Okay
Did you get it?
No?
Keep trying.
Or just leave
I don't want to have to do this
It's too damn cruel
But I will if I must
Alright, last chance....
THEY SUPPLIED FOUR OF THE EXACT SAME DIRECTIONAL WHEELS WITH ROTATIONAL SYMMETRY, WHICH MEANS THE ONES ON THE DRIVER SIDE GO ONE WAY, AND THE ONES ON THE PASSENGER SIDE GO THE OTHER!!!
GAHHHHHH
It's not that complicated Lincoln!
And yes, before you scroll down ready to mention the other brands that do this—like Honda—I know. But Lincoln just unveiled a car that can be spec'd over $100,000, and being compared to Honda's multi-colored monstrosities (I'm told they're still technically called wheels, no matter how ugly they may be) is the last thing they should be going for. Having two different directions of wheel for each directional wheel design would obviously be a bit more expensive, but I'd argue that it would be worth every penny. This is a terrible place to let the bean counters save a buck, and Lincoln... Shame. Shaaaaaaame.
The fact that the wheels are objectively ugly, and the rubberband tires look incredibly out-of-place on the gigantic SUV doesn't mean we should let Lincoln get away with this. As such, I'm sorry. But I'm going to be unable to purchase a new Navigator. Again, I apologize. I happened to have exactly $100,000 burning a hole in my pocket, but because of this atrocity you committed I think I'll just buy a Dodge Nitro, Nissan Juke, Jeep Commander, Pontiac Sunbird, first gen Chrysler 300, Cadillac Allanté, a few Calibers, and a brand new Avalon instead.