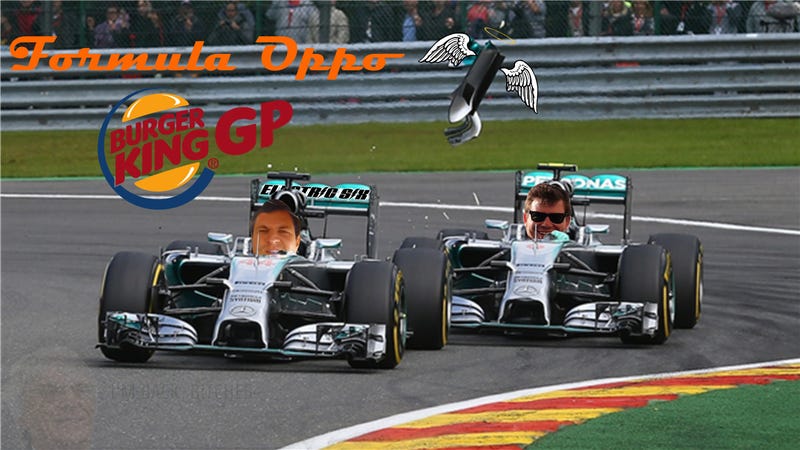 Welcome back to the 11th round of Formula Oppo, I hope that you had a good vacation and ate a hearty breakfast, because tonight we dine in hell! the Burger King off of the I-75, aka No Man's Land.

Last time out some weird shit happened, Ferrari won, two Red Bulls took the other 2 podium spots, and McLaren finished in the points, with 2 drivers and Fernado getting 5th! What's that? Yeah, you read it right, he got fith and both Mercedes were behind him after they both effectively threw away their races. But after all of that excitement, we had to take a few weeks off.
So this week we go to No Man's Land to settle our disputes the old fashioned way, by getting everything our way, besides quality or tasty food, because that's not what the Burger King does. So who comes back out on top? Will Ferrari continue their momentum? Can Kimi get a car that actually works? Will Mercedes rebound? Have Renault and Red Bull had nasty, nasty make-up sex? Will Honda's newest spec of Earth Dreams PU work better? Will Force India or Williams make their pace last an entire race? Will Pastor's balls prevent him from fitting in his car?
Your drivers?
Lewis Hamilton- Mercedes

Nico Rosberg- Mercedes
Daniel Ricciardo- Red Bull
Daniil Kvyat- Red Bull
Felipe Massa- Williams
Valtteri Bottas- Williams
Sebastian Vettel- Ferrari
Kimi Raikkonen- Ferrai
Kevin Magnussen Fernando Alonso- McLaren
Jenson Button- McLaren
Nico Hulkenberg- Force India
Sergio Perez- Force India
The Wee Baby Max Verstappen- Torro Rosso
Carlos Sainz, Jr.- Torro Rosso
Pastor Maldonado- Lotus
Romain Grosjean- Lotus
Felipe Nasr- Sauber
Marcus Ericsson- Sauber
Will Stevens- Manor
Roberto Merhi- Manor
My Picks:
Q: Lewis Hamilton
1. Lewis Hamilton
2. Nico Rosberg
3. Sebastian Vettle
Curse: Pastor's going down.
Now the rest of you have until Q1 to get your picks in or else you'll be forced to eat the spicy chicken fries.
Good luck!