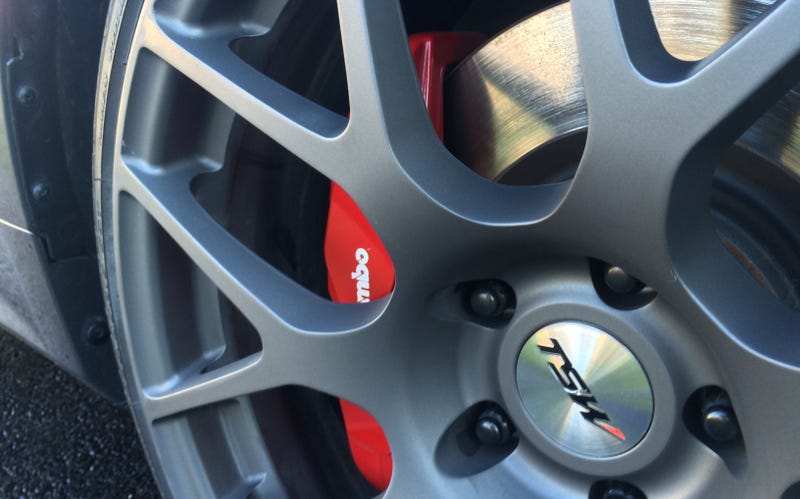 I will now guide you through a journey of my unlucky experience with cars, that time I met a State Trooper during a blizzard, and the great people of Chicago.
But I must precede it, with good reason, by showing off my new wheels.
I bought some TSW Nurburgrings about two weeks ago. Although, I just noticed their "Bathurst" model after I ordered the Nurburgrings; would definitely have considered those if I knew.
However, discount tire messed up on the wheel size as the fronts are now too big (8.5") and are catching on my strut (I think that's what he said) when I put greater-or-equal-to around 30% lock and reverse; I also have felt it catch when I take a tight corner quickly.
Thankfully I took it back and now have some 8" on the way, the stock width. They initially ordered wider because they were worried about it fitting around the brakes.
I don't like that they had to stretch the tires, but I do like that I'll be able to order wider rears later on. (Fronts pictured on the new 8.5")
And Now for the Story...
It snowed in Chicago a week after I put my Bridgestone Potenza all-seasons (they're pretty much summers) back on with the new wheels. It was a bad morning as I had to commute into the city for a job, and the tire shop had kept my winters as they were waiting for the tire pressure sensors to ship.
I had wrongly thought it was a good time to switch back as it had been above 50 degrees high temperature for around two weeks.
When I left the house at 4:45 AM it had begun to snow. Speed at pre-pre-rush hour was cycling between 45-65 mph. I began to remember why I had purchased winter tires in the first place when the snow started to accumulate. Even a 1/4 inch and I'm in deep shit.
Though, I was fine until I hit stopped traffic waiting for an uphill interstate exchange onto I-90/94. Pace was stop-start, averaging around 5 mph. I began to ascend the ramp in my 350 horsepower, rear-wheel-drive Hyundai Genesis Coupe.
Hyundai's Traction/Stability Control is joke in the snow if you're trying to get off the line; it just keeps cutting the engine, so naturally I had that off.
As my car crept forward with copious amounts of wheel spin, I watched in my left hand mirror as the Genesis's backend began to overtake the front. The ramp was lined with concrete walls wich my car was now getting fatally close to.
I kept pushing forward, my rears spinning to all hell, until I was around 6 inches from the concrete barracade.
I hopped out with heavy snow pelting my disarray. Luckily I had left enough room for the rest of Chicago to creep past, but I was now definitely causing a major traffic jam on the interstate I had just left. I hastily began to wipe the snow away from the ground with my boots where I expected my rears to spin sideways and where I wanted clean grip from the concrete to move forward.
Thirty seconds after I stepped from my car in trepidation, I heard a voice call out behind me and a figure appeared through the streetlamp illuminated snowfall, "We'll push you."
Some kind Hispanic gentlemen leapt from their van and assumed the position behind the Genesis. I got back in, straightened the wheel, and slowly pulled away from fiberglass crunching inevitability.
But it wasn't over. The Genesis's rear slid left again under 2nd gear wheelspin. The Chicago saviors noticed my struggle and caught up with me to push once more.
The ramp inclined almost 300 meters in front of us, and they kept my nose pointing forward during our ascent.
I shouted backward through my open window a relieved "Thank You," and they scurried back to their driver.
Finally I made it to the top where I could merge with the jammed traffic of The northbound Interstate. I thought it was over; it wasn't.
The interstate first dips down to lake-level before being cantilevered upwards over the brick city. I had another snow covered rise infront of me, and when I reached the base the snow had grown to around an inch off line.
There were four lanes to my left packed like sardines and construction cones to my right with snow hiding who knows what beneath. The Genesis's back end began to slide left again as I countersteered back; it was beeming straight toward the iron supports of a semi trailer.
I made it about 3/4 of the way up before the tiny voice in my head told me to just bin it with the rest of the construction equipment; Just another cone.
I sat looking at the illuminated Chicago skyline from behind my soaked interior debating whether to call my boss, ring for a tow, or contemplate how I got myself into this mess.
I caught red and blue LEDs flash into my right eye, I'm stationary sideways on the side of the interstate at this point, and a State Trooper's white Crown Victoria pulled up beside me.
It took a minute for him to step out and approach my driver's side window, running my plates no doubt. He asked if I was stuck and preceded to grasp the Genesis's B-pillar and pull backwards asking me to reverse. I did as he asked and got back into the outside lane.
I moved forward employing this oversteer-until-I-got-too-sideways-then-reverse-back-into-the-lane method until the cement leveled out, aiming all the while for the construction to my right so as to not get stuck sideways in the middle of all the traffic to my left.
The Crown Vic extinguished it's lights and moved on to aid another member of the ailing public.
Though I was moving, I was worried about my steep upward exit ramp onto Lake Street. (Pro-Tip: don't enter I-90/94 from any of the ramps north of I-290 unless it's jammed or you will have an accident).
Sweet relief when I gleamed over the ramp and saw it was cleared. I made it to the job site just 30 minutes late, good thing I left early.
This then is a gargantuan "Thank You" to the kind people of Chicago and the greater Midwest who recognised my struggles and choose not to be annoyed, throw them down the gutter, and circumnavigate the harm I had brought myself and the people in my wake, but to help me when I felt beyond dazed and confused.