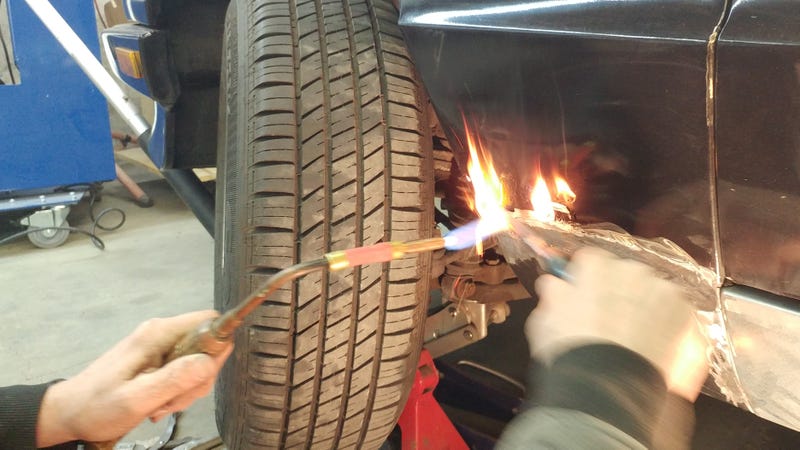 More Alfa progress is good Alfa progress. We've only been working on it for three weeks, but it already feels like several months of work. Luckily, the repairs are nearing their conclusion.
As part of my "homework" I hit the inner rocker with rust converter, rusty metal primer, and then regular primer. Not a hard job, but someone had to do it.
This Sunday I returned to David's for round three, the Alfa's motor mounts becoming increasingly problematic and making for some really weird noises. Whatever, new parts are on the way!

So today was the day! We got to buttoning everything up. Awesome!
We decided despite the damage, cutting out 100% of the outer rocker sounded like an exercise in frustration. As such, we went with cutting it right at one of the inner seams. There is a décor panel that covers this, so even if we weren't perfect, it is going to be hidden anyway.
This went really well, and quickly we had everything tacked in place. This repair panel was AMAZING, and allegedly stamped from the original Pininfarina tooling.

The fender didn't go as well.

The panel wasn't as high of quality and we deformed it a bit with the tin snips.
All in all I'd give the rocker a 9/10 and the fender a 7/10. In both cases it is way better than what was there.
Next up, we set the car on fire!
Ok well sort of. David is proper old school and does the majority of his body work with lead. Yes, like the water in Flint. (Too soon?)
Anyway, after watching the process and thinking about it a little, I'm sold. You essentially solder together the welded joints using the lead as both filler and sealer. This has the advantage over bondo, in my mind, in that it seems like with a lead joint water ingress into that joint is essentially impossible, leading to a longer term better fix. With the bondo you never really if it will rot out, but you have to kind of suspect it will.
Next up the lead gets a quick shave (EPA look away).
And then a skim of "finishing putty". (Fancy Bondo) Next up I've got to do a little sanding and then we're ready for primer

The rest of the day is both (mostly) picture-less and rather uneventful. I cleaned up the chassis rail to get to ready for work, but we had some problems with the hydraulic ram and didn't get to finish. Next time!
We also discovered that my tie rods are likely original. WHAT. THE. FUCK!? I drove Big Sur on 30 year old tie rods and ball joints! I am retroactively crapping myself.

The drive home was COOOOOLD. Turns out while we were working the temperature dropped from the 40s to 18F. Driving an old Italian soft top home in that weather was… actually really not that bad considering the outside temperature.
My "homework" for the next week is to grind down the welds, get everything in primer, and maybe do some work getting the stiffener cleaned up and ready for work.