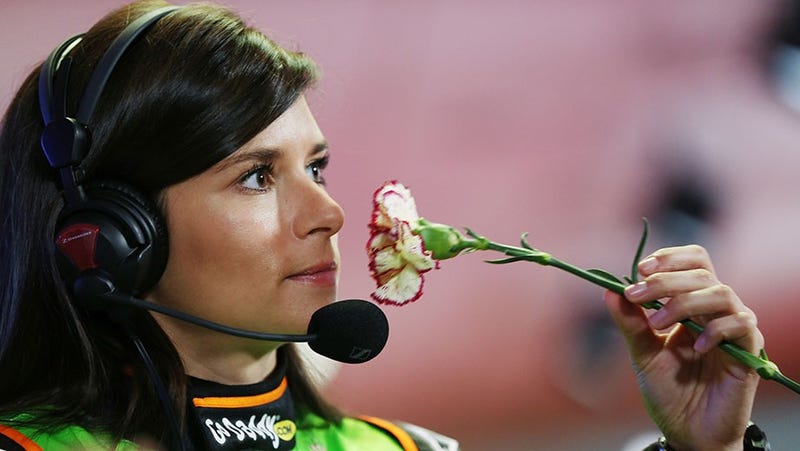 In a move surprising noone, NASCAR's media bliz to promote the relationship between Sprint Cup rookies Danica Patrick and Rickey Stenhouse Jr. has begun.  The move is understandable, considering the first thirteen minutes and fifteen questions of Patrick's Media Day (Fueled by Sunco) appearance yesterday dealt exclusively with her relationship with Stenhouse.
The media blitz may come as a surprise to Pratrick, who during the press conference said, "I haven't gotten too many [questions about the relationship]. I'm happy to answer them. I'm happy to talk about it. It's fine with me."  This may be a promising signal from the rookie driver; if her statement is true, she's obviously spending all of her time with the Stewart-Haas Racing team engineers perfecting her #10 GoDaddy.com Chevrolet SS.
However, less dedidcated drivers have wandered out into the sunsine and the barrage of Patrick-Stenhouse questions.  In response to the onslaught, some drivers have resorted to humor; Joey Lagano stated that even the late professinally-blind man Ray Charles could see this relatioship "from a mile away."  Interestingly, a mile is the length of the last circuit where Rickey Stenhouse Jr. last competed in a Sprint Cup race, Dover.  Coincidence?  Only time will tell.
More-seasoned drivers, such as five-time champion Jimmy "Five-Time" Johnson had more tempid reactions.  Johnson stated that he can't remember any other competitors in a single series dating.  Johnson's statements may come from ignorance however; he's never raced in the WEC and doesn't know about the men's bathroom in garage 16 at Interlagos.  Furthermmore, Johnson then said he hadn't given the Patrick-Stenhouse relationship much thought, then gave a long statement how the relationship may affect ratings, their on-track performance, their teams' dynamics, and their relationship with team owners.  
As for Rickey Stenhouse Jr., the NASCAR press has largely not sought him out for comment.  An unsurprising move, as everyone knows it's Austin Dillon, not Stenhouse, who's gonna be a name.