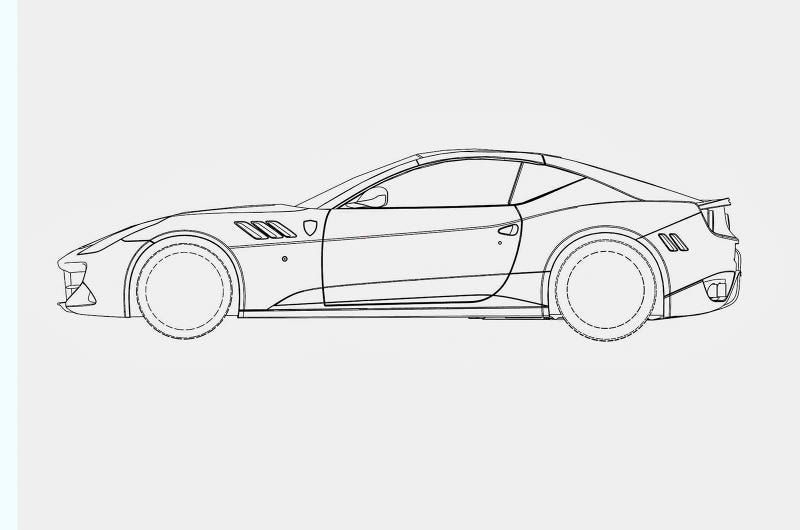 AutoCar seems to think the new Ferrari patent drawings are of a California, contrary to those points made by our own Raphael Orlove that suggest it's based off the FF chassis. It's being called the SP30, with SP standing for Special Project, so we may just be speculating over a simple special order and not a completely new production model.
Here is the outline matched with a California:
And here is the outline matched with the FF:
The lines and proportions match up with the California more so than the FF, and therefore this must be either a special California, a new California variant (like the 458 Speciale to the 458), or even a completely new California replacement, which it happens to be due for. As for the grill, headlamps, and wing mirrors being the same as the FF, Ferrari is just updating their older cars (California) with the trinkets and design language of their current range (FF, F12, 458).
I will now propose my theory: the new Ferrari California could be a targa roof only, and no folding hard-top convertible. Ferrari could find this sort of roof a more feasible ethos to put into production.
The California has been accused of being a lesser Ferrari for those bald-headed, plump-gutted golfers who want to be associated with the brand; this brings the top tier of Ferrari owners down, and decreases their valuation of the Ferrari brand. How is your elitist Ferrari convertible any better than a peasant-class Mercedes SL?
Making the next California a targa roof could strengthen the chassis and reduce weight, making the car faster, more agile, and overall, a better car to drive fast and frivolously.
Here is my quick photoshop of the SP30 with the theoretical targa roof off.
[AutoCar]