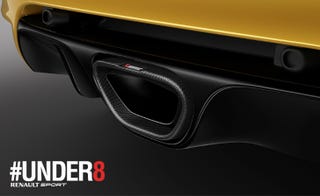 Renault is going to launch Megane RS265 #Under8.
In 2008 Renault set a new Nürburgring lap record of fwd production cars with the Megane R26 R. In 2011 they lapped the Nürburgring in 8:07.97, nine seconds faster than the previous record, with the Megane RS 265 Trophy.
After Seat announced in the Geneva Motor Show this year that they had driven around the track in 7:58.4 Renault decided to announce a new limited edition of their hot hatch. So far we only know that the car will have Akrapovic exhaust and suspension tuned by Öhlins. Renault reveals the car on 16th of June.