...thinking that a 996 C4 is a good idea again, since they are inexpensive. (as long as they have their preventative IMS maintenance)
I am really kinda diggin' on this whale tail spoiler, which also fits the 996 engine lid also.
Either this one, or the 996 Carrera Aero kit spoiler, not the folded-over GT3 spoiler pictured below.  This pictured Fiberwerks whale tail is nicer, with laid back lines than the more severely angled duck tail spoiler, also.
I would love to see a 996 C4 6-speed jacked up just a little bit above stock height with meaty tires. Not quite as much as the 953 replica with Rothmans racing livery... but just a bit taller than stock, with a bit more sidewall on the tires... as if it were rally-stage ready, rather than lowered for a smooth road-course track.
I would consider a 996 C4S... I like the widebody fenders, and LOVE the turbo tail lights with the reflector center bar, but I am not a huge fan of the low skirt rear bumper cover, and I have favorites other than the C4S/Turbo front bumper cover.
I actually like a sleeker, slimmer look, which is why I am thinking Carrera 4 rather than 4S, despite my preference for the full width tail lights, and the 3.6 engine. 
I actually like the early 996 GT3-look rear bumper and spats. Especially if the spats and the lower part of the bumper were blacked out or CF. Much less of a low-skirt, bottom-heavy look than the C4S/Turbo widebody rear bumper covers.
With some simple side skirts... and believe it or not, on a car with no center radiator, I would go with a Boxster front bumper cover, with a slight add-on air dam edge. So much simpler and cleaner than the grinning 996 bumper cover, or the myriad of overly-aggressive aftermarket designs. The 996/997 form befits a clean, sleek look.
With the center radiator in place, I supppose I would go with the TechArt 986/996 version, instead.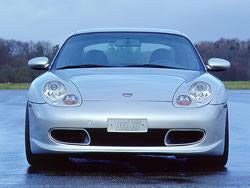 However it goes, it is one of the best ways to get a flat 6, 6-speed manual transmission, AWD, and a coupe bodystyle all together in one car, since Subaru won't build one that I can buy showroom new, rather than a 10-15 year old depreciated pre-owned Porsche. 
I am fairly sure the maintenance and insurance cost issues will rise again to incite my practical mentality to beat this idea back down into submission.