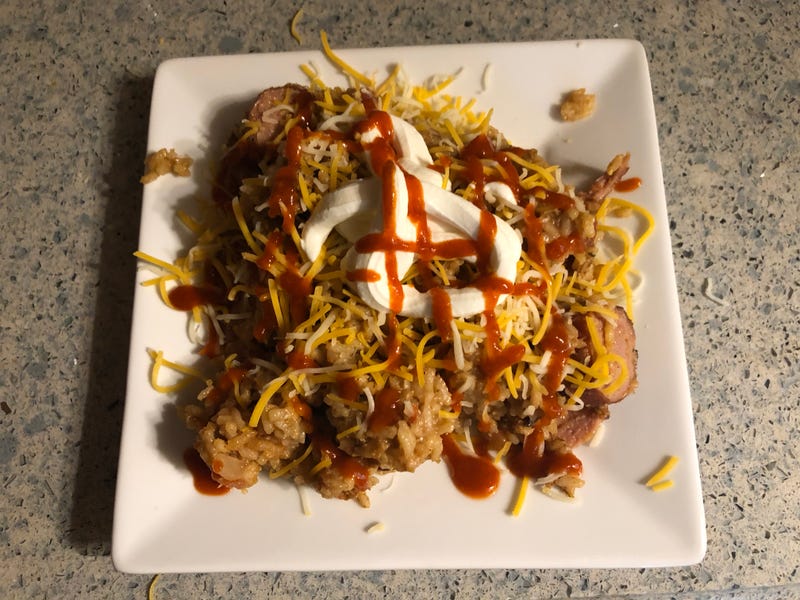 Awwwwwww yes. Time for another episode of Cooking with Trail of Head Gaskets. Today we take a bunch of cheap ingredients and make a spicy cheesy concoction that has no business existing but is delicious as hell. Come on in for gas grill Tex-Mex sausage jambalaya.

Full Disclosure: I may possibly be drunk and typing this on my phone.
Jambalaya. The quintessential Cajun dish. Yeah that's too high class and lacking processed cheese for my redneck Texas self. So we're gonna see if we can add cheese without making it gross and without making it expensive.
The star of this dish is cheesy sausage. As in the sausage that has the bits of cheese in it. You know, the classy stuff. Look you know it's good shit when 13 oz. costs the same as 14 oz. of the non cheesy stuff. I got "Texas Cheddar" smoked sauagage at H-E-B but any cheese filled smoked sausage will do. McCormick also makes a good one and it usually has cash back on Ibotta. And don't give me that crap about how Ibotta is the devil because they make money by selling your personal preferences. Cash back is cash back! Anyway, toss that amazing and totally healthy cheese filled creation of God on the grill at low heat and move on to the next step.
Ok get a medium sized pot on the side burner. If you don't have a side burner I really can't help you. Get your ass to Home Depot and get a new grill. It's Memorial Day weekend they are probably having a decent sale right now. Also get yourself a drink. It's hot out right now right? Probably it's late May. Coffee tumblers work great at keeping sangria cold. Thank me later.
Put in two cups of water and 3 chicken bouillon cubes. If you make this with real broth you're missing the point. Bring the "broth" to a boil while taking a break to consume wine or beer or whiskey or whatever and possibly flipping the sausage and then toss in one cup of white rice. Again, the cheapest stuff possible works great. Reduce heat. It helps to keep a pitcher of water around because some of the water may have boiled off and there might not be enough to get the rice really fluffy. If your rice isn't fluffy this dish is going to suck.
Once the rice starts to fluff up toss in a tablespoon or so of taco seasoning. If you live in a part of the nation where you can get Fiesta brand taco seasoning in the jar use that. If not move somewhere you can. The Southwest is better anyway If that really isn't possibly you can use Old El Paso packets I guess. This will determine how spicy your final concoction is so don't fuck it up.
Your sausage is ready when the skin is slightly blackened and cracking. If you don't get it to this point you just wasted your time and would've been better off just putting it in the rice without grilling. Yeah my cutting board is gross. Whatever I haven't gotten sick from anything I've cut on it yet.
Fuck you dog not for you.
Next check the rice. If it's too firm add some water and cook a little longer. If it's fluffy add some chunky salsa to the rice. I use Walmart's house brand Fresh Cravings chunky. You know it's good because it's in the refrigerated section. But it's Walmart so it's still cheap. Fucking double duty. Also - PSA - it's usually on Ibotta too.
Ok so throw in like a quarter cup or so. You wanted something more specific? I'm not your fucking mother use your judgment!
Stir that shit in.
Next cut the sausage into slices and toss that into the pot.
Mix it all up. Fucking glorious. You've made Tex-Mex jambalaya. Cheap and delicious and feeds about three Take another drink you've earned it.
But wait we're not quite done. Plating is half the battle. Any self-respecting cheapskate has several open bags of store brand shredded cheese in the fridge at all times. Top with a shredded Monterrey jack blend and sour cream. Keep it bourgeoise and use the thick cut stuff and a pink plate.
Or you can use the fine cut cheese and a ceramic plate you schlub. NBD tho it still tastes great. So grab some salt and lime for your beer and enjoy. For an extra kick add some Sricracha sauce like the lead picture. I buy that in bulk online so don't accuse me of ruining it by adding fanciness at the end! And that's a wrap. Hopefully I've left you with something to add to your arsenal of dishes to make with a mix of cheap ingredients and things you probably already have laying around.