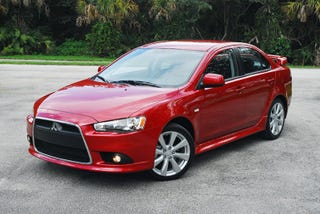 I have a customer who wants to get a fun car for his 19 year old. The kid's dream car is an Evo, which is not in the cards for obvious reasons. So the dude is set on one of these Lancer GTs. I happen to think there are so many better alternatives, but I might be missing a few.
Ok so the main benefit of the car above is that you can get a new one (MSRP about 22k) for cheap, most dealers are selling them around 18k. Dude wants a manual trans (yay!), but while this gets you some Evo looks and kinda sorta, Evo moves there are some great pre-owned options to consider for 18-19k.
Here is my list so far:
Fiesta ST
Focus ST
Honda Civic Si
Hyundai Veloster Turbo
Hyundai Gen Coupe
FRS/BRZ
Also considered the Abarth, but those are pretty tiny.
Anyway am I missing anything in the sport compact, manual trans arena for this price point?