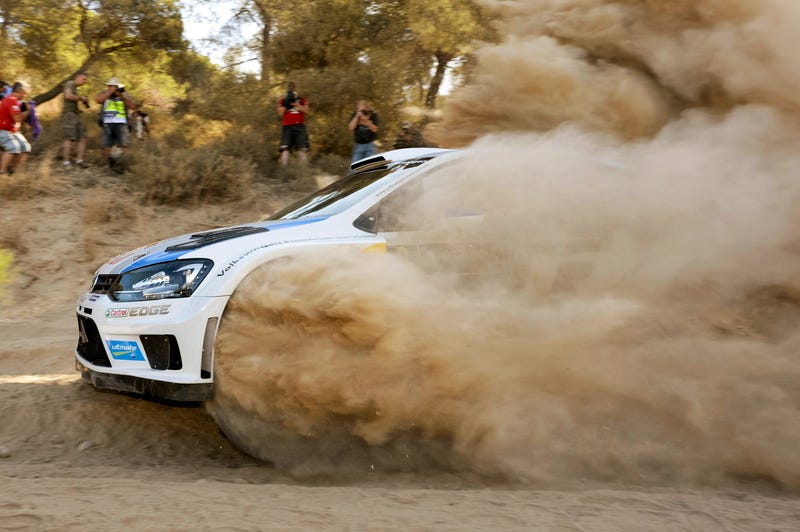 Dusty ventured off to some dusty ventures of his (he didn't say, I didn't ask, learned later that he was, in fact, competing in the Rally America event, of course!) and (t)asked me with the Rally Catalunya Costa Durada preview. So here it is, hopefully you can make your way through it without too many grammar and language induced punctures. English not being my primarly language is a poor excuse, but I refuse to give it up. On with the show!
One Sebastien stepped down to make room for another. With nine titles and bazillion wins and other records under his belt Sebastien Loeb waved final goodbyes to the World Rally Championship. Not in a way he intended though, but I find it very fitting - he is old and wants out, so crashing and rolling is the best way of saying "I'm too old for this shit". Except that he isn't exactly too old and there is no other reason for him leaving other than a) being fed up with it, b) in need of a different challenge and/or c) desire to help Citroën return to winning ways but in another discipline, thus combining a) and b) nicely. But hey, the guy is out, we have a new champion(s) in Sebastien Ogier and Julien Ingrassia and one title is still up for grabs. Even though Citroën was as successful with their selection of drivers eligible for manufacturer points as Raph Orlove or yours truly were in Fantasy WRC, they still have a chance against the Volkswagen. Can they do it?
Penultimate event of the season takes place in Spain on a pretty tricky combination of surfaces. Sure, many rallies can be described as tricky, but unlike any other event, except maybe Monte Carlo (where roads vary from dry tarmac to deep snow and everything in between), success in Spain depends not only on the ability to push on the sealed surface stages but also on the ability to switch from fast tarmac to slippery gravel on the final leg of the event. Back in the day it wasn't unusual for events, or even stages, to offer mixed surfaces but today Spain is the only place with both gravel and tarmac making up the itinerary. As such, this rally should not strictly favour tarmac specialists or gravel experts but a bit of both. In reality, with two days set on fast and flowing tarmac roads it's obvious that time will be gained and lost on the black stuff. However, recent Rallye de France taught us that intense battles are still possible, so we can hope. Gravel on the final day of the event also means that the frontrunning crews will have a nice little challenge on their hands, sweeping the road and losing time. Some other details are unique to this rally, for example, one of the Friday stages will be run once again in Saturday. Weather can also play a major role in the event, last year heavy rains turned dusty gravel into slippery mud - combine that with two days of (potentially) dry tarmac racing and we could end up with one mother of a rally.
For the French round of the series we have all trusted our predictions (and points) with the old dude, that Loeb guy. Not only that, but some of us (meaning me) went as far as not trusting Dani Sordo, despite his pretty impressive performance in Germany and despite the fact that I, and many others, root for this guy and believe in him. It makes it even more difficult to pick the right combination for Sordo's home event, but that equals fun. So do you go with the Spaniard this time? Sebastien Ogier sounds like a safe choice, but then things get a bit more complicated. Thierry Neuville or Mads Ostberg? Neuville lacks experience when it comes to this particular event while Ostberg will have to run out of his bad luck sooner or later (or not, as his compatriot and former WRC champ Petter Solberg can confirm). Anyone brave enough to pick Mikko Hirvonen over Sordo? Jari-Matti Latvala over Ogier? And while we're at it, let's go flat out and select Evgeny Novikov. What? He's not crashing anymore, he is relearning the bit about driving and staying on the road. Happy hunting, it all begins this Friday, October 25.
Note to self: pay close attention to team names! If two drivers are competing in virtually identical cars, that doesn't mean they're part of the same team. For once, pay attention to that.
Here are the rules and scoring: Pick four drivers for the rally and one for the power stage (the final stage of the rally). None of your four drivers can be part of the same team (so you can't have both Hirvonen and Sordo, or both Ogier and Latvala). Your power stage driver can be amongst your four main drivers or it can be someone else (team rules do not apply for the power stage driver). List the four drivers in the order you expect them to finish. At the end of the rally you get the cumulative total points from each of your four drivers (an additional 2 points if you correctly guessed their finishing order), plus 2x however many points your power stage driver scored (if any).
WRC2 drivers: The entry list in WRC2 category is huge, and to list all of them, along with the statistics would turn this post into an even bigger wall of text. Hence we've only added names of the WRC2 entrants followed by a link to Dusty's excellent spreadsheet, containing all imaginable statistics, WRC2 drivers included.
Citroen Total Abu Dhabi WRT
•Mikko Hirvonen
Best Finish, Last 10 Races: 2 (x2)
Podiums, Last 10 Races: 4
Average Pts, Last 10 Races: 9.8
DNFs, Last 10 Races: 1
Points-Scoring Finishes, Last 10 Races: 8
Spain Starts: 10
Best Finish, Spain: 2
Spain Podiums: 5
Average Pts, Spain: 10.6
Points-Scoring Finishes, Spain: 9

•Dani Sordo
Best Finish, Last 10 Races: 1
Podiums, Last 10 Races: 4
Average Pts, Last 10 Races: 11.2
DNFs, Last 10 Races: 1
Points-Scoring Finishes, Last 10 Races: 8
Spain Starts: 7
Best Finish, Spain: 2 (x4)
Spain Podiums: 5
Average Pts, Spain: 14.4
Points-Scoring Finishes, Spain: 7
Qatar M-Sport WRT
•Mads Ostberg
Best Finish, Last 10 Races: 3 (x2)
Podiums, Last 10 Races: 2
Average Pts, Last 10 Races: 6.8
DNFs, Last 10 Races: 0
Points-Scoring Finishes, Last 10 Races: 9
Spain Starts: 3
Best Finish, Spain: 4
Spain Podiums: 0
Average Pts, Spain: 6.7
Points-Scoring Finishes, Spain: 2

•Evgeny Novikov
Best Finish, Last 10 Races: 4 (x2)
Podiums, Last 10 Races: 0
Average Pts, Last 10 Races: 5.4
DNFs, Last 10 Races: 1
Points-Scoring Finishes, Last 10 Races: 9
Spain Starts: 3
Best Finish, Spain: 7
Spain Podiums: 0
Average Pts, Spain: 2.3
Points-Scoring Finishes, Spain: 2

•Hayden Paddon (WRC2 stats)
Best Finish, Last 10 Races: 8
Podiums, Last 10 Races: 0
Average Pts, Last 10 Races: 0.4
DNFs, Last 10 Races: 2
Points-Scoring Finishes, Last 10 Races: 1
Spain Starts: 0
Best Finish, Spain: 0
Spain Podiums: 0
Average Pts, Spain: 0
Points-Scoring Finishes, Spain: 0
Volkswagen Motorsport
•Jari-Matti Latvala
Best Finish, Last 10 Races: 1
Podiums, Last 10 Races: 5
Average Pts, Last 10 Races: 11.5
DNFs, Last 10 Races: 1
Points-Scoring Finishes, Last 10 Races: 8
Spain Starts: 7
Best Finish, Spain: 2
Spain Podiums: 2
Average Pts, Spain: 9.6
Points-Scoring Finishes, Spain: 6

•Sebastien Ogier
Best Finish, Last 10 Races: 1 (x7)
Podiums, Last 10 Races: 8
Average Pts, Last 10 Races: 19.4
DNFs, Last 10 Races: 0
Points-Scoring Finishes, Last 10 Races: 9
Spain Starts: 3
Best Finish, Spain: 5
Spain Podiums: 0
Average Pts, Spain: 8
Points-Scoring Finishes, Spain: 2
Volkswagen Motorsport 2
•Andreas Mikkelsen
Best Finish, Last 10 Races: 4
Podiums, Last 10 Races: 0
Average Pts, Last 10 Races: 4.3
DNFs, Last 10 Races: 2
Points-Scoring Finishes, Last 10 Races: 7
Spain Starts: 0
Best Finish, Spain: 0
Spain Podiums: 0
Average Pts, Spain: 0
Points-Scoring Finishes, Spain: 0
Abu Dhabi Citroen Total WRT
•Khalid Al Qassimi
Best Finish, Last 10 Races: 5
Podiums, Last 10 Races: 0
Average Pts, Last 10 Races: 1.5
DNFs, Last 10 Races: 2
Points-Scoring Finishes, Last 10 Races: 4
Spain Starts: 5
Best Finish, Spain: 7
Spain Podiums: 0
Average Pts, Spain: 1.2
Points-Scoring Finishes, Spain: 1
Qatar WRT
•Thierry Neuville
Best Finish, Last 10 Races: 2 (x4)
Podiums, Last 10 Races: 6
Average Pts, Last 10 Races: 13.4
DNFs, Last 10 Races: 0
Points-Scoring Finishes, Last 10 Races: 9
Spain Starts: 1
Best Finish, Spain: 12
Spain Podiums: 0
Average Pts, Spain: 0
Points-Scoring Finishes, Spain: 0

•Nasser Al-Attiyah
Best Finish, Last 10 Races: 4
Podiums, Last 10 Races: 0
Average Pts, Last 10 Races: 4.9
DNFs, Last 10 Races: 2
Points-Scoring Finishes, Last 10 Races: 7
Spain Starts: 0
Best Finish, Spain: 0
Spain Podiums: 0
Average Pts, Spain: 0
Points-Scoring Finishes, Spain: 0
Jipocar Czech National Team
•Martin Prokop
Best Finish, Last 10 Races: 4
Podiums, Last 10 Races: 0
Average Pts, Last 10 Races: 4.9
DNFs, Last 10 Races: 2
Points-Scoring Finishes, Last 10 Races: 8
Spain Starts: 1
Best Finish, Spain: 13
Spain Podiums: 0
Average Pts, Spain: 0
Points-Scoring Finishes, Spain: 0
WRC Drivers Entry List:
Sepp Wiegand
Yazeed Al Rajhi
Rashid Al Ketbi
Lorenzo Bertelli
Nicolas Fuchs
Marco Vallario
Ala'a Rasheed
Juan Carlos Alonso
Robert Kubica
Elfyn Evans
Subhan Aksa
Robert Barrable
Carlos Garcia Fessman
Alejandro Lombardo