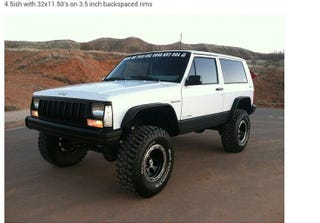 Unbeknownst to me, XJs also came with a 4-banger. From what I've seen on some Cherokee forums, the 2.5 I4 is good but not as beloved as the legendary I6. It is also, they say, painfully slow, about as poor fuel economy, and not as long-lasting. What say you?

The reason I ask is because I keep window shopping XJs (along with many other cars), and I'm noticing that many 2-doors have the 2.5, and are certainly more affordable, and typically in much better condition because 2.5s are apparently not good for offroading so they aren't as abused.
I dunno. Just hard to find a stock 2 door with the I6 that isn't totally ruined.