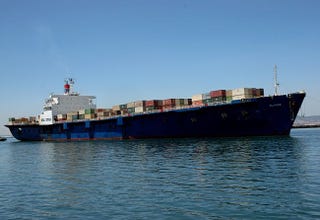 An American-flagged roll-on/roll-off (ro-ro) container ship, en route from Jacksonville, Florida to San Juan, Puerto Rico, has vanished in the Atlantic after sailing into Hurricane Joaquin.
The ship was last heard from at 7:20am on Thursday, October 1st, when they contacted the US Coast Guard to report that they had lost power and taken on a 15-degree list, but that on board flooding had been contained. At the time, the ship was in the Atlantic off of the Abaco Islands of the Bahamas.
Coast Guard and Air Force planes searched 850 square miles of ocean in the vicinity on Friday, with no sign of the ship. Searching resumed at dawn today, with no news reported so far.
El Faro was carrying a crew of 33, consisting of 28 Americans and 5 Polish citizens.
The 31,515 ton, 790 ft. long ship was originally built in 1975, by the Sun Shipbuilding and Drydock Company in Chester, Pennsylvania as Puerto Rico for Navieras de Puerto Rico, and has been owned by TOTE Inc. since 1991.
The ship was recently transferred from Sea Star Line to the TOTE Maritime Services fleet in September of this year, and has been sailing its current route since a major refurbishment in 2006.