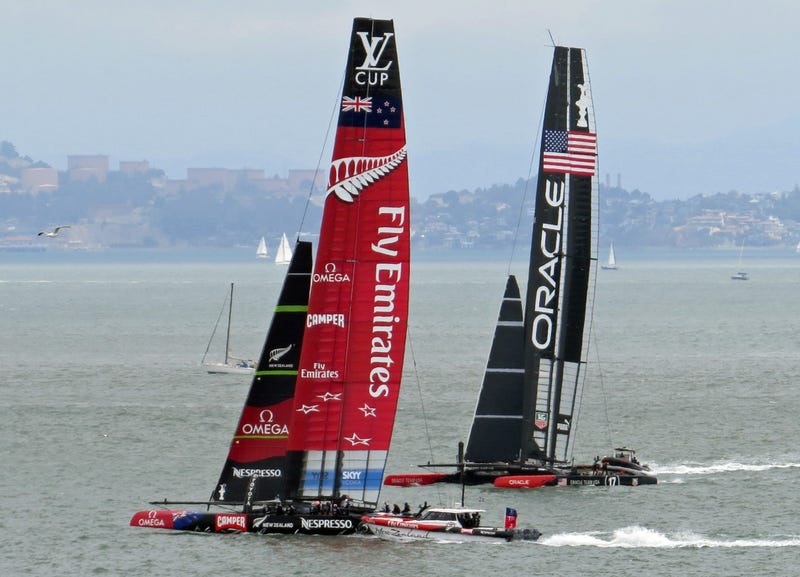 In just a few hours, the Kiwis from Emirates Team New Zealand will take on Larry Ellison's Oracle Team USA in a best of 17* series the America's Cup. The Americans won the Cup from Swiss club Alinghi in 2010 with their wing-sail trimaran USA-17, and have set about revamping the competition to better suit today's short attention spans.
First of all, these aren't your grandfather's sailboats. The AC72s eligible for the cup are 72 feet long, 130 feet tall, 13,000 lb catamarans. Instead of the typical soft sails, AC72s are powered by rigid wing sails, which are essentially jumbo-jet wings turned on their sides. The wing trimmer can adjust each element of the wing to maximize speed and efficiency. These boats are capable of sailing at up to 3 times the speed of the wind. And have I mentioned foiling yet?
The AC72s can literally fly on the water, lifting all 13,000 pounds up on just a surfboard-sized daggerboard. Balancing 6.5 tons on just a daggerboard and a rudder can cause some problems, as the Kiwis found out during their first Louis Vuitton Cup Final race.
Foiling was not considered when designing the class rule, but ETNZ's designers figured out how to make it happen. The Kiwis have been foiling since nearly as soon as the boat was put in the water. Oracle has not done any competitive racing yet, so no one's not quite sure what they have up their sleeve.
Each race consists of five legs (reach, downwind, upwind, downwind, reach) in San Francisco Bay, right along the shore. They will attempt to race twice on each race day, but the winds were too strong during the LV Cup Final for that to happen.
The key to winning the Cup appears to be who can execute their foiling gybes the best. Gybes are the turns executed while going downwind. By staying up on their foils, a boat can keep their speed up to 5 knots faster than a boat that falls off of its foils. Another thing to watch for is whether either team can foil upwind. My money would be on Oracle Team USA, mostly because I'm a patriotic American, but also because I think they've got the better package.
Race one gets underway today at 1:15 Pacific US Time (UTC -7) on NBC in the US and the America's Cup YouTube Channel for most internationals.
*OTUSA has been penalized 2 points, so they will have to win 11 races, while ETNZ will only have to win 9.
Image credits (from top): Rulenumberone2, YTBlue, christieandsteve, Robert Couse-Baker,
and Rulenumberone2.