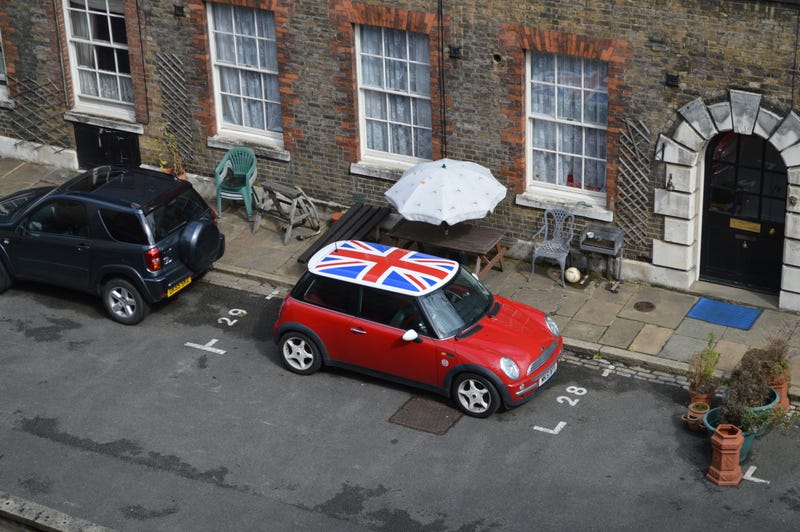 I recently got hitched and my new bride and I spent our honeymoon in a cramped city filled with very low speed limits and very fast cars. The British have a great sense of humor, and a great taste in automobiles. Lets check some out!

Being a Yank, just seeing stuff like this Smart Roadster made me giddy. So much forbidden fruit! The Fiats, the Alfas, the Renaults! A Ford Ka, how strange and wonderful! All the stuff that won't be legal to import to the States for a very long time.
The classics make their way to the streets too. An Alfa in red near Buckingham caught the attention of my wife and her camera.
Expert timing on the wife's part for this awesome picture.
There are two Ferrari showrooms in London, but we only had the energy to stalk outside of one of them. On the left you'll notice a Bentley. I saw Bentleys of all variety every day. I saw Rolls Royces everyday, even the gorgeous two door land yachts known as Wraiths. I saw Porsche 911s every half hour. All in a city that you can barely do over 30 mph in. But hey, looking good is important! And expensive!
Speaking of expensive, I'm pretty sure you need to be wearing a very nice suit stuffed with money to get into this place. We walked up to the doors and did not feel welcoming.
Oh hey, its a German exotic car that is not a 911. Seriously, so many 911s in London. Didn't even bother to take pictures of them.
Ooooh but you better believe we drooled over this F12.
How could it get better, we asked ourselves...
What... what is this... this... thing that approaches us...
GAAAAAAAAAAAAAAAAAAHHHHHHHHHHHH!!!
MOAR PICTURES! TAKE MOAR PICTUREZ WIIFEEE BEFORE IT GETS AWAY!
So yeah, we had a good time in London. Lots of cool everyday cars that us Yanks can't have, driven next to very not everyday cars that most people can't afford. On our trip we also visited the Bond in Motion exhibit at the London Film Museum. We also attended Supercar Sunday at the Brooklands. And the Prius hating wife took plenty of pictures at both so stay tuned!
Images courtesy of awesome Prius hating wife.